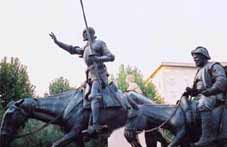 The German-speaking colleague agreed with all the points in my latest
article but took exception to bilingualism because the word has become synonymous with Spanish rather than fluency in any two languages. Of course, my colleague was right to a certain degree. In the popular American idiom, the word bilingual means Spanish-English only, or in some people's minds just Spanish. And the fact that people may interpret the word in this light can be seen in the highly politicized debate about the education of immigrant children in the last ten years or so.Voter-driven initiatives in California, Massachusetts and Arizona have virtually eliminated bilingual education. In all these three cases, the word bilingual was largely perceived by voters as being Spanish. Thus the initiatives might have been more appropriately called pro-English than anti-bilingual education.The 2-1 margins of victory for these initiatives were due mostly to the perception that the word bilingual meant one language and not the correct one. Voters felt that in the US education should be in English. The initiatives had at their root a linguistic rather than an educational bias.The success of these initiatives is also explained by a message that penetrated voters' minds about immigrants and their integration in American culture. Bilingual education was translated in the voters' minds as separatism and unwillingness to learn the common language of the country.Voting against bilingual education also sent a message to newcomers that the English "immersion" system worked in the past and will also work now. The success of the anti-bilingual education movement has seen parallel initiatives in the passage of English-only laws. Twenty-seven American states have passed them. But while English-only laws have been primarily symbolic, the elimination of bilingual education from schools has had and will continue to have a dramatic effect in the education of immigrants' kids.Ron Unz, the California software entrepreneur who has spearheaded the initiatives, claims that his interests are reflected in the name of the organization which has been established to eliminate bilingual education? English for the Children.

Voters, of course, reduced the very complex issue of educating foreign-born kids as a simple choice between English and Spanish. English won handily.Unz's anti-bilingualism was not successful in Colorado where voters rejected his plan. In a way, though, he was also successful there. His opponents in Colorado avoided the word "bilingual" as much as possible. They focused instead on English Plus, the name of their group, which reflects a stance that gives prominence to English but at the same time includes another language. It's a form of bilingual education without the negative connotations the word has acquired. English Plus gave Unz his first defeat by not focusing on voters' perceptions of bilingual education. Unz's opponents also benefited from a major financial contribution by Pat Stryker, a Colorado billionaire, whose daughter attends a "dual-language" school. If Unz's proposal had been approved, it would have also eliminated these dual-language schools whose goals are different from the traditional bilingual education. Dual-language programs are truly dedicated to generate fluency in two languages.In an article published in the Orange County Register of California, Unz explained his defeat in Colorado by blaming the three million dollars contributed by Stryker, whom labeled an "eccentric billionaire." He went on to say that the funds were used to clog the Colorado airwaves and thus fooled a "gullible electorate." In a way, a billionaire (Stryker) beat out a millionaire (Unz). Of course, Unz did not label as gullible the electorates of California, Arizona, and Massachusetts, where he scored victories. The fact is that Stryker could have bought the entire school her daughter attends and easily provide bilingual skills to her. She chose instead to push for keeping the door open to bilingualism for all of Colorado's kids. She understands the meaning of bilingualism. Unz clearly does not.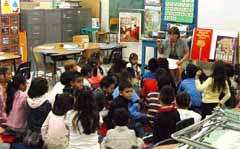 My colleague agreed with me that the word bilingual does not mean Spanish and asked me how we, as educators, can make it clear that bilingualism is a worthy goal and that it can include any two languages. I told him that as teachers we have an opportunity to influence our students and teach them the appropriate meaning of words. I left him and went to my Italian class where I made some progress in turning American monolinguals into bilingual individuals. Ciao!