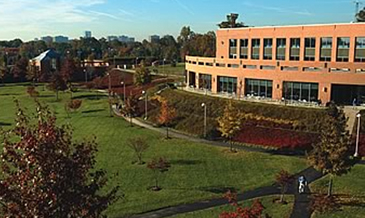 The US State Department's Foreign Service Institute provides over 400 courses including some 60 foreign language courses to over 40,000 enrollees a year and over 40 other government agencies and the military service branches.
The ad stated you could learn Spanish, French, or Japanese or other foreign languages in the time it takes to listen to a few CDs for the very low cost of less than $20.00.Maybe. It all depends on the meaning of learning a language. What will you be able to do after listening to a few CDs? No much in all likelihood.Measuring language fluency is not easy, but the Foreign Service Institute (FSI), a US government agency, developed a scale which goes from 0 to 5. "0" means that the person knows a few words in the language and cannot communicate while "5" reflects the fluency of an educated native speaker.Of course, according to that scale, there will be many people who would not score a "5" in their own native language.What about some kind professional competency which allows an American to work in a consulate or embassy in a foreign country?The FSI found that a level of "2" is necessary. Reaching this level requires about seven hundred hours of instruction for an "easy" language for an American to learn. Spanish, French, Portuguese, German and some other European languages are considered "easy" for Americans because they have a strong connection with English.More difficult languages, such as Russian, Chinese, Korean, Japanese, etc. which have little connection with English, take at least twice as long to reach level "2."If your goal is to learn a language so you can do something serious, buying the CDs in the ad won't do much. Nor will you get very much of out other language schools which advertise you'll speak a foreign language within a few weeks or a month.Taking classes at your local community college or university extension is probably a much better bet. What about going abroad and immersing yourself in the language? Two or three weeks in the country where your foreign language is spoken is unlikely to produce significant results particularly if you'll be taking beginner's classes.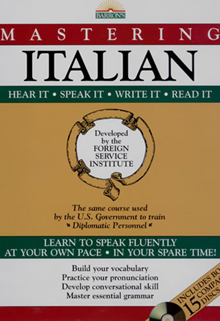 Barron's Mastering Italian: Level 1 (The language series of the Foreign Service Institute of The United States' Department of State)
It's usually a much better idea to take the beginner's classes in your local school and go to the country where the language is spoken after you have taken several semesters. When you're in the country where your desired language is spoken, you should not spend your time locked up in a classroom. Your time would be best spent with a local family which would integrate you in their activities and use the language. Which languages are easiest? That of course depends on your background. If you have never studied a foreign language, tackling a foreign language with a totally different alphabet which has little connection with English could turn out to be a significant or even impossible challenge.If you already have a basic familiarity with one Romance language, learning another will be a lot easier since their grammatical structures and vocabularies are related.But even a totally unrelated language becomes easier if you are already bilingual.Just like in music, the first musical instrument to learn is the most challenging. The second becomes easier because all musical instruments share a significant number of features.Should you learn a language as an adult?The myth is that children learn languages fast and adults have a hard time.The reality is that adults can learn faster than kids but, unlike kids, may never be able to acquire a native-like pronunciation.Adults with very good education can learn a foreign language much faster than kids because they can understand grammatical rules very well. Kids learn rules by dint of hearing and seeing examples and then develop their own "mental" rules about the structure of the language.To become bilingual or multilingual takes a long time, but the rewards of seeing the world through multiple languages make it not simply worthwhile but in many cases almost a necessity.