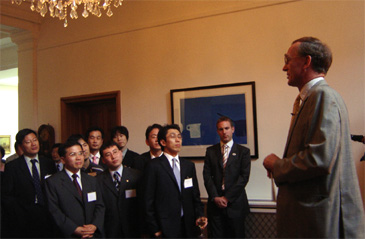 British Amb. Warwick Morris (right) gives a speech before he presents the recipients with a certificate for scholarship at his ambassadorial residence in Seoul June 15, 2005.
On June 15, 2005, the British Ambassador to Seoul Warwick Morris presented British Government scholarships to around 50 South Koreans, for their post-graduate studies in the UK.These Chevening Scholarships are part of a world wide scholarship scheme funded mainly by Britain's Foreign Ministry which helps to bring thousands of young people to study in the UK every year.In a ceremony held at at the ambassadorial residence in Jeong-dong, Jung-gu, at 6 p.m. on the day, British Ambassador Warwick Morris said "Every year demand for Chevening Scholarships is extremely high and the selection process so difficult because of the high quality of so many applicants."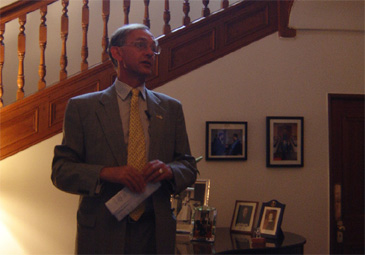 British Amb. Warwick Morris addressing recipients of scholarship at his ambassadorial residence in Seoul June 15, 2005.
"I am delighted to present this year's Scholarships on behalf of the British Government, and to meet with this wonderful group of young Koreans, added Morris. "I wish them every success in their studies in the UK, and hope that when they return they will be even better equipped to make a valuable contribution to the future of Korea, and to the Korea-UK relationship."The presentation ceremony was followed by a reception which drew some 200 guests including scores of recipients of the British government scholarships.Both the congratulatory guests and the recipients were entertained by a variety of finger food dishes and beverages which included tasty British beer.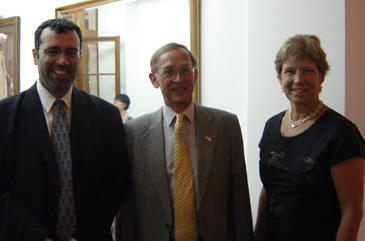 British Amb. Warwick Morris (center) poses with his wife Mrs. Morris, and Mr. Yoav Cerralbo, starr reporter of The Korea Herald at his ambassadorial residence in Seoul June 15, 2005.
Media people also came to the gatherings at the invitation of Jenny Hong, public relations officer of the British Embassy in Seoul. They included Chosun Ilbo, Korean Economic Daily, Korea Times, Korea Herlad, as well as The Seoul Times.Chevening Scholarships, named after the official residence of the British Foreign Minister, provide tuition fees for postgraduate study in the UK. They are awarded to individuals who show strong potential for leadership in their chosen field. Recipients go through a challenging application procedure including English language tests and interviews.Scholarships are awarded in a diverse range of fields including politics and international relations, economics, law, journalism, science and technology, business, social studies and the environment. Candidates should have at least a few years' work experience.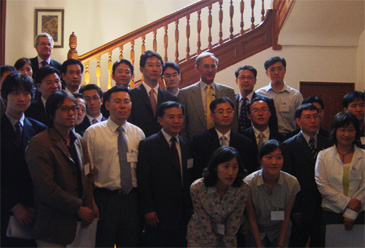 British Amb. Warwick Morris (third from right, upper row) poses with the recipients of British scholarship at his ambassadorial residence in Seoul. June 15, 2005
For more details on Chevening scholarships and how to apply for 2006, visit the website of the British Council in Seoul, at http://www.bckorea.or.krMeanwhile, The British Embassy expressed its thankfulness to South Korea's Ministry of Science and Technology, Ministry of Finance and Economy, Bank of Korea, Korea Press Foundation, British Chamber of Commerce Korea, Korea Bar Association, Diageo and the Korea Britain Society (KBS) for their financial support for this year's Chevening Scholarships.The award ceremony will take place during a reception beginning at 6 p.m. on June 15 at the Residence of the British ambassador. For more information call its Press Officer Jenny Hong at 02-3210-5562.