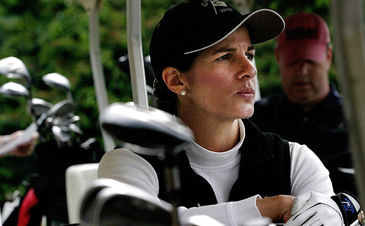 Hilary Bruggen advises companies on how to get their employees to play golf to help win business. A golf game can seal a deal, she says. Photo Credit: By Jahi Chikwendiu — The Washington Post
Sitting around a conference table at the Bethesda headquarters of Clark Construction Group LLC last week, employees of the company's business development and technology departments took turns in the confessional.The issue: golf.The counselor was Hilary Bruggen, a workplace consultant and business-golf expert hired to teach Clark employees how golf can be an important business tool. Whether their employees are avid golfers, neophytes or liken the tee box to "Fear Factor," companies like Clark hope that a lunch hour of golf therapy with Bruggen can bring even the most timid into the fold — and help the bottom line.People who don't play golf are "choosing to neglect the best business development there is," Bruggen told the group, describing how four hours on a golf course, away from e-mail, computers and ringing phones, can make or break a business deal. She heard from each of the 24 Clark employees about their attitudes toward the game — they ranged from avid hobby to necessary evil — then offered pointers.Don't force the business discussion, she said, and don't whine about a poor shot. She counseled women not to dress too feminine or outfit their golf bags with too many frills."Many of our clients do business on the golf course. It is just good business development to be involved in these networking groups," said David Golden, Clark's chief information officer.Golf has long been a pursuit of the business elite. The golf course is the place for people like former General Electric chief executive Jack Welch to recruit corporate directors, or for the head of law and accounting firms to test the mettle of potential partners. As the economy has grown and become more complex, golf's role has become broader.No longer just the province of presidents and chief executives, golf is promoted as an important strategic tool for mid-level managers looking to advance, and even for business students whose careers are just starting. Golf is also becoming more popular among women looking to compete on the same plane as men.Of 401 executives surveyed for a Starwood Hotels study in 2002, 92 percent said golf is "a good way to make new business contacts," while 97 percent said that golfing with a business associate "is a good way to establish a close relationship." Forty-three percent of executives said some of their biggest business deals were made on golf courses.University of Maryland students this fall will be able to earn three credits as they learn how to schmooze with potential employers, clients and executives. In the "Golf: For Business and Life" course, students will spend the semester in lectures by area business leaders, and, of course, on the greens. "The goal is when you finish the semester, the person can go out and play a respectable round of golf," said Jeff S. Maynor, director of golf for the university. In the course, students will hear how to interview or be interviewed while golfing, and to understand that ethics on the golf course are very much like ethics in the workplace."If you cheat in golf you cheat in business," Maynor said.The program is sponsored by the Professional Golfers' Association of America, which gives money to players in the Ryder Cup to donate to a university of their choice. Fred Funk, a Maryland alumnus and member of the 2005 U.S. Ryder Cup team, donated to Maryland to start the program."I've had a talk with women students about what [golf] can provide at senior levels or even middle management," said Janet Richert, managing director of the Office of Career Management at Maryland and former senior vice president of Hoffmann-La Roche Inc., a pharmaceutical company. "I didn't start playing golf until rather later in my corporate career. I don't think it advanced me, but it puts you in the scene ... that is where trust is built. The trust that provides you with the foundation to deals or agreements."Business leaders in the region work on that trust — or just try to get out of the office — in droves this time of year. Recently, dozens of people who are usually stuck behind computers and in meetings donned their best khaki pants and windbreakers to try their shots on a Thursday afternoon at Hains Point golf course.It was the Washington DC Technology Council's business golf event, and chatter of recently closed big deals and new partners was heard during swings and swats at the little white ball."It's one of those things where people get out, are comfortable and get away from everything," said John D. Sanders, chairman of the council. "You can learn a lot about people."Golf's place in business has not been without problems. Minorities have been barred from courses. Women were — and still are — kept off some too, or allowed to play only during off-hours on weekends. The Burning Tree Club in Bethesda is closed to women and gave up its tax-exempt status several years ago to remain that way.Allison Schieffelin sued her employer, Morgan Stanley Dean Witter & Co., saying she was "denied promotions on the basis of sex [and] has been subject to discriminatory terms and conditions of employment," according to court documents. Schieffelin accused Morgan Stanley of discriminatory practices, including "men-only golfing outings."The company settled the class action for $54 million last year.In 2003, the women's research organization Catalyst surveyed 705 women in Fortune 1000 companies about what they thought was holding them back at work. More than 40 percent said "exclusion from informal networks." One of the most mentioned of those informal networks was golf.Around Washington, women have played golf in greater numbers over the years, according to the Executive Women's Golf Association's Washington chapter.In Fairfax, golf seminars for women regularly sell out. The Fairfax County Chamber of Commerce's Women's Business Council sponsors the "Power of Golf," a 10-week course for women on the rules and fundamentals of the game and how to talk business on the greens. The council also has a reserved tee time weekly at the Oak Marr Golf Course in Oakton. The Herndon-Dulles chamber offers a six-week golf clinic.The women's golf association's Washington area chapter, whose mission is to provide opportunities for women to learn and play golf for "business and for life," says it has 550 members. Membership increases about 7 percent a year, said Donna M. Wood, head of the chapter. "A lot of women tend to shy away because they don't think they are prepared to play on a golf course," Wood said.Cynthia Tanenbaum, president of the health care technology consulting firm Chism Group LLC of Potomac, decided to take up golf seriously after the president of a hospital where she worked asked her to help him learn. He is a paraplegic and she was an occupational therapist."I developed my own game concurrent to his. And he was, being president of a hospital, very networked," she said. The hospital president introduced Tanenbaum to a number of golfers in her field, including Donna E. Shalala, who at the time was U.S. secretary of health and human services. "I realized at that point, gee, this is the power of golf: I'm playing with the president and the secretary," Tanenbaum said. "It was all I really needed to stay focused on learning to become a better golfer."She became a great golfer, playing on the amateur circuit, and her game led her to business, she said."While I didn't necessarily conduct business on the golf course, I knew if I ever needed to pick up the phone and ask that person for a favor, I could do it," she said.Many more women than men avoid playing golf because they fear that a bad game will cost them clients."Women who can't golf don't, men who can't golf do," said Bruggen, whose full corporate golf-counseling sessions cost about $10,000. She counsels nonprofit organizations for much less to help them learn how to sponsor events and attract donors.Not all successful business women or men think the golf course is the path to success.About three years ago, Barbara B. Lang, president and chief executive of the D.C. Chamber of Commerce, went to her beach house near Ocean City and found a set of clubs with a big red bow around it. Her husband thought it would be a good game for them to play together.But Lang said she finds the game too slow. Instead, like many other Washingtonians in the business world, she does lunches, drinks, dinners, breakfasts. She works the room most nights and attends just about every event in Washington, she said."That's how I network and get business for the Chamber or how I got business for Fannie Mae," Lang said. "The clubs are still at my beach house with wrappers on them."
Staff writer Elissa Silverman contributed to this report.