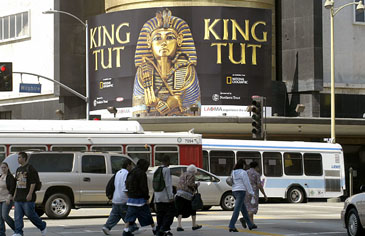 Pedestrians walk past the large banners that precede the opening of the King Tut Exhibit at the Los Angeles County Museum of Art. The stated goals of the exhibition's two-year, four-city American tour are mass appeal and mass profits. Photo Courtesy Jamie Rector for NYT.
LOS ANGELES, June 16, 2005 — The Curse of the Pharaohs has a long heritage, at least as far as King Tut is concerned. It was said to have caused a series of unusual deaths that followed quickly on the 1922 discovery of Tutankhamen's tomb in the Valley of the Kings near Luxor.Later it supposedly brought blackouts, floods and major inconveniences, all in retribution for the disruption of Tut's 3,300-year-old mummy and the display of any of the 5,398 objects that filled his oddly cramped tomb.But in the museum world the curse may have another meaning, one traceable to the exhibition of 50 objects from the tomb that toured the United States in the late 1970's. That exhibition championed supplementary admission prices, boosted the importance of souvenir shops, caused a renaissance of Egyptian kitsch and set curators and museum boards to salivating for something else that could draw eight million visitors.
Tutankhamun's golden diadem
The golden diadem was still around the head of Tutankhamun when the British archaeologist Howard Carter opened the royal coffin more than 3,200 years after the young king died. Andreas F. Voegelin/AFP — Getty Images
With the opening here on Thursday of "Tutankhamen and the Golden Age of the Pharaohs" - a two-year, four-city American tour with the stated goals of mass appeal and mass profits - many feared this more recent curse, of abject commercialism, would rise again.Yet unless vast sums are lost, this is one time when the curse may have lost its power. It isn't that the exhibition - produced by a consortium of private companies and carrying a top ticket price of $30 at the Los Angeles County Museum of Art - totally escapes the risks of profiteering or politicized oversight.But despite its flaws, it is often powerful, sometimes provocative and always worth seeing. Its beautiful objects range from a sensuous unguent spoon shaped like a swimming woman to one of Tut's intricate golden coffinettes designed to store his mummified viscera.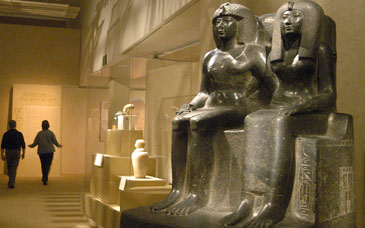 The exhibition will also visit Fort Lauderdale, Chicago and Philadelphia over the next 27 months.Photo Courtesy Jamie Rector for NYT
Its displays are theatrically lighted, sometimes choosing effect over clarity, but each gallery is given its own striking atmosphere. And the thematic organization skillfully surveys the generations preceding Tut and the burial customs of his time. And finally 50 objects from Tut's tomb are presented, only 12 of which were seen during the previous tour. Some flaws, such as the need for more textual material, could be ascribed to commercial concerns about audience response, but they are not fatal, so powerful are the objects. One of the unusual effects of the exhibition is that, at least subliminally, it seems to undermine its promotional presuppositions. By not allowing the more elaborate pieces to travel - like the gold burial mask that became the icon of the first Tut show - and choosing some of the more intimate pieces to display and adding about 70 objects from the 18th dynasty to suggest a broader context, the Egyptian government altered the perspective: Tut, instead of being the climax of the exhibition, as he is meant to be, becomes something of an epilogue, a puzzle.
King Tutankhamun's miniature coffin
One of four king Tutankhamun miniature coffins fashioned of gold and inlaid with colored glass and semi-precious stones.
Andreas F. Voegelin/AFP — Getty Images
This exhibition is a fund-raiser, and Egypt has made clear that it wants to earn at least $10 million from each city visited - Los Angeles (through Nov. 15), Fort Lauderdale, Chicago and Philadelphia. The money is to be used for preserving antiquities. The tour promises a lot more vulgarity than propriety, even if one presenter is National Geographic (which has already produced a television program, sponsored a CT scan of Tut's mummy suggesting that he was not killed by a blow to the head, and published the exhibition catalog). Zahi Hawass, the secretary general of the Egyptian Supreme Council of Antiquities, chose the objects and wrote the catalog's text. But the exhibition's shape and its texts were overseen by David P. Silverman, an Egyptologist at the University of Pennsylvania, who was also a guiding light in the first Tut exhibition.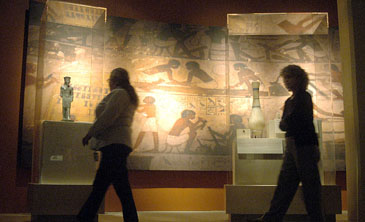 Last-minute walk-throughs at the exhibit, which opens at the Los Angeles County Museum of Art on June 16 and runs there through Nov. 15. Photo Courtesy Jamie Rector for NYT
He gave pride of place to two distinct objects that seem to affect one's perception of the exhibition. Both appear with self-conscious theatricality, starkly lighted, rising out of dark, hushed galleries. Both are first seen from a distance and approached as they might be by supplicants. Both were pharaohs in the 18th dynasty. And they are images of father and son. The first, of course, is of Tutankhamen, who appears as a painted wooden torso mounted on a pedestal, as if he were the guardian of what is to be seen within. He seems almost gentle, self-effacing. The hint of a smile, the wide patient eyes, testify to innocence. He is older here than 9, his age when he first took the throne (in 1332 B.C., according to the exhibition), but he doesn't seem close to 18 or 19, the age at which he suddenly died under peculiar circumstances. He hardly seems prepared to dominate an exhibition, let alone rule a kingdom. That impression is amplified by a second image: an imposing limestone head of Akhnaten (originally called Amenhotep IV). Current theory is that Akhnaten was Tutankhamen's father, and an imposing model he must have been. The head, nearly five feet tall, can seem almost distended, stretched; in photographs it can even seem a little grotesque. But here it is mounted high as its proportions suggest, and the effect is monumental.
Wooden bust
of Tutankhamun
This wooden bust of Tutankhamun portrays the young king much more as a youthful figure than a divine being.
Andreas F. Voegelin/AFP — Getty Images
He appears to be everything King Tut is not - authoritative, compassionate and condescending, one who commands. The image casts its shadow over the exhibition; so does a striking stone relief in the same gallery, showing Akhnaten and his family making offerings to the sun.Akhnaten tried to transform the religious culture of ancient Egypt, making the sun god the center of worship, moving the empire's capital, building new temples and destroying the old. For many scholars he was a harbinger of monotheistic ideas, and that is how he appears here. Within a generation that revolution was overturned, and Tutankhamen is often considered the instigator of this counterrevolution. But the images of Tut, along with his age, make this seem implausible. One must look to his overseers - each of whom succeeded Tut in power after his death, one of whom altered a stone inscription and claimed Tut's credit for the religious restoration. But a diminished profile of Tut is not something that an exhibition like this can readily promote, particularly not when it wants to usher its subject into the commercial afterlife. And that shrunken scale also requires that one explain the opulence of the tomb's objects. Were all pharonic tombs so saturated with riches? Does this one seem so unusual because it was hidden under debris and survived the millennia unplundered (except for some minor thefts close to Tut's time)? Why then was Tut buried in a cramped space that would have been more suited to a wealthy commoner? Why was one of his advisers and successors, Aye, apparently buried in Tut's intended tomb? Was the gold meant as compensation, as Dr. Silverman believes, for an inadequate tomb that had to be used in haste? Or, as one might more luridly fantasize, was it a guilt offering to a sweet boy raised by experienced counselors who perhaps put other plans into effect as he reached adulthood? The exhibition does not offer enough information or raise enough questions, but this can be corrected by a curious visitor. And only rarely do promotional impulses seem overwrought, as they do in the catalog's foreword, in which Suzanne Mubarak, the first lady of Egypt, writes, "The civilization of the pharaohs has long stood as a beacon to the world, a symbol of what is possible when people work together toward common goals." Perhaps, but that is not quite what the history reveals, and the objects speak more plainly. One of Tut's cosmetics jars, made of ivory, is crowned with a lion and inscribed with lions and dogs attacking their prey. The jar rests on the bodies of Egypt's enemies, their heads protruding. Two are Nubian faces carved of black stone, two of bearded Asiatics, carved of red stone. It is best to see such things clearly, and for the most part, throughout this exhibition, we do.
The above article is from The New York Times.