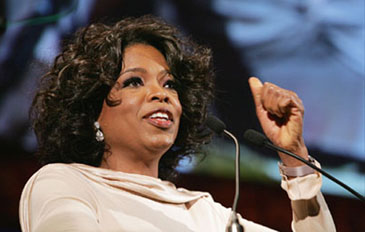 Oprah Winfrey
US talk show host Oprah Winfrey has been named the world's most powerful celebrity by business magazine Forbes.
Actor Mel Gibson - last year's number one — is third in this year's Celebrity 100 list, behind golfer Tiger Woods. Star Wars creator George Lucas returns at four after a one-year absence, but is first in the money rankings with estimated earnings of $290m (£159.3m). At nine, singer Sir Elton John is the highest ranking Briton, with estimated earnings of $44m (£24m). Other British celebrities in the list include Rod Stewart at 32 and supermodel Kate Moss at 93. Winfrey's talk show is watched by 30 million viewers each week and is thought to have earned $225m (£123.6m) over the last 12 months.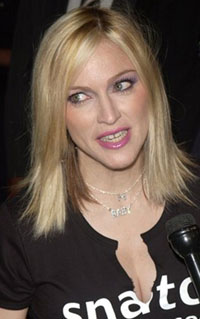 1. Oprah Winfrey
2. Tiger Woods
3. Mel Gibson
4. George Lucas
5. Shaquille O'Neal
6. Steven Spielberg
7. Johnny Depp
8. Madonna (above)
9. Sir Elton John
10. Tom Cruise

Forbes rates celebrities' influence according to press coverage, internet presence and estimated earnings between June 2004 and June 2005. Newcomers to the list include Oscar-winning star Denzel Washington and Will Ferrell, whose $40m (£22m) earnings make him the list's most successful actor. Among the high-profile absentees are actors Jim Carrey and Tom Hanks and veteran rockers Rolling Stones - ranked fifth last year thanks to their successful world tours. Harry Potter author JK Rowling is down 16 places from six to 22, while the stars of hit TV series Desperate Housewives enter the chart at 25. Best-selling author Dan Brown, who wrote The Da Vinci Code, is at number 12. Friends stars Courtney Cox Arquette and Lisa Kudrow are no longer on the list, leaving Jennifer Aniston the only star of the series to still make the cut at number 37. She topped the list in 2003.
How Oprah Conquered the US
Oprah Winfrey's Phenomenally Successful Career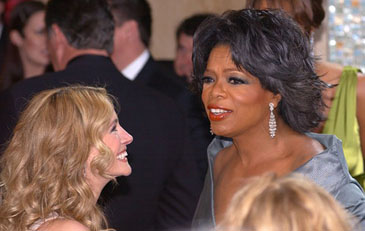 Oprah Winfrey (right) with Julia Roberts at at the 76th Annual Academy Awards in Hollywood Feb. 29, 2004.
The United States has been well and truly conquered by Oprah Winfrey. Since her TV career began back in 1973, she has won 34 Emmy awards, and her show has topped talk-show ratings for 14 consecutive seasons. The emotionally charged, self-help approach of her programme appeals to millions, and Winfrey regularly flattens the competition. She can also attract the biggest names in showbusiness, and got away with asking both Tom Cruise and Nicole Kidman about their divorce when each star appeared separately on the show.Although they remained tight-lipped, they each spoke of their respect for their former partner and opened up to Winfrey's intimate interviewing style.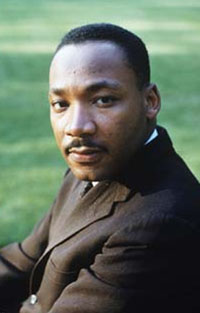 Martin Luther King Jr (1929-68): Winfrey cites him as a source of inspiration
Her success has not just been on-screen - a formidable businesswoman with her own production company, Harpo Productions, she is worth a fortune. In 1998 Winfrey announced the formation of Oxygen Media, which includes a women's cable network and is integrated with Oxygen's online sites for women. When she expanded into publishing, millions of fans flocked to buy her magazine, simply called O.If she recommends a novel through her book club, it is pretty much guaranteed to top the best-seller lists, and she makes self-help gurus into household names. She recently ran into controversy with author Jonathan Franzen, when he refused to have his book, The Corrections, named as her book of the month. He later said he regretted the high-profile disagreement. Winfrey's empire was recognised by Time Magazine in 1998, when it named her one of the 100 most influential people of the 20th Century. She has also won several other notable broadcasting prizes, including the National Academy of Television Arts and Sciences' Lifetime Achievement Award, in 1998.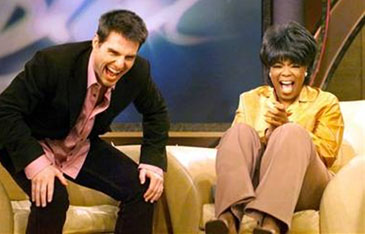 Oprah Winfrey with Tom Cruise on her show
Winfrey's approach appears to be simple - she is on a quest for self-improvement, self-empowerment and spiritualism. It has proved to be just what millions of Americans, especially women, wanted - her caring, sharing approach was a far cry from the voyeurism of the Jerry Springer show. Winfrey's confessional approach has also drawn in viewers - she revealed she had been sexually abused as a child, and has spoken freely of her struggle with her weight. She is equally vocal about her private life, and said she chose never to have children. "Because I wasn't mothered well I never felt compelled to do it. I always felt that I don't even know how to do that," she said.
Child abuse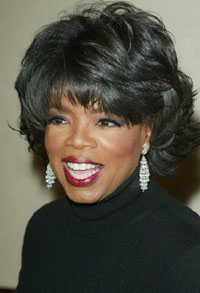 Oprah Winfrey began broadcasting while at high school.
Her relationship with Stedman Graham, with whom she also lectures students on dynamics of leadership, is less well-publicised, although the couple have been an item for several years. Winfrey's work has extended to social change, and in 1991 she was instrumental in the National Child Protection Act. She testified before the US senate judiciary committee to establish a national database of convicted child abusers. Two years later former President Bill Clinton signed the national "Oprah Bill" into law.
Early career
Oprah Winfrey began life in 1954 in Kosciusko, Mississippi, and while she was still at school she began working for local radio. She enrolled in Tennessee State University in 1971, to study speech and performing arts, and was named Miss Black Tennessee the following year. Leapfrogging ahead of her competitors, she became the youngest person - and the first African-American woman - to anchor the news at Nashville's WTVF-TV aged 19. She went on to co-anchor Baltimore's WJZ-TV six o'clock news, before co-hosting their local talk show, People Are Talking.
Producer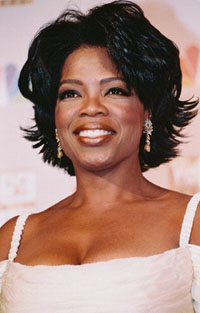 Oprah Winfrey
By 1984, Winfrey was hosting WLS-TV's morning talk show in Chicago and after just one month it was topping the ratings. Two years later, the Oprah Winfrey Show was born, with its host also producing the programme. It went on to become the highest-rated talk show in TV history, and 26 million viewers tune in each week in the US to watch it. It is also broadcast in 112 countries, and although its ratings dipped recently, the show is still the most popular of its type. Winfrey's work also includes Oprah's Angel Network, which she launched in 1997, a campaign encouraging people to help those in need.
Acting
It has collected more than $3.5m to set up college scholarships and gives $100,000 weekly to people using their lives to improve the lives of others. Her websites average about 15 million hits monthly, and receive about 3,000 e-mails each day. Winfrey also tried her hand as an actress, making her debut in 1985 as Sofia in Steven Spielberg's The Color Purple.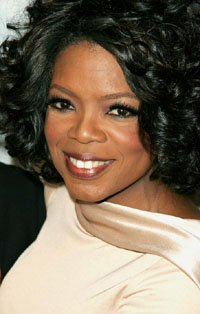 Oprah Winfrey's talk show is seen in 112 countries worldwide.
She was nominated both for an Academy Award and a Golden Globe and hit the silver screen again in 1998. The film, an adaptation of Toni Morrison's Pulitzer Prize-winning novel Beloved, did not gain Winfrey the same recognition. But she said at the time she was compelled to make it after being drawn to its "spiritual odyssey."