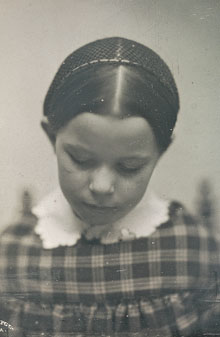 Alice Mary Hawes, the daughter of the photographer Josiah Johnson Hawes.
It's hard to find the right adjectives for "Young America: The Daguerreotypes of Southworth and Hawes" at the International Center of Photography. So I'll just say that the exhibition of 150 or so mid-19th-century photographs is precious in the very best sense: literally beyond price, and almost, but not quite, beyond praise.When photography arrived in America from Europe in 1839, it existed in two different forms. In England, William Henry Fox Talbot had developed a way of printing positive images from negatives onto paper; while in Paris, Louis-Jacques-Mandé Daguerre had fixed positive images on polished metal plates. Talbot's process had the advantage of yielding unlimited copies of images, cheap. The selling point of the daguerreotype was the staggering clarity and brilliance of its images: diamond-cut empiricism bathed in apparitional light. The trouble was that each daguerreotype was a unique print. To reproduce it, you had to photograph it. There were other drawbacks. Vulnerable to damage, plates had to be enclosed in frames or cases, like a relic. And an image became visible only when the reflective plate was tilted and illuminated in certain way. The International Center of Photography bought expensive new lights to finesse the problem, and they do the trick. Each picture glows on the wall like a stone in a mood ring, or a computer screen floating in space. Despite its quirks - maybe because of them - the daguerreotype was a hot item in America long after Europe tired of it. Why? The historian Alan Trachtenberg speculates in the show's catalog - a glorious book - that this was a matter of national taste. Americans are captivated by technological wizardry and sentimentally attached to hand-crafting. The daguerreotype offered both. And with its spooky luminosity and fugitive imagery, this photographic medium may have been in synch with the spirit of the times, a proto-New Age that encompassed not only the idealized realism of Luminist painting, but a whole raft of spiritualist movements fueled by a belief that concrete reality was a front for immortal operations. And to these possibilities, we can add one more: the power of a budding marketing culture. Thanks to commercial hype, the daguerreotype, already enjoying grass-roots popularity, was promoted to the status of a national art form.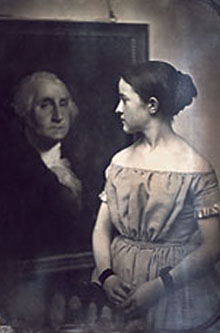 "Girl With Portrait of George Washington," made about 1850 by Southworth and Hawes.
"Art" was the word that Albert Sands Southworth (1811-94) and Josiah Johnson Hawes (1808-1901) wanted to hear. Partners in a Boston daguerreotype studio from 1843 to 1863, they distanced themselves from the mass production side of the medium. They considered themselves artists, which indeed they were. And their aim was to make high-quality daguerreotype portraits for high-quality people, from local gentry to America's political and intellectual elite.To that end, they set up shop in a smart part of town, in a spacious top-floor studio with an enormous skylight and lots of classy props: Greek busts, columns, throne-like chairs. They worked in various formats, from locket-size pictures to stereoscopes. But their specialty was the "whole plate" daguerreotype, its large size and steep price commensurate with the prestige of their clients.And interesting clients they had. Statesmen of all stripes showed up. One of the firm's signature portraits was of the politician Daniel Webster. The picture, which exists in several trial-and-error versions, was often cited as proof that the daguerreotype was matchless not only in capturing physical details but also in revealing moral character. In the case of Webster's portrait, the proposition is dubious. He looks prophetically righteous enough. But his claim to fame was his support of the Compromise of 1850, which shamelessly protected Northern business interests by reasserting the legitimacy of slavery. Southworth and Hawes worked at a volatile time in an explosive place. Antebellum Boston was prime abolitionist turf. The photographers counted William Lloyd Garrison, Ralph Waldo Emerson and Harriet Beecher Stowe among their celebrity clientele. Stowe's portrait is in the show. Already a star, but with "Uncle Tom's Cabin" still to come, she sits gamely erect, if a little stunned and wilted, oblivious to the leggy house plant crowding the space beside her.The reformer Dorothea Dix paid a combative visit, and with her severe dress and plastered-down hair, she looks, in her portrait, as if she can't wait to leave. By contrast, the entertainer Lola Montez - born Marie Dolores Eliza Rosanna Gilbert, in Ireland - is terrifically relaxed in a white mantilla. She knew what posing was all about. So did the Rev. Rollin Heber Neale of Boston's First Baptist Church, a popular orator with a solid fan base and a Sid Vicious coif.The United States is a nation of divas, and the show - organized by Grant Romer of George Eastman House International Museum of Photography and Film in Rochester, N.Y., and Brian Wallis, chief curator at the International Center of Photography - has its share. It has other things, too, from a family-album-style chronicle of Hawes's three personable children, to magical experimental shots, probably by Hawes, of clouds above Boston rooftops and frost on a pane of glass.Most of the surviving pictures, though, some 2,000, are of unidentified people: male and female, young and old, comely and plain, in individual headshots, or in groups, or as bridal couples, visually linked by the handful of familiar studio props, to which new ones are occasionally added. In one picture, a young girl stands in front of the Gilbert Stuart portrait of George Washington owned by the Boston Atheneum. Southworth and Hawes customarily instructed their sitters to look away from the camera, to create an impression of being absorbed in reverie, unaware of an audience. Yet this picture, which may have an allegorical drift - young America meets old America? - is arresting for its play of direct and indirect gazes. The girl's head is in profile; she may or may not be looking at Washington. He, however, is staring straight past her and out at us, with haughty, challenging eyes. Unlike most painted portraits, the daguerreotype was pitiless in its candor: it not only registered blemishes but also magnified them. Southworth and Hawes's reputation rested on their ability to forge reasonably flattering likenesses from even tough material, with the aid of adjusted lighting, customized cameras and post-production touch-up. Post-mortem portraiture, a standard 19th-century genre, demanded particularly inventive cosmetic enhancements, at which the photographers were expert. They advertised that, under normal conditions, they could bring off an illusion of "balmy sleep," and at the very least they would ensure that "the posture of death will not be first seen and most forcible in the likeness." Such jobs took them out of the studio. Other commissions did, too. In 1847, they lugged their hardware into the operating theater of nearby Massachusetts General Hospital to document a re-enactment of the first successful use of ether as an anesthetic. And around 1853, for their own purposes, they shot pictures of Mount Auburn Cemetery across the Charles River from Boston.Mount Auburn was, then as now, a showplace, one of America's grand garden cemeteries. With its ornamental rills and glades, it was a manicured Elysium, where death not only lost its sting but also offered a pretext for picnics. The public park movement in America got its start here; so did a post-Puritan softening of the facts of mortality.Many of Southworth and Hawes's rich and famous clientele came to be buried at Mount Auburn. And even as the photographers were shooting its tombs, the daguerreotype fad was ending. The culture it had recorded was changing. "America is a country of young men," Emerson would write in 1870. But untold numbers of the dapper, nameless young men in the portraits had died in the Civil War, and that event had dragged a traumatized country to the very edge of the mass grave it had dug for itself, and forced it to look in. Another daguerreotype artist, Mathew Brady, documented the horror. Southworth and Hawes did not, though traces of the political, racial and social forces that contributed to war were imbedded in their work. These elements collectively form a dark unspoken subject of their portraits. It is impossible not to see now. But what about then? Did any of those sitters in the 1850's, mind-traveling under the skylight as they held a pose, imagine bodies dissolved in a chemical sheen; or think of portraits as depictions of ghosts-to-be; or of photographs, not as mirrors but as receptacles of time, sealed for a future opening? Probably not. Like most Americans, they had appointments to keep, places to go, plans. On any given day a long-suffering sitter might have said, with a smile, to the fussing Mr. Southworth or the punctilious Mr. Hawes: "You know, it's almost noon. So never mind the fine details; just make me glow!" And they did, and they do.