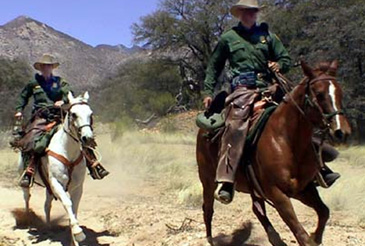 US broder patrol — The vast majority of illegal aliens favor the El Paso, Texas, the Douglas, Arizona, the El Centro, and California areas to .enter the United States.
US President George W. Bush wants to privatize Social Security because he believes it will become insolvent if nothing is done. Some people who aredoing something about it are undocumented workers.
There is a myth that undocumented workers don¹t pay taxes and use services costing the US billions. A dirty little secret is that undocumented workers not only pay taxes but also contribute to Social Security and will never collect a dime.
Since companies require a social security number in the hiring process, undocumented workers often provide fake numbers.Both the company and the workers contribute to these fake accounts, which end up in the coffers of the Social Security Administration. Some undocumented workers pay as much as $2,000.00 or even more a year to Social Security and Medicare. Since there are an estimated 7 to 8 million undocumented workers in the US, their contributions reach about $7 billion a year. This amount is about 10 percent of last year¹s surplus for Social Security, that is the difference between what the system receives in contributions and what it pays out in benefits. The money contributed by undocumented workers goes into the "earning suspense file" since it cannot be determined who sent it in. In the past two decades, the fund has grown to nearly $200 billion.
One reason why Social Security is benefiting so much from the work of undocumented workers is that they come here to work. And they do work. Most undocumented workers have no idea why money from their paychecks is withheld. But they don¹t care. They¹re not here for benefits but rather for jobs.
Retirement is not what they are planning. They need to work now. In a way, the "suspense file" is taxation without representation.Yet, undocumented workers are not getting much sympathy. Most Americans view them as uninvited guests who use valuable resources and cost the country billions. The reality is more complex because undocumented workers contribute in "hidden" ways to Americans¹ standard of living. Their unintended contributions to Social Security are just one part.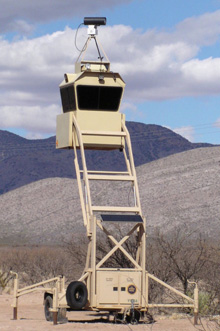 Sky Watch Frontier tower set up at US-Mexican border to block Mexicans from illegally entering the US.
By hiring undocumented workers, companies pay less for labor and that inevitably generates "savings." These "savings" are inevitably passed on in one form or another to consumers.Just like they subsidize Social Security, undocumented workers also subsidize the cost of food and other basic services for the average American. However, undocumented workers don¹t come without any cost. The federal government spends billions as it tries unsuccessfully to prevent people from crossing illegally into the US. Once in the country, undocumented workers eventually need healthcare and social services. Given their insecure immigration status, undocumented workers do not join unions and negotiate for higher salaries and better working conditions. The "ghost" of the Immigration and Naturalization System (INS) is ever-present. Deportation will mean another $2,000 to $ 3,000 to a smuggler in order to get back into the country. Their weak position means that companies do not have to provide benefits and taxpayers are forced to pick up the tab. In essence, taxpayers end up subsidizing companies hiring undocumented workers.
Yet Americans don¹t get angry with these companies. They direct their anger at the workers which some are using for political advantage. Unfortunately, politicians' talk about immigration reform is not going anywhere since many political leaders reflect the popular idea that undocumented workers should not receive "amnesty" because that would encourage more illegal immigration. What will inevitable happen is that with or without immigration reform, people will continue to come to the US as long as companies keep hiring them. A few generations down the road, when these undocumented workers¹ kids and grandkids will have established themselves in the US, they will look back at their ancestors. What they will see is their hard work which helped build the country. They¹ll see heroism in their ancestors¹ illegal act of entering the country.