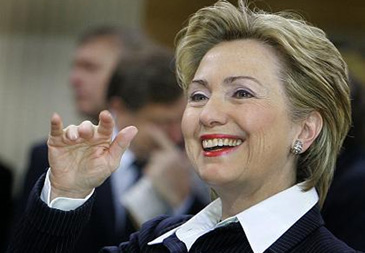 The Truth About Hillary has divided her detractors.
The online bookshop Amazon helpfully tells customers ordering The Truth About Hillary what those who have bought the rather salacious book about Mrs Clinton have purchased in the past. At the top of the list is Unfit For Command, a book which claimed Democratic presidential candidate John Kerry lied to get his Vietnam medals. It is widely held to have damaged the Massachusetts senator's campaign. Those keen to avert a second Clinton presidency hope The Truth About Hillary, a collection of old and new claims about the former First Lady's marriage, sexuality and burning ambition, by veteran journalist Edward Klein, will do for the senator for New York what Unfit for Command did for Mr Kerry. Mr Klein insists he had no agenda when he started work on the book, but now declares that a President Hillary Clinton would be "a danger to the republic."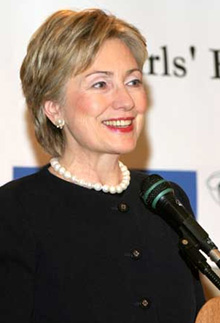 Sen. Hillary Clinton

Republican John LeBoutillier pushed it as "a must-read for all of us who want to stop her from being president" in a column on the day it was published, calling it "a well-crafted portrayal of Hillary's lifetime plan to get herself to the Oval Office - at all costs." The author's liberal credentials as former editor of the New York Times magazine are also viewed by those banging the drum for The Truth About Hillary as providing the book with even greater authority. But there are prominent conservatives who worry that the book, already at number three in Amazon's sales rank, will make the anti-Hillary lobby look like a version of the bawdy Jerry Springer show - and even boost her chances for the 2008 race. "This stuff is disgusting. It makes your skin crawl," said Craig Shirley, a prominent Republican consultant. "It could backfire and make Hillary a more sympathetic figure." Dick Morris, a former Clinton advisor turned critic, warned the book could obscure "the more serious questions about her qualifications to be a good president."
Things to come?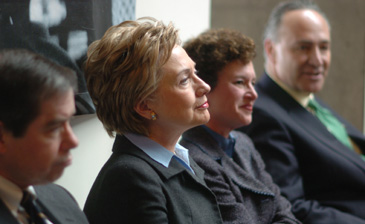 Sen. Hillary Clinton attends a ceremony with other personalities at Syracuse University's Maxwell School March 14, 2005.
Mrs Clinton's camp say they do not comment on "works of fiction, let alone a book of blatant fabrications written by someone who writes trash for cash."Nonetheless some feel the book has at the very least given the Democrats a taster of what they might expect if they were to choose her to run for the presidency in 2008. Although Mrs Clinton has not said if she will run, she is currently seen as one of the clear frontrunners. However, other possible contenders have already started testing the water. On Sunday, Delaware senator Joseph Biden announced his intention to seek the nomination. But with what is widely thought to be an eye to 2008, Hillary has already been toning down her ultra liberal image, seeking out the middle ground.
Not one jot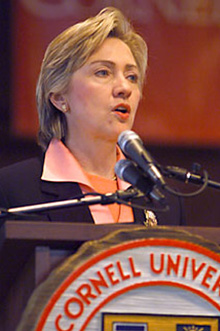 Sen. Hillary Clinton

While Klein says his references to lesbianism in the book illustrate how "Hillary's politics were shaped by the culture of radical feminism and lesbianism at Wellesley College in the 1960s," the woman herself has altered her stance on one of America's key feminist issues: abortion. Just a year ago she described those who opposed abortion as part of a drive to "undermine our basic rights as Americans." But more recently she has spoken of her "respect" for "those who believe with all hearts and conscience that there are no circumstances under which any abortion should ever be available." She has also been teaming up with prominent conservative Republicans on a number of issues, including healthcare, manufacturing jobs, and violence on the TV. Theoretically at least, The Truth About Hillary may make some voters question the motives lying behind such statements and initiatives - if it doesn't, as some conservatives clearly fear, end up transforming Hillary into a victim. But some believe it won't make one jot of difference. "This book," according to a review in the influential Publishers Weekly, "will not, as has been hoped or feared, do for any Clinton presidential campaign what Unfit for Command did for the Kerry one." "This clip and paste job," it continued, "is unlikely to change a single mind, let alone vote."
Profile: Hillary Rodham Clinton
By Paul Reynolds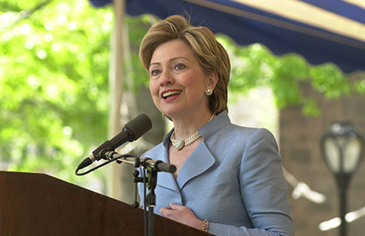 Sen. Hillary Rodham Clinton delivers the Class Day address at her alma mater Yale University in 2001.
Former First Lady Hillary Rodham Clinton was elected senator of New York in 2000, and is one of the Democratic Party's key assets. A campaigner for women's rights, healthcare and job creation, she has a high-profile at home as well as on the international stage. One of the things to note about Senator Clinton is that she always uses the family name of Rodham as well as her married name. She is perhaps making a statement about her independence, rather like President George Bush junior who added the "W" from the family name of Walker to distinguish himself from his father. But the fact that she still carries the Clinton name as well shows that she values its connections. Senator Clinton is perhaps also fond of the name Rodham because by all accounts she is very much her father's daughter.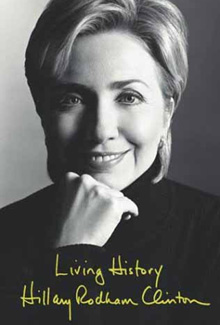 Sen. Hillary Clinton's Key Facts
*Born 26 October, 1947 in Chicago
*Attended Wellesley College
*Graduated from Yale Law School in 1973
*Married Bill Clinton in 1975
*Campaigner for expanding health insurance coverage, woman's rights
*Elected New York senator in 2000
Hugh Rodham did not stand for weakness, according to his family. Unusually for the United States and very unusually for freezing Illinois, he turned the heating off at night. Hillary's brother Tony described him as "confrontational." He had been a chief petty officer and drill instructor in the war. There is a story that when Hillary came back from school with straight A grades, he remarked that it must be an easy school. Her mother Dorothy also took a firm line. When her daughter complained about a bully at school, she replied that there was no room in the house for cowards. Hillary Rodham Clinton developed the iron exterior which has served her so well in the political and personal storms through which she and her husband have travelled.
'I love him'
But if she is independent, she is also tied to Bill Clinton. Twice she has shown that she will not leave her husband, whatever he has done.In 1992, when Gennifer Flowers revealed that she had had an affair with him (which he admitted to only years later and then claiming it was confined to one encounter), she uttered the famous words on the CBS 60 Minutes programme: "I'm not sitting here as some little woman standing by my man like Tammy Wynette. I'm sitting here because I love him."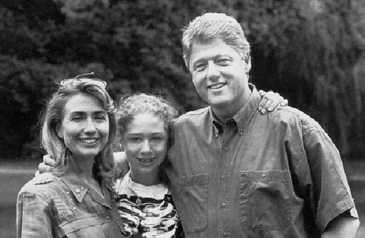 Hillary has stood by her husband at the time of his crisis.
She had to apologise, of course, to Tammy Wynette who wrote and sang the song but was not the character in it, but Hillary had made her point. The second time was in January 1998 when the Monica Lewinsky story broke. She declared in an interview with the NBC Today show that it was all politically inspired by "this vast right-wing conspiracy that has been conspiring against my husband since the day he announced for president."She had a difficult moment later that year when her husband admitted to certain contacts with Monica Lewinsky, and nobody will forget the sight of the two of them walking across the White House lawn to the helicopter waiting to take them on holiday. Their daughter Chelsea walked between them holding their hands. Hillary was angry but she was still there.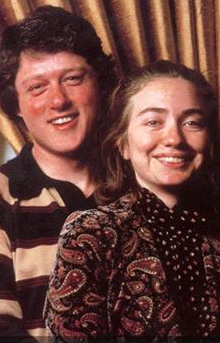 Bill Clinton with Hillary
She presumably stayed with Bill because she wanted to personally, though it is noticeable that their lives are often spent apart these days. And presumably, too, she stayed because she felt it strengthened her political hand, as was proved when she went into politics for herself and became the first First Lady to enter the Senate.
Testing the water
The question now is whether she will one day run for the presidency itself - there are signs that she may be prepared to test the water at least.For example, liberal Democrats in New York State have noticed that she is distancing herself from some liberal issues, such as gay rights, just as Bill Clinton did with his strategy of "triangulation," in which he kept himself apart from left and right. She was careful to be supportive of President Bush over Iraq. Anne Erickson of the Greater Upstate Law Project told the New York Times: "Is she playing to a national audience? As a Democrat with liberal leanings, I can personally say that it is pretty disappointing... We expected better from her." She has also teamed up with conservatives in the Senate to introduce legislation. One partner was Senator Graham Lindsey from South Carolina with whom she sponsored a bill to increase National Guard and Reserve pay.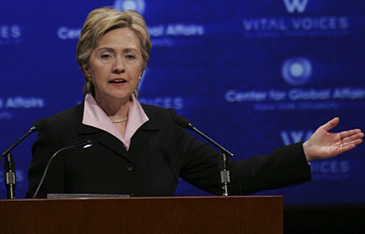 Sen. Hillary Clinton
As a member of the House of Representatives at the time, he was one of the most effective of the House members who argued the impeachment case against her husband in front of the Senate.To which one of her advisers Harold Wolfson commented: "The view of Hillary Clinton as a dyed-in-the-wool leftist is a caricature." The word from her camp, therefore, is that this is nothing new. But if she did run, there are equally many arguments against it. The Republicans are likely to make much of the curious position which Bill Clinton would occupy - and what would his title be, assuming that they were still married? First Gentleman? They would accuse him of being president by proxy. In the meantime, it never hurts a senator's position to be talked about as a potential president.