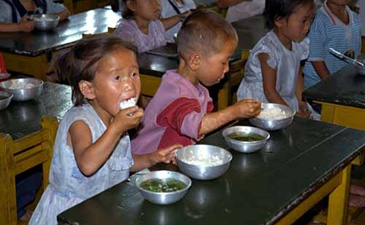 School children in a village near Pyongyang receive food rations.
WASHINGTON, June 22, 2005 — The Bush administration said Wednesday that it would send 55,000 tons of food to North Korea this year, even as other American officials press ahead with plans to deprive the North of hard currency if there is no progress in efforts to end its nuclear weapons program.The food aid, the same amount as last year, was announced just as China, South Korea, Japan, Russia and the United States are trying to lure North Korea back to talks that have been stalled for a year. But a State Department spokesman, Adam Ereli, said in announcing the decision that there was no linkage to the nuclear issue. "Our decisions are made on humanitarian considerations solely," he told reporters.A senior administration official said that Mr. Ereli was correct, but that once the administration made the decision to renew the aid, it wanted to make the announcement as soon as possible. Last year the announcement came in July. By most standards, the aid being channeled through the World Food Program is not large. In 2003, just after North Korea threw out international inspectors from its main nuclear site, the United States donated twice as much.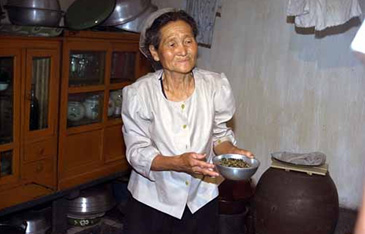 A N. Korean woman in Pyongyang shows a 1-day ration of food.
North Korea has made it difficult to determine where the food ends up, a source of continuing concern in Washington. On Wednesday the White House spokesman, Scott McClellan, said the White House was worried about whether "that food is getting to the people who need it, the people who are starving, the people who are hungry,""We want to make sure that there are assurances that that food is going to those who need it, not to the government or to the military in North Korea," he added.The United States appears to be pursuing a two-pronged strategy, continuing to aid the North Korean populace, while trying to deprive the government of its main sources of hard currency: counterfeit money and the sale of drugs and missile technology.Several administration officials have said in the past week that they now expect North Korea to return to the six-nation negotiations. They note that China has often provided aid to the North to get it to take part in negotiations. But the officials say their expectations are low. "The fact is that the North is suffering no consequences for continuing to speed ahead with the nuclear program," one senior administration official said last week. "That has to stop."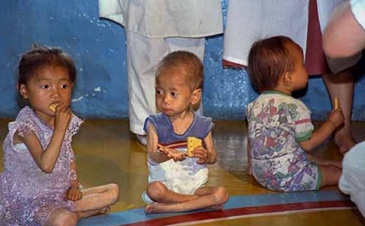 Malnurished nursery school children receive food rations in their village near Pyongyang.

Kim Jong Il, North Korea's president, told a visiting South Korean delegation last week that he was willing, in principle, to return to talks if he believed that the United States was dealing with him with respect. President Bush called Mr. Kim a "tyrant" in April, and early in the year Condoleezza Rice, the secretary of state, said the country was an "outpost of tyranny." Both have toned down their comments since then, partly at the urging of South Korea and China, officials of both countries say.In an op-ed article in The Washington Post on Wednesday, Donald P. Gregg, a former ambassador to South Korea, and Don Oberdorfer, a Korea expert who has written extensively about the North, revealed that in November 2002 they carried a secret message from Mr. Kim to the White House. They quoted Mr. Kim's message as stating, "If the United States recognizes our sovereignty and assures nonaggression, it is our view that we should be able to find a way to resolve the nuclear issue in compliance with the demands of a new century." "If the United States makes a bold decision, we will respond accordingly," the North Korean message said. Mr. Gregg, who is close to Mr. Bush's father, and Mr. Oberdorfer have both been critical of the president's handling of North Korea. They wrote that when they delivered the message, White House officials were "deep in secret planning and a campaign of public persuasion for the invasion of Iraq," and that they "spurned engagement with North Korea."Within a few months Mr. Kim had ejected inspectors, withdrawn from the Nuclear Nonproliferation Treaty and started reprocessing 8,000 spent nuclear fuel rods into weapons-grade plutonium. It is unclear whether all that fuel has been turned into usable weapons - the issue is debated among intelligence experts - but Mr. Gregg and Mr. Oberdorfer urged the president not to miss another opening.