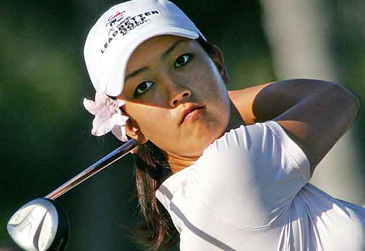 Michelle Wie
CHERRY HILLS VILLAGE, Colo. — Two teenagers in pink shirts and ponytails showed Saturday that history at the U.S. Women's Open doesn't have to be all about Annika Sorenstam and the Grand Slam.Michelle Wie was a 15-year-old model of poise at Cherry Hills, relying on power to get out of some rough spots on her way to a 1-over 72 while playing in the final group. She was tied for the lead with 17-year-old Morgan Pressel, whose game is built around passion and putting. She shot a 70 to get into the final group.They were joined at 1-over 214 by Karen Stupples of England, the last player besides Sorenstam to win a major on the LPGA Tour. She made six straight birdies in her round of 69. One shot behind was 18-year-old Paula Creamer.A victory by Wie or Pressel would make them the youngest to ever capture a major championship. Creamer could be the youngest to win a major in America.
All of them are playing well enough to do it.
It's not the first time Wie has suprised the golf world, however. She made her first appearance in an LPGA major - the 2003 Kraft Nabisco Championship - at the age of 13. And she managed to play well enough to make the tournament's final pairing, playing alongside Annika Sorenstam and eventual winner Patricia Meunier-Lebouc. Later in 2003, Wie became the youngest-ever winner of the U.S. Even at 13, Wie was already one of the longest hitters to appear on the LPGA Tour, knocking her drives 20-40 yards past most other players on tour.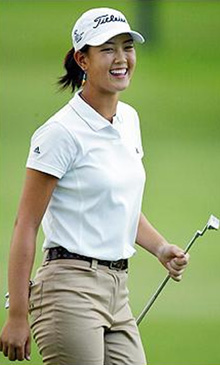 Name : Michelle Wie
Date of Birth : October 11, 1989
Place of Birth : Honolulu, HI
Height : 6'
Nationality : Korean-American
Profession : Golf Player
Current Team : LPGA

She regularly knocks the ball 300-plus yards, and her average distance with the driver for the 2003 Nabisco was in the 280s (or about 20 yards more than Sorenstam's average). For the 2004 PGA Tour Sony, her average off the tee (including some 3-woods) was in the 270s, just below the field average. Wie, already over 6-feet tall, was born in Honolulu on Oct. 11, 1989. An excellent student, her hobbies include reading, drawing and computers. She began playing golf at the age of four. According to an Associated Press profile, Wie was winning nearly every junior event she entered by the age of 11. She told the AP that she plays golf for about four hours a day on weekdays and seven hours a day on weekends. In tournaments, her father served as her caddie through most of 2003, but the family hired a professional caddie for the PGA Sony Open. At the age of 10, she shot a 64. Also at the age of 10, Wie became the youngest player ever to qualify for a USGA amateur championship when she made the field for the USGA Women's Amateur Public Links Championship. She advanced to the semifinals of the same event two years later (2002), the youngest semifinalist ever in a USGA amateur championship. At the 2002 LPGA Takefuji Classic, Wie became the youngest ever to Monday qualify for an LPGA Tour event. Her appearance in the 2003 Kraft Nabisco Championship included a round of 66, tying the record for low amateur round in an LPGA major. Wie has also attempted to qualify for the PGA Sony Open, playing in Monday qualifying rounds. In 2003, she finished tied for 47th in a field comprised of 97 men, and playing from the same tees as those men. Tom Lehman, who played with Wie in a pro-am, bestowed the nickname "Big Wiesy" (rhymes with "Big Easy") on her because her swing resembles that of Ernie Els.
Profile of Michelle Wie
She towers over competitors twice her age, and outdrives them by 50 yards. She thinks boys are yucky, but yearns to beat them at their own game. Michelle Wie is the hottest thing in women'ss golf, even though she can't join the LPGA until 2007. Who knows—by then she may have the PGA in her crosshairs. This is her story…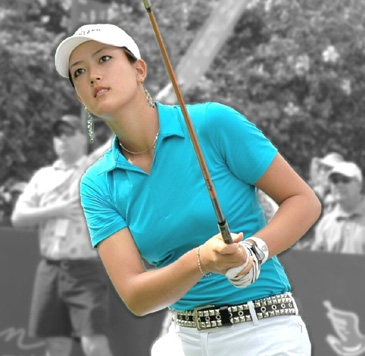 Michelle Wie
Growing Up
Michelle Sung Wie was born on October 11, 1989, in Honolulu, Hawaii. She is the only child of Byung-Wook ("B.J.") and Hyun-Kyong ("Bo"), both of whom emigrated to the U.S. from South Korea. B.J., a transportation professor at the University of Hawaii, came to California in 1983. The product of an intelligent and well-educated family, he followed in the footsteps of his father, who had a Ph.D. in aeronautics. Bo, a successful realtor and former Korean amateur golf champion, met B.J. in Los Angeles in 1987, and they married soonafter. The couple moved to Honolulu in 1988 and welcomed Michelle into the world following year. Michelle was a gifted child in more than one way. She began learning the alphabet before her first birthday, and was reading by her second. Michelle was four when her father first took her to the driving range. Her first swings, taken with a baseball grip, were so hard she nearly fell over. The ball dipped and sliced, and occasionally flew where she aimed. Practicing in the family's backyard, Michelle eventually straightened out her shots. She helped herself by copying the interlocking grips of one of her idols, Tiger Woods.When she was five, she began driving the ball 100 yards or more. The Wies' neighbors suggested she move her game to a less populated area, and from that day on she confined her prodigious drives to ranges and golf courses. At the same age, Michelle was already getting the better of the boys. (Perhaps foreshadowing things to come, she was the only girl on her youth baseball team.)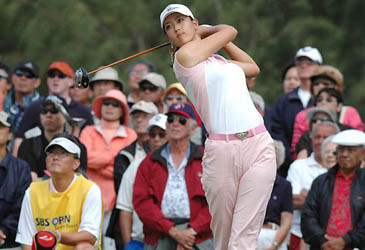 Michelle Wie
B.J. and Bo took their daughter out on the Ali Wai Golf Course, one of the busiest municipals in the U.S. Foursomes playing behind them tended to groan when they saw little Michelle, but soon realized she was reaching the greens in better shape than they were. By age seven, Michelle was giving her parents a run for the money off the ladies' tees. She also began practicing her autograph. A year later, she was beating B.J. and Bo. By Michelle's ninth birthday, her mom and dad stopped playing against her. She was too good.Michelle started competing in tournaments against players her own age before she turned 10. Her first was the 1999 Oahu Junior Championship. She ran roughshod over the field, but imploded with a big lead and two holes to play. Three balls in the water and a four-putt left her in a tie. In the ensuing chip-off Michelle regained her cool and put the ball three inches from the cup for the victory.From then on she won everything in sight, and began eyeing competition against older golfers. When a family friend took Michelle aside and told her she would be the next Se Ri Pak, she made a face. She said she wanted to be the next Tiger. In fact, her dream was to beat Woods someday. Oh, and she also planned to win the Masters.When Michelle wasn't playing golf, she was watching it on TV. Mostly PGA events, where she studied each player's swing. She was able to mimic what she saw, developing a long game off the tee and gaining command of her irons with the help of a local coach, Casey Nakama. When Michelle was 10, she shot a 64 from the 5,400-yard tees at the tricky Olomana Golf Links. For a while, Nakama had his prodigy play against a couple of promising 15-year-old boys, but they begged off when she began to outdrive him. Her tee shots were rolling more than 225 yards.
Se Ri Pak, 1998 SI for Kids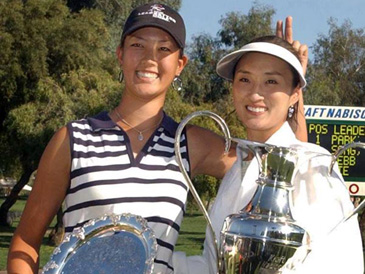 Michelle Wie with Grace Park
Michelle's school-year routine saw her in class from 7:45 to 2:45. (During recess, she played basketball against the boys.) Her mom would pick her up and drive her to Olomana; Michelle did her homework in the backseat. After a quick round with Nakama—during which her mother caddied and her father observed—she would sneak in some chipping and putting before going home to dinner. After school let out for the summer, Michelle got down to business. She would hit the links each morning at 9:30, play 18 holes, then practice until it was dark. Twice a day, Michelle also gulped down a homemade energy drink mixed by her mother. An old Korean recipe, it combined the juices of a goat and snake with some ginseng and herbs. Michelle hated the taste, but the physical benefits were obvious.
On the Rise
When it was clear that the Hawaiian Islands could no longer contain Michelle's prodigious talent, it was off to the mainland. She teed off at the 2000 US Women's Amateur Public Links Championship in North Carolina, becoming the youngest player ever—at age 10—to compete for a women's USGA title. Using her grandmother's clubs, Michelle shot two solid rounds to qualify for match play, then lost to a California businessman. This achievement—which may still be her most impressive to date—caught the attention of the Tonight Show people, who invited her on. Hoping to keep his daughter out of the Tiger-like glare a little longer, B.J. declined the offer. Besides, Michelle was starting sixth grade at the Punahou School (the top private school on the island of Oahu) the week they wanted her. Still, it was hard to keep her name out of the spotlight. Just after Thanksgiving in 2000, Michelle was featured in ESPN The Magazine. In the one-page profile she told Eric Adleson that she intended to play on the men's tour when she grew up.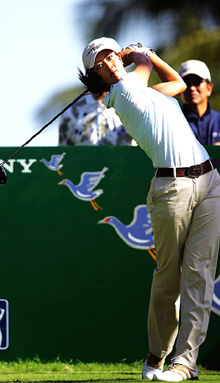 Michelle Wie
In May of 2001, Michelle won the Jennie K. Wilson women's amateur championship by nine shots. The "Jennie K" is Hawaii's most prestigious women's tournament. In June, she became the youngest golfer and first female to qualify for the Manoa Cup, a match-play event for men that has been held since the early 1900s. Over the next year, Michelle sprouted almost six inches to six feet tall. With her growth spurt came even more power, and she began hitting the ball like a PGA pro. After playing with her in a 2002 exhibition, Tom Lehman called her swing "perfect." Saying she reminded him of Ernie "Big Easy" Els, Lehman dubbed her "Big Wie-sy." In February, Michelle qualified for the LPGA's Takefuji Classic. The youngest ever to join the field in a women's tour event, she broke the record set the previous year by Morgan Pressel, who made the U.S. Open at age 13. In the locker room, fellow long-hitter Annika Sorenstam, one of Michelle's idols, asked her what her handicap was. Michelle said she didn't have one. The Swedish star was stunned—she was 17 before she could make the same claim. Michelle ended up missing the cut, but only by a few errant strokes. Of note was that her coach, not her father, served as her caddie for the tournament. Screaming at B.J. helps Michelle relieve pressure, but she was afraid to yell at Nakama.Michelle appeared in two other LPGA events in '02, and scored well enough to advance to the Wendy's Championship for Children in August. She missed the cut, however, in part because of a two-stroke penalty for slow play. Her father probably deserved some of the blame. Carrying her bag, he was kibitzing more than usual before her shots. Calls to get Michelle a "real" caddie began soonafter, but most people in golf thought it was too soon to make the switch. Although she and her dad tend to overanalyze her shots (particularly on the greens), the mental development this fosters should prove extremely valuable.Michelle also formed a productive online partnership with Gary Gilchrist, a swing doctor stationed at the David Leadbetter Junior Golf Academy in Florida. He worked with her during three visits to the Bradenton school in 2002 . In Michelle's final event of the year, the Hawaii State Open, she cruised to victory in the women's division by 13 stokes.
Tom Lehman, 1998 Sport Scene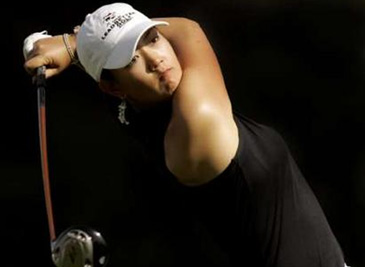 Michelle Wie
By the start of the 2003 season, Michelle's shoe size had reached double-digits...in men's. In January, she played a six-hole exhibition with local juniors and PGA pros. Paired with Jerry Kelly, Michelle was so impressive that her partner asked for her autograph. Kelly, a Q School veteran who has carved out a respectable pro career, predicted she could qualify for the PGA Tour on her first try.At around the same time Michelle was invited to be the only female in the Pearl Open on Oahu. At the elevated 17th tee, with a huge crowd as witness, she swung hard and got every bit of her Titleist. The gallery gasped as the ball cut through the air, received a generous bounce, and just rolled and rolled. When Michelle got to the ball, her father whipped out his range finder and aimed it back at the tee. The reading was 378 yards. Michelle ignored the commotion and lofted a perfect nine iron onto the green to set up an easy birdie. Two more men's events—the Greater Vancouver Classic and the Bay Mills Open in Michigan—also tendered offers to Michelle. The Golf Channel, anxious to televise the rising star, used its sponsor's exemption to make it happen. The story provided a nice bookend to Annika Sorenstam's decision to play in the Colonial later that spring.Meanwhile, 13-year-old Michelle took her show on the road to the first women's major of 2003, the Kraft Nabisco Championship at Mission Hills in Rancho Mirage. Excitement was in the air when the tournament started, but expectations for a Wie victory were tempered. As good as she was in warmup rounds, the experts were quick to point out that Michelle had never won anything outside Hawaii—and had missed the cut in each of the three LPGA events she had played. Some critics spoke up, contending Michelle should have had a better junior record before snagging such a meaningful exemption. But as her father noted, she was too young to compete in many important junior events.All Michelle did was go out and drive like a veteran, leading the tournament with a 286-yard average. That meant her second shots on the par-4s were almost exclusively nine irons or wedges. Michelle putted well enough to stay in the hunt the first two days, becoming the youngest player ever to make an LPGA cut. Then, with everyone expecting a meltdown, she shot an awe-inspiring 66 on Saturday to slot into the last group on Sunday.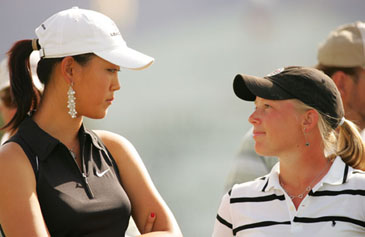 Michelle Wie
Playing with Sorenstam and eventual winner Patricia Meunier-Lebouc, Michelle started four shots off the lead and remained within striking distance. Her chances faded when she missed an eagle putt on 11, then also bungled her birdie. She finally showed her age, bogeying more than half the remaining holes as she struggled to regain her focus. Still, Michelle finished even par for the tournament, good for ninth place. After the tournament, caddy-daddy B.J. admitted that he had not been much help reading the greens. He thought he had probably cost his daughter 10 strokes, and with that the tournament.
Michelle Wie, 2003 Aloha Air Future Star
Were she a pro, $35,000 would have awaited Michelle. When she returned to school, her math teacher asked for her autograph (which was probably worth than a check, anyway).
Making Her Mark
In June, things got really interesting for Michelle. She entered the Women's Amateur Public Links tournament in Palm Coast, Florida, and began shredding her opponents. On the last day, in match play against the small-but-intimidating Virada Nirapathpongporn, she got the fight of her life in the 36-hole final.The 21-year-old Thai birdied five of her first eight holes to establish a comfortable lead. Michelle responded with one titanic drive after another, reached a couple of par-5's in two, and won four out of five holes to go 2-up. Nirapathpongporn bounced back to catch Michelle with five holes to play. On 14, Michelle blasted a drive 50 yards past Nirapathpongporn's. She reached the par-5 green on her next shot with a six iron, and sank an 18-footer for an eagle to go 1-up. Nirapathpongporn's last chance to get even came on 17, but she blew a two-footer. Both players parred 18 and Michelle took the championship.In doing so, Michelle became the youngest player ever to win a USGA title. The record she broke was held by Laura Baugh, who in 1971 turned the trick at the decrepit old age of 16. Besides boosting Michelle into the golf stratosphere, the victory put to rest any lingering controversy about her Nabisco exemption. She received a gold medal, a trophy, and won a bet she made with her father when she reached the semis, pocketing three hundred bucks from B.J. Michelle's next big tournament was the U.S. Women's Open at Pumpkin Ridge, where she was one of 14 teenagers to participate in the prestigious event. Half of those qualifiers made the cut, including Aree Song who fired a 285 to finish as low amateur. That score was 13 shots better than Michelle's, but she still got ten times more attention.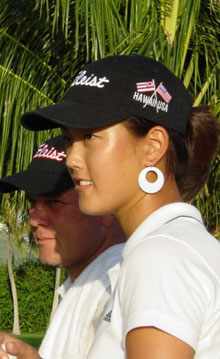 Michelle Wie
Michelle, who played in a threesome with Tracy Hanson and Danielle Ammaccapane, was also at the center of a weird controversy. Ammaccapane—known as one of the tour's crankier players—accused Michelle and her father of cutting across her sight line while she was putting, then chewed her out in the scoring tent after the first round. The next morning, Ammaccapane's father, Ralph, had words with B.J. Tournament officials had to intervene to avoid an ugly scene.The bizarre situation said less about the Wies and Ammaccapanes than it did about the changes ahead for women's golf. With more teens (and doting paren.ts) on the course, a lot of the game's decorum may go the way of the mashie. With an eye on the 2005 Masters, Michelle got a taste of what it's like to play against the boys in the 2004 Sony Open in Hawaii. Competing thanks to a special exemption, she opened the January tournament with a 2-over 72, then fired a 2-under 68 to miss the cut by just one stroke. Her two-round total of 140 was better than some of the tour's more notable names, including U.S. Open champ Jim Furyk, British Open champ Ben Curtis, Scott Hoch and Adam Scott. But the biggest thrill for Michelle was walking the course in a practice round with one of her idols, Els. The Big Easy and the Big Wiesy had nothing but good things to say about one another afterwards. March was a big month for Michelle, as she honed her game on the women's tour in anticipation of qualifying for the Men's Publinx. She placed among the top 25 in the Safeway International and then earned a fourth in the Kraft Nabisco Championship, the first LPGA major of the year. In May she hired Mike "Fluff" Cowan—Tiger's former caddie—to carry her clubs at the Michelob Ultra Open in Williamsburg, Va., where she tied for 12th. As the youngest Curtis Cup player ever, the 14-year-old also made history overseas, leading the event's first under-25 team with a contingent including Paula Creamer, Jane Park and Sarah Huarte. Michelle won both of her singles matches to help defeat Great Britain and Ireland, 10-8. In June, Michelle' tried to qualify for the Men's Publinx in Hershey, Pa, as the only female in the field. Walking 36 holes on the day—18 in the morning and 18 in the afternoon—she played well, shooting a pair of 71's. But her total of 142 wasn't good enough to catch David Bradshaw and Alex Knoll. While her third-place tie garnered one of four alternate spots for the Publinx, her dream of a spot in the Master's became much more of a long shot. (She would have to replace one of the two Pennsylvania representatives and then win six times in match play.)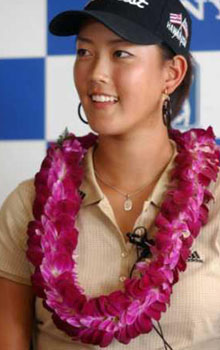 Michelle Wie
Next up for Michelle was an attempt to defend her title in the Women's Amateur Public Links Tournament. Unfortunately, she fell a stroke short on the final hole, finishing second to 15-year-old Tseng Ya-Ni of Taiwan. As soon as Tseng sank her putt, Michelle's tears started to flow. But she quickly regained her composure and took the loss for what it was, a learning experience.At the end of June, Michelle received a nomination for the ESPY Awards' "Best Breakthrough" of 2004. She was in good company. The other four nominees were Freddy Adu, Carmelo Anthony, Jake Delhomme and LeBron James, who won the voting.The rest of Michelle's summer had its ups and downs. At the Evian Masters in France, she showed her stuff to the star-studded field, firing a 69 on the final day to finish at 1-under. Weeks later, however, she blew a lead in the U.S. Women's Amateur. After surviving the stroke-play qualifier, Michelle went 2-up in her second-round match against In-Bee Park. But she struggled down the stretch, lost the last three holes and was sent home early.Again Michelle rebounded, this time at the Wendy's Championship. A solid 69 on Sunday got her down to 6-under, good for a sixth-place tie. Michelle also had it going in the Samsung World Championship. The lone amateur (and the first since Grace Park in 1998) in the 20-player field, she powered her way to a tie for 13th. Not even a pairing with Sorenstam could shake her.Of course, Michelle doesn't let anything distract her from the business at hand. Her plan for now is to play a steady schedule of events, go to Stanford (Tiger's alma mater), and then turn pro. She thinks any athlete who has the chance to go to college should do so before launching a professional career. A lot can happen in the eight years before she's due to graduate, however, so no one's ruling out a strategy change. Michelle is constantly reminded that she cannot even apply for LPGA membership until she turns 18. No matter. She has her sights set higher. First, she wants to find a way into the Master's field. Then it's full-time on the PGA. Are these goals impossible? Don't bet against it. Anything is possible for Michelle. Just ask her.
Michelle The Player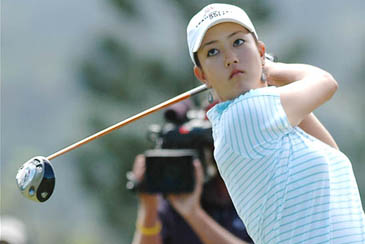 Michelle Wie
As noted long-hitter Fred Couples has observed, you can read about Michelle all you want, but when you see her hit a golf ball, there's nothing that can prepare you for it. She employs a neutral grip, and uses a wide backswing, a la Davis Love. Michelle stands up straight on her swing, a textbook PGA power stroke, right on plane. The explosive way she releases her hands just before impact reminds many of another precocious golfer, Sergio Garcia.The ball comes off the face hot and flies high when Michelle strikes it right, and she almost always does. The combination of her long arms, great body coil and sound technique generate incredible power from an easy swing. Indeed, her club speed is 10 to 20 percent faster than most of the women on the LPGA. She regularly outdrives her playing partners by 25 to 50 yards.To get a better feel for where Michelle is in comparison to her peers, consider Laura Davies. She can come close to Michelle in terms of length, but needs to channel every ounce of strength into a swing that takes both her heels off the ground. Michelle's swing seems effortless by comparison.Michelle's bunker game is excellent, and her short game is already at a championship level. She is composed and mature, yet she still has some kid in her—you see it when she misses a putt. As far as improvement goes, Michelle's needs a lot of work reading greens. She is currently working with a California pro named Buddy Kiawa on her putting.