Middle East & Africa
Palestinians Say
Korean FM's Visit to Palestine 'Historical'
By Yasser AbuMoailek
Mid East Correspondent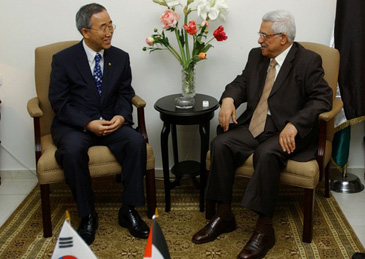 South Korean Foreign Minister Ban Ki-Moon (left) meets with Palestinian Authority President Mahmoud Abbas in Palestinie June 24, 2005.
The landmark visit of the South Korean Foreign Minister, Ban Ki-Moon to the Palestinian Authority marked a new era in the relations between the Korean and Palestinian peoples, as PA officials described the visit as "historical." During a visit to Ramallah City in the West Bank on June 24, 2005, Mr. Ban met with a number of top Palestinian officials, including President Mahmoud Abbas and Foreign Minister Nasser Al Kidwa. After meeting with Mr. Ban, President Abbas declared that Seoul and the Palestinian Authority have agreed to consider establishing diplomatic missions in each other's country. Abbas tasked his foreign minister with working out the details of the agreement. Following his meeting with the Palestinian President, Mr. Ban headed over the Foreign Ministry building, where he held talks with his Palestinian counterpart. FM Al Kidwa asserted that the talks were important, and that Mr. Ban's visit to Palestine was a historical one, as it would kick off mutual cooperation and further cement bilateral relations. The joint press conference between both foreign ministers was crowned with the declaration of a generous grant by the Korean government to help further the electronic learning project of Palestinians. "Mr. Ban Ki-Moon came to us with a grant of 750 computers worth one million dollars, to be distributed over a number of Palestinian school in order to help us in our newly launched E-learning project," Mr. Al Kidwa said. The Korean grant is part of an assistance package offered by Seoul totaling $5 million, to be given to the Palestinian Authority over the next three years. Following his visit, the Korean minister expressed his pleasure to be the first high-level Korean official to visit Palestine, asserting Seoul's firm position and support towards the Palestinian people until they establish their independent state in the near future. The coverage of Mr. Ban's visit to the Palestinian territories was widely and positively covered by all Palestinian media outlets, which highly valued it and considered it a strong indication of a strong future Korean-Palestinian relation.

Other Articles by Yasser AbuMoailek
Heated Campaigning But Friendly Atmosphere
Gazan Weapons Dealer Reveals All
"Reform and Change" Wins Hamas Elections
Tunneling as a Life in Rafah, Gaza Strip
Abu Mazen Liked by US, Israel as Logical ...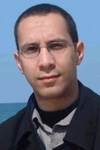 Yasser AbuMoailek, who is Certified Professional Translator between Arabic and English, serves as Middle East correspondent for The Seoul Times. He also work as a journalist and feature writer at the International Press Center in Gaza Strip. As a journalist he monitors the situation in the Middle East, especially the Palestinian territories.