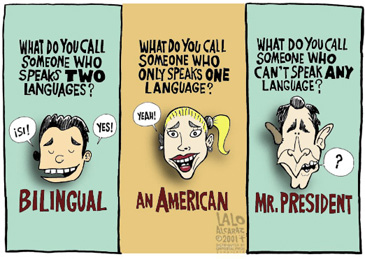 According to the European Commission's Directorate General for Language Study, 53 percent of Europeans speak at least two languages. Americans in comparison suffer from monolingualism. The US Census of 2000 found that only 9 percent of Americans speak two or more languages.One would think that with the rising immigration you constantly hear about in newspapers, the US would be full of multilingual people. Yet, although many languages are spoken in America, we have to do better.To encourage Americans to learn languages, the US Senate declared 2005 the "Year of Foreign Language Study." It's designed to spur more language learning at all levels from elementary schools to the business world, which is important for America's economy, foreign policy, and international relations.Some positive activity to close the language gap between Americans and Europeans has been occurring. Data from the Modern Language Association (MLA) reveals that from 1998 to 2002 the number of American college students studying foreign languages went up from 1,193,830 to 1,397,253, a 17 percent increase.The fastest increases from 1968 to 2002 have occurred in American Sign Language, Arabic, Biblical Hebrew, and Italian.This is a somewhat positive trend, particularly in the case of Arabic since it is considered a critical language by the US government. Yet, the country's linguistic needs will not be solved by the increase in Arabic study. Other languages such as Korean, Persian, Korean, and Chinese are vital to our security.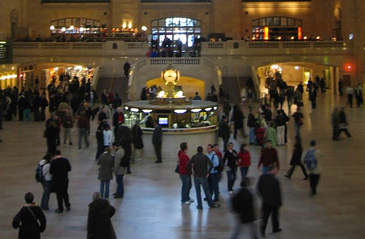 American people in New York City's Grand Central Terminal
In spite of some positive signs, the situation is not very promising. Only 8.6 percent of American college students are enrolled in foreign language courses. And the vast majority of these students take one or at most two semesters, which is far from what's required to reach some kind of fluency.In some ways, it's difficult to blame the vast majority of American students who don't take foreign languages.In today's world, English is the lingua franca. One can do just about anything in Shakespeare's tongue.English is the language of travel, business, international diplomacy, and science. English is the virtual language of the Internet.The pressure is thus on those whose native language is not English to learn it.The power of English in the world is so strong that it poses a threat to the survival of other languages. In some countries the fear of English has spurred protective legislation aimed at limiting its influence. Yet in the US, several national groups have been formed in the last few decades which aim to protect the English language. These groups fear that the rising immigration will dilute the power of the English language, which they see as the glue that holds the country together.It's ironic that the US, a country of immigrants from all over the world, does not make much use of the linguistic heritage newcomers bring into the country. In part it's the great desire of immigrants to focus on English and integrate, which makes foreign languages disappear after a generation or two.However, third generation Americans realize the mistake their parents made in not keeping up their ancestors' language and try to recover it. Often it's late and it becomes a serious challenge. America's linguistic situation has been problematic since the founding of the country. Although English has dominated, other languages have thrived alongside of it for sometime and then faded. Sadly, many Native American languages which have been in existence long before English in America are also dying.Spanish is a little different because it continues to thrive, causing concerns to many Americans.When Americans begin to lose their fear of monolingualism, we'll be on a path similar to that of many other countries which value multilingualism and see it as an asset rather than a liability. We need to reach the conclusion that we can be more valuable to our country if we speak more than one language.