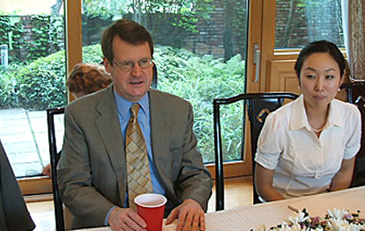 Mr. Mark Minton (left), charge d'affaires ad interim of US Embassy in Seoul, meets with local journalists at his residence.
North Korean leader Kim Jong-Il was portrayed as a smart person enough to have a serious talks with, according to the top US envoy in Seoul.Mr. Mark Minton, charge d'affaires ad interim of US Embassy in Seoul, made the positive appraisal about Kim Jong-Il when he met June 28, 2005 with a group of local reporters from the online newspapers in his residence in Pyeongchang-dong, Jeongro-gu.His remarks followed South Korean Foreign Minister Ban Ki-Moon's recent request that the US officials should not incense North Korea by calling it or its leader by derogatory terms.On its side North Korea asked to the US not to call it "outpost of tyranny" if the US wants Pyongyang to return to the six-party talks on North Korean nuclear issue. On June 22, 2005 US Secretary of State Condoleeza Rice said that she fully understood Ban's request.In the press meeting held at 1 p.m. June 28, Mr. Minton urged North Korean to return to the negotiating table without any condition. He showed his opinion on North Korean nuclear issue and other pending issues between South and Washington for two and a half hours.He stressed that North Korean should not renounce its position but come out to the table and show their position. He said that the six-party talks is the best option for resolving North Korea's nuclear issue.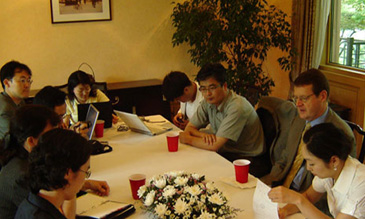 Mr. Mark Minton (second from right), charge d'affaires ad interim of US Embassy in Seoul, meets with local journalists at his residence in Seoul June 28, 2005.
He added that North Korea should make its demands only after it return to the talks.Mr. Minton stopped short of revealing the name of the new US ambassador to Seoul. He said that he is waiting for the right moment for the announcement. But he added that "agrement" for the new envoy was tendered and the process was started.Mr. Mark Minton has been serving as a de facto US ambassador to Seoul since Amb. Christopher R. Hill was promoted to assistant secretary of state of US State Department's East Asia and Pacific Affairs early this year.On the personal note, Mr. Minton introduced his university life to the local journalists. He said that he served as an intern reporter for the New York Time as a college student. He studied history at Columbia University.He also mentioned Korean War (1950-53). He said that Korean War is one of the most successful cases US involved in view of Korea's rapid industrialization and democratization.Yet, he failed to touch the rightfulness of the US involvement in Iraq. He said that the exact judgement about US role in the Iraqi War will be able to be made 20 or 30 years from now.
Who Is Mark Minton?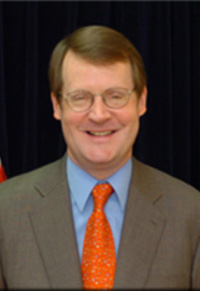 Mr. Mark Minton, charge d'affaires ad interim of US Embassy in Seoul
Mr. Mark Minton is currently serving as charge d'affaires ad interim of US Embassy in Seoul.He attended both Columbia University and Yale University. After graduating from Columbia with B.A. degree in history, he went onto to his advanced degree in history at Yale University. He received M.A. degree from Yale.Mr. Minton started his career as a foreign service officer at the US Embassy in Tokyo as early as 1977. He worked at the embassy's political section until 1981.In 1981 he went to US State Department, serving as a member of policy planning staff for two years.From 1982 to 1984 Mr. Minton took care of arms control and non-proliferation affairs at US State Department's Office of Soviet Union Affairs.In 1984, he was promoted to consul general at US Consulate General in Sapporo, Japan. Two years later he went back to the State Department to serve at Executive Secretariat.After his one year stint as Pearson Fellow at US Senate, he become charged with State Department's Japan Desk (EAP/J) as its deputy director. He worked there until 1991.After that, Mr. Minton picked up his Korean language lesson at Foregin Service Institute (FSI). After two years of hard language training he was sent to the US Embassy in Seoul. He served as political minister from 1993 to 1996. He was in charge of Korea De나 (EAP/K) of the US State Department from 1996 to 1998.Mr. Minton served at the US Mission to the UN in New York from 1998 to 2002. He was minister counselor for political affairs at the US Mission.Before he came to US Embassy in Seoul in 2003, he was a diplomat-in-residence at Colin Powell Center, City Colleges of New York.