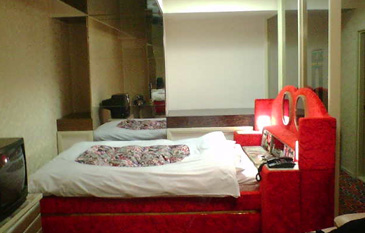 A hotel room for prostitution
SAN FRANCISCO, July 1, 2005 — Federal agents raided scores of brothels and businesses and arrested more than two dozen people here in the dismantling of an international sex trafficking and human smuggling ring that lured Korean women to the United States and forced them to work as captive prostitutes, the authorities said on Friday.The crackdown on human smuggling was set in motion late on Thursday, when about 400 federal and state law enforcement officials searched 50 brothels and other businesses in San Francisco and the Bay Area, stemming from the indictment of 29 men who were subsequently charged with sex trafficking, money laundering and harboring illegal aliens. The men are also charged with conspiracy to transport women from South Korea and force them to work as prostitutes, said the United States attorney, Kevin V. Ryan.The arrests here, along with the arrests of 18 people in Los Angeles in a related case, stem from a nine-month investigation by federal, state and local law enforcement agents looking into a human smuggling and sex trafficking ring that the authorities said may be one of the largest and most sophisticated ever."This investigation is aimed at stopping the horrific, demeaning and oftentimes brutal practice of smuggling and trafficking of human beings," Mr. Ryan said at a law enforcement press conference on Friday.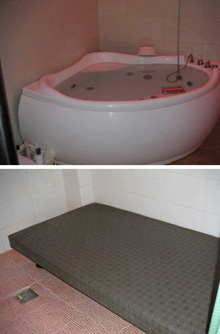 A massage parlor
During the raids in San Francisco on Thursday, federal agents found about 100 Korean women, who have been taken to an undisclosed nondetention facility to receive medical care and participate in interviews. The agents also seized at least $2 million in cash and several A.T.M.'s and shuttered about a dozen massage parlor brothels.In a separate but related investigation, the authorities also charged 23 people in Los Angeles.In Los Angeles 46 women were escorted out of brothels on Thursday and to safety, the authorities said. The authorities said they believed that the San Francisco and Los Angeles operations, although separate businesses, worked in tandem to transport the women.The cases, investigated by numerous government agencies including the F.B.I., the Internal Revenue Service, immigration and customs enforcement agencies, and the local police, were discussed at separate press conferences on Friday, one here and one in Los Angeles.Some of the 29 men charged in San Francisco appeared in federal court on Friday. The authorities said they did not yet know whether the defendants are Korean, but all but one man are of Asian descent. The authorities singled out two people they said were major players in the trafficking scheme, Young Joon Yang, 37, and Sung Yong Kim, 39, each charged with two counts of sex trafficking, along with other charges including fraud and coercion. The indictment in San Francisco said that from September 2001 to October 2004 the defendants "recruited and enticed female Korean nationals to illegally enter the United States." The women, in their 20's, were held captive and forced to work as prostitutes.The indictment also said that between Feb. 22 and June 23, 2005, the defendants operated a taxi company and a travel agency, both used to transport the women. The taxi company often transported women from brothel to brothel, and in some cases the cabs were used to move women from San Francisco to Los Angeles, an F.B.I. spokeswoman said. The travel agency made international and interstate transport possible. The women were typically flown from an undisclosed location in South Korea to Canada and then to San Francisco.Brad Schlozman, acting assistant attorney general for the Civil Rights Division of the Justice Department, called the operation "morally repugnant and a truly evil crime" and "a modern-day form of slavery."At the press briefing in Los Angeles on Friday, the United States attorney, Debra Wong Yang, said that the brothels were concealed by supposedly legitimate massage parlors and that the women were managed by what she called an underground Korean taxi service.