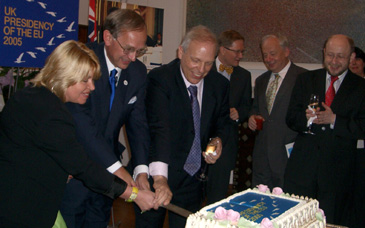 Amb. Morris (second from left) is cutting a cake with other ambassadors in a celebration for the launch of UK's presidency of EU held on July 5, 2005 at the British Embassy in Seoul.
"Leadership is a very important factor to accomplish the UK's six-month presidency. UK has an ability for that," said UK Ambassador to Seoul Warwick Morris on UK's leadership role for EU presidency."UK will try to collect their opinion and discuss to cooperate with our EU colleagues," he said during a brief interview with The Seoul Times on July 5, 2005 at his residence in Seoul.When asked about the ongoing trouble with France over the issue of EU, he said "We have a conflict with France and we have some problems about the budget bill, and extension of EU nation.""But they were just small problems, EU will be even stronger and firmer because EU is the world's largest single market and EU have progressed with history and tradition," Amb. Morris stressed the eventual success of the EU integration.Prior to the short interview on July 5, 2005, Amb. Morris marked the launch of the UK's presidency of the EU with quiet and meaningful celebration at its ambassador's residence.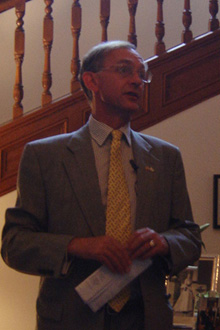 UK Ambassador Warwick Morris
Among the scores of high-profile guests were top foreign envoys including EU Ambassador Dorian Prince, German Ambassador Michael Geier, Polish Ambassador Tadeusz Chomicki, Finish Ambassador Kim Luotonen, and Ms. Elisabeth Kollich, minister of Austrian Embassy in Seoul. The afternoon event was an opportunity both to thank the outgoing Luxembourg presidency (held in Seoul by the Netherlands Embassy) and to highlight the aims of the UK's six-month presidency.The UK's presidency comes at a key time for the EU following the referenda results on the EU Constitution and as member states debate the shape of the EU budget from 2007.Amb. Morris also outlined the UK's way forward over the next six months in a speech he made to introduce the UK presidency during the tea party, which began at 2:15 p.m.He said that the next six months of UK presidency will see this crucial debate intensify."Alongside it, we will focus on action to tackle climate change, improve development in Africa, economic reform and security, he said "The EU is the world's largest single market, which has seen 50 years of peace, prosperity and progress."Amb. Morris added "The UK looks forward to building upon these solid foundations and working with our EU colleagues to that end during our Presidency."For details call its embassy at 3210-5562 for Mrs. Jenny Hong, its media officer.