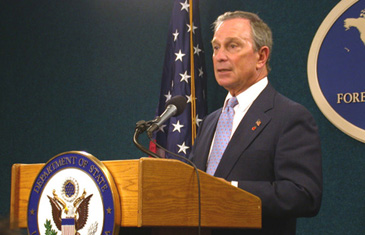 New York Mayor Michael Bloomberg at Briefing on "New York City."
New York City Mayor Michael Bloomberg kicked off his re-election campaign with an advertisement in Spanish. With more than 2 million Hispanic residents of the Big Apple, it was a politically smart move. A smarter language policy move was introduced by New York City Councilman Eric Gioia (D-Queens) which would mandate the translation of all the official city business into at least six languages including Arabic, Chinese, Korean, Russian, and of course, Spanish. At first thought it sounds like another liberal program aiming to spend taxpayers' money. In fact, it would be an investment which will pay off in many ways and ultimately will ease New York City immigrants¹ integration into American culture. Translating city documents will make it easier for immigrants to obtain business licenses, which in turn will generate economic activity. This creates employment and at the same time enriches the city treasury with increased taxes. Given the multilingual and multiethnic population of New York City, it's easy to understand Gioa's proposal. The Big Apple is indeed a eflection of the globe. More than 26 percent of the population is Hispanic and 35 percent of the population is foreign-born (18 percent born in Latin America, 8 percent Asia, and 7 percent Europe). Only about 4 of the 8 million New York City residents speak English alone. After English, Spanish is clearly the most widely spoken language with about 2 million. Yet, other large groups exist. Languages with more than 100,000 speakers include Italian, French, Chinese, and Russian, but many other languages have thousands of speakers.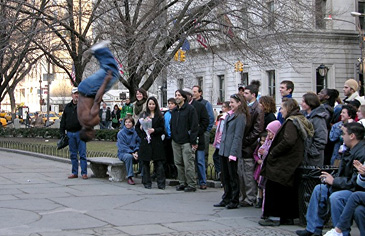 People in New York City watch a street performer.
Providing language services to their non-English speaking residents is something many other American cities, small and large, are already doing. A few years ago Washington D.C. Mayor Anthony A. Williams signed into law the Language Access Act. The measure provides translation and interpretations services to the capital's residents who are not fluent in English. Written documents are translated and interpreters are present at public meetings. Oakland, California also made headway in providing language services. A city ordinance passed several years ago gives priority to bilingual individuals (Spanish-English, Chinese English) in new city jobs. In addition, the city provides translation of city documents. One of the most basic services many states provide is driver's license tests in foreign languages. The ability to drive translates into opportunities in employment as well as education. That, of course, increases interaction with Americans and provides options to learn English. Many city and county governments offer bilingual stipends to individuals who know a language in addition to English. This includes police officers, firefighters, social workers, and schoolteachers. Although stipends are small, they recognize the residents' needs and at the same demonstrate an appreciation for the extra value bilingual employees bring to the job. Naysayers exist of course. Some fear that the use of foreign languages will dilute the fabric of the country and turn the US into another "Balkanized" Canada. Some people oppose anything that is not in English believing that if language services are provided there is no incentive to learn English. That is an insult to immigrants who know extremely well that knowledge of the English language is vital. Immigrants recognize that English opens the door to opportunities in the US. Immigrants know only too well that without English higher education is not an option. Without higher education few jobs opportunities beyond menial work are available. Business understands that language services mean more profits. That's why multilingual ATM machines exist. That's why major corporations make use of other languages in addition to English. Companies that stick to English only will inevitably lose business. In providing language services, government agencies are following the path of major and minor corporations. Like business, government agencies reap profits with the extra services they provide. At the same time, language services generate the ultimate reward since they help immigrants to integrate into American society.