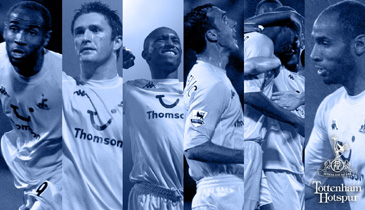 Tottenham Hotspur FC
For English Premier League Football Club Tottenham Hotspur FC, the World Peace Cup, which takes place in Korea this month, offers both the opportunity to add another piece of silverware to their Trophy Cabinet and to build links with the local community in the city of Suwon. Tottenham Hotspur — or "Spurs" as they are more commonly known by their strong international fan-base — will be playing two of their three group games in Suwon, British Embassy in Seoul announced July 12, 2005.Ms. Jenny Hong, embassy's media officer, said that the team hopes that their travelling British fans will be joined in the Suwon World Cup Stadium by many Koreans keen to find out more about English football.In between games, the Spurs team coaches will be using their experience to help local children improve their soccer skills by visiting a Suwon home for disadvantaged children, staging a football tournament and running a session for local schools.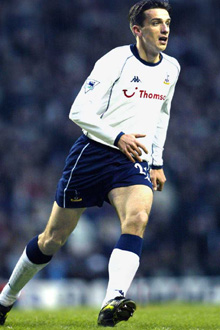 Tottenham Hotspur FC's midfielder Milenko Acimovic
The coaches will be joined by Billy Wingrove — the UK's top football freestyler. Billy Wingrove will be demonstrating his amazing freestyle skills and football tricks to the participating children. Ms. Kathryn Robinson, Tottenham's director for Community Development explained why the club were keen to get involved with the local community."Whenever the Club travels to new territory, we are keen to work with local young people using the medium of football to generate enthusiasm for the sport and healthy lifestyles," said Ms. Robinson."The coaches we are bringing specialise in engaging children in a positive and enjoyable way, and in the UK they see almost a quarter of a million young people a year," she added."Our freestyler, Billy Wingrove is also travelling with the team. He is hugely entertaining and we look forward to the children watching his tricks and skills and learning them too," she said.UK Tottenham Hotspur is a top Premiership team. They have won two League Championships and eight FA Cup Championships.Tottenham Hotspur will be playing three games in Group B of the World Peace Cup. Their first match will be against Boca Juniors of Argentina on Saturday 16 July, then against Sundowns FC of South Africa on Monday 18 July and against Real Sociedad of Spain on Thursday 21 July.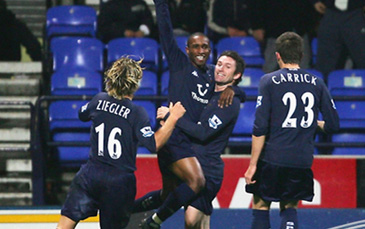 Tottenham Hotspur FC
On Thursday, July 14, the coaches will visit the Dong Gwang Won Orphanage in Suwon.On Friday, July 15, the coaches will run a football tournament and "Soccer Olympics" with local primary schools at Yeo Gi San Football Stadium. The event has been organised with the assistance of Suwon Council and Suwon Football Association.On Monday July 18, the coaches will run training sessions for middle school and high school soccer teams at Yeo Gi San Football Stadium.For details or inquiries regarding the above events please contact Ms. Jenny Hong, media officer of the British Embassy in Seoul at 02- 3210-5562.