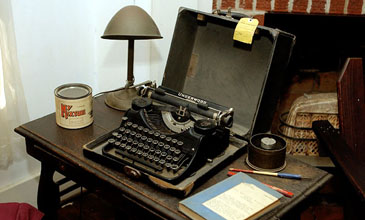 William Faulkner (1897-1962) 's Underwood typewriter remains spooled and waiting on his office desk.
Photo Courtesy Bruce Newman for the NYT

OXFORD, Miss., July 14, 2005 — WILLIAM FAULKNER wrote most of his novels while living at Rowan Oak, a two-story Greek Revival home at the end of an allée of antebellum red cedars here. The place was barely fit for chickens when he bought it in 1930, for $6,000, and so for the next three decades, Faulkner repaired, expanded and tweaked the house and grounds to his quirky, stubborn satisfaction.The University of Mississippi, which now owns the 33-acre estate, rededicated the house in May after a major restoration during which preservationists sought to protect the property without erasing the fingerprints of its chief handyman, from Faulkner's haphazardly laid pine floors to his handwritten outline of "A Fable," penciled right onto the office wall. After a year and $1.3 million in state and federal preservation funds, the reopening coincides with a blossoming of interest in the author and his work. Oprah Winfrey is holding a "Summer of Faulkner" for her book club and talk show. The readings, three novels, can be purchased as a boxed set published last month by Vintage Books; there is a companion tutorial at Ms. Winfrey's web site, oprah.com. If the past is any indication - and thanks to Faulkner, we already know the past isn't even past - this threatens to make best sellers of "The Sound and the Fury," "As I Lay Dying" and "Light in August," all of which barely earned Faulkner a dime back when he really could have used the money.Whatever profit the author made from his writing he often spent on his home, which he shared with his wife, Estelle; their daughter, Jill; and Mrs. Faulkner's two children from a previous marriage, Malcolm and Victoria Franklin. But for intermittent screenwriting work in Hollywood, Faulkner lived and worked at Rowan Oak through 32 years, more than a dozen books, one Pulitzer Prize (a second was awarded posthumously) and the 1949 Nobel Prize.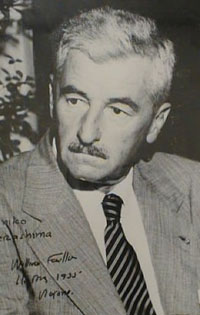 William Faulkner (1897-1962)
Because 80 percent of its owner's belongings remain, the feeling at Rowan Oak is one not so much of preservation as of interruption. The author's riding boots and brogans sit near his bedroom chair; his Underwood typewriter remains on his office desk; his books are on their shelves, his pipe is in its tray. (In 1970, 1,800 pages of Faulkner's early poems and short stories were found in a closet beneath the front staircase and are now archived in the university library.) Visiting feels a bit like trespassing, as though Faulkner, who died of a heart attack in 1962, might at any moment round the corner of the barn. By treating the property itself as a document, the restoration followed the current attitudes toward preserving historic homes. "The tendency in these things is not to idealize the environment, but to show it the way it really was," said Richard Longstreth, professor of American studies and director of the historic preservation program at George Washington University. "Decades ago in preservation, the idea was that you saved buildings and the former homes of famous Americans as paragons of taste, so surely they would have had this kind of silver tea service. All the sort of messy things that are part of people's lives would be dutifully expunged. Over the years that tendency has shifted, but it gets difficult if all the stuff is gone, or a lot of the stuff is gone. Then how do you interpret what is left?"THE estate sits at a sylvan bend in Old Taylor Road, with a pea-gravel driveway long enough to defend against the unwelcome distraction of that favored Southern pastime, the pop-in visit. The clapboard house was built in 1844; the wood is mostly pine. Faulkner bought the house early in the Depression, the same year he wrote "As I Lay Dying" in six weeks while working nights in the university boiler room to pay the monthly $75 mortgage.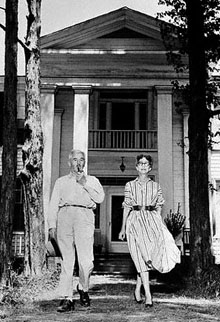 William Faulkner (1897-1962)
and his wife Estelle, shown in 1955 outside the Greek Revival estate they bought in 1930 for $6,000.
Photo Courtesy Bettmann/CORBIS
For remodeling funds, he rewrote "Sanctuary," which became a best seller, his only one, and installed plumbing, electricity and heat. He stood firm against air-conditioning. (The day after his funeral, Mrs. Faulkner bought a window unit.) Upstairs, he added a sleeping porch and razed a wall to create a private entrance to his bedroom, leaving a funky conjunction of staircases and parallel halls. Once, while his family was out of town, he added his office and the back hall. To the portico he attached brick patios like wings, a sort of Snopesian impulse that still baffles architects. The patios diluted the whole Greek Revival vibe, fostered rot and threatened to undermine the most important artifact of all: the house itself.Contractors could have removed the patios or centered the off-kilter columns of the porte-cochere; in fortifying the heavily trafficked staircases and halls (Rowan Oak receives more than 25,000 visitors per year) they could have re-laid the planks correctly, rather than reapplying Faulkner's curious misalignment. But that would have been perfectionism, not preservation.Perhaps least noticeable but most important, the team installed sophisticated fire, security and climate control systems. While once the house's temperature fluctuated with every sweep of the screen door, now a cool, museum-like atmosphere prevails - one that won't dry out the precious inscribed plaster or cause the books in Faulkner's personal library to mold. "When the university got hold of the house in the '70's, the whole idea of historic preservation hadn't really taken off," said William Griffith, Rowan Oak's charismatic young curator. Mr. Griffith is half the reason to visit Rowan Oak; he can connect even the random sighting of a six-foot rat snake to Faulkner trivia."A lot of historic houses are undoing the mistakes they made in the '80's," he said, "but because the university never had the money for upkeep, they never made any mistakes that needed to be corrected."For all the difficulty of Faulkner's work, there's nothing inaccessible about his home. Guests can step into the parlor, library, office, dining room and all four bedrooms and study them from behind plexiglass barriers. Were guests granted access to the butler's pantry, they would see another preserved quirk, Faulkner's version of a Rolodex: names and numbers - mechanic, housekeeper, drug store, airport - scrawled like restroom graffiti on the wall above the rotary dial phone. Even Faulkner's old phone number has been saved; it's still the one for Rowan Oak. If nothing else, seeing where Faulkner sat, wrote, smoked, read, slept, ate, drank his whiskey, polished his shoes, cleaned his rifles and rode his horse humanizes the man in a way that biographies or documentaries cannot. "Visitors to Rowan Oak have already read Faulkner," said Tom Howorth, the restoration's principal architect. "They've probably already read the Nobel Prize speech. They're here to understand a little more about Faulkner the man or to figure out the connection between the artist and the man: how he did what he did in that time and place. It begs the question: Where does art come from?" And so the author's writing room holds visitors' attention long beyond, say, the repapered parlor or great-granddaddy's dour portrait. As masculine and minimalist as a getaway cabin in the woods, it is the spiritual center of the house. With the tightly lettered "Fable" outline, the room itself almost seems like signed art. "You feel so much more in touch with him, having seen this," said one recent visitor, William Boyle, 73, a Massachusetts native who once tattered a perfectly good jacket, grew stubble and filled a whiskey bottle with tea to deliver his master's degree presentation on Faulkner. In August, Rowan Oak will begin requiring admission, $5 a person, for the first time. There's no audio tour like those at Graceland or the Metropolitan Museum of Art, but rather framed displays outlining Faulkner's life. If you are interested in the author's Nobel acceptance speech, Mr. Griffith will play it for you on a boom box. On a recent morning, a lambent haze hung about the estate. It was 90 damp degrees by noon. The forest and lawns, 50 shades of green, never seemed more ethereal. Nothing stirred but a small squadron of carpenter bees above the front door. Two tour buses pulled up and 80 chaperoned teenagers - high school honors students from Tennessee - trooped up the front path in flip-flops, gypsy skirts, Robosapien T-shirts, dreadlocks and gold purses. Mr. Griffith gave his spiel and turned them loose. The students noted that the author and his wife kept separate bedrooms; they analyzed the handwriting on the wall; they debated Faulkner's hotness. Then Mr. Griffith played the Nobel speech. The teenagers fell quiet as Faulkner spoke of love, honor, pity, pride, compassion, sacrifice and "the human heart in conflict with itself," his reedy drawl filling, once again, the infinite space of his home. One student, Kate Green, said later: "You get the overwhelming feeling of the spirit of the people who lived here, who had fights here, and loved people here. You think, wow, Faulkner. But this house, it's also just kind of normal."
The above article is from The New York Times.