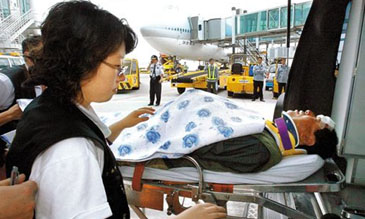 Passengers of Korean Air's B747-400, which took off from the Denpasar-Bali International Airport, are being carried to the hospital at the Incheon International Airport on July 14, 2005.
Scores of South Korean airline passengers were seriously wounded when a Korea Air's airliner nosedived some 100 meters around 4:15 a.m. July 14, 2005 when the B747-400 jumbo jet suffered from a bad air turbulence called (CAT: Clear Air Turbulence) over Bali, Indonesia. The accident happened some 40 minutes after its takeoff.A total of 257 passengers were on board the Korean Air Flight KE 630 which took off the Denpasar-Bali International Airport. The airliner met with the bad air current while it was flying at an altitude of 38,000 feet (11,582 meters).The accident took place upon Korean language announcement by a stewardess to warn the passengers against the bad air current and to urge them to wear a seat belt. Most passengers were asleep at the early morning hours.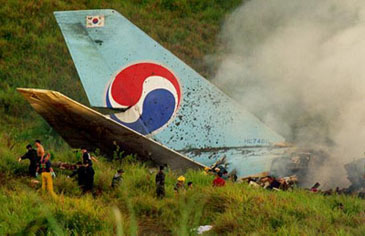 The aircraft crashed on a localizer approach to Guam. The glideslope was out of service, and the crew prematurely descended to decision height. Courtesy AirDisaster.com
The accident turned the whole scene into a complete mess. Damages and injuries were more serious for the passengers who were not wearing safety belt, and those who were walking in aisle. Blood were splattered and eyeglasses were broken, and all the baggages in the rack bounced all over the places.One of the passengers, Mr. Kim Yeon-Hoon, said "I was sleeping then and I was going to wear my seat belt after the announcement, but all of a sudden the airplane dropped.""I was in seat belt at the time of the accident but it was so loose, and I bolted from my seat and had my head hit against the ceiling, " said another who identified himself as Mr. Lee Yong-Yo.One of the Korean Air's cabin crew members, Park Seon-Young, 27, was not able to stand up but crawled on all fours to help passengers wear their seat belt. She banged her forehead against the seat.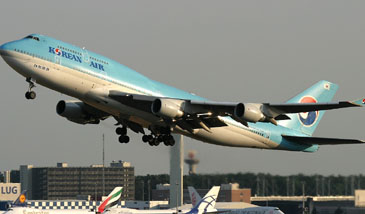 Korean Air's B747-400 airliner
"It would have been a much more serious accident had it happened during meal time," said Mr. Rhyu Nam-Soo, the airliner's purser. "Then all the heavy stuff would have flown over hitting many passengers."He said that 10 crew members, who were also wounded, continued to apply first aid treatment to the injured passengers.The wounded passengers were taken by ambulances to the nearby hospital when the airplane landed at the Incheon International Airport.