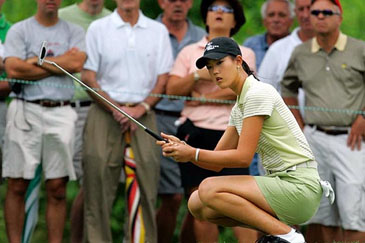 Michelle Wie, following her putt in Ohio last week. What stands between her and endorsement riches? Maybe only a victory.
Photo Courtesy Kiichiro Sato/AP
Michelle Wie came in 23rd at the United States Women's Open last month, behind other personable young golfers - the winner, Birdie Kim, 23, and Brittany Lang, 19, and Morgan Pressel, 17, who tied for second place. Ms. Wie failed to survive elimination in the P.G.A. Tour's John Deere Classic this month and fell short in her attempt to qualify for the Masters tournament next year.Yet Ms. Wie, 15, is the golfer that sports marketers have their eyes on.Advertisers say that what differentiates her is her blossoming talent, her personality and her determination to compete with male golfers. No woman has survived elimination on the P.G.A., the men's golf tour, since Babe Didrikson Zaharias did it in the 1945 Tucson Open. But Ms. Wie, from Honolulu, has made changing that her quest. Ms. Wie, who made history last week as the first woman to qualify for the men's United States Amateur Public Links Championship, is generating a following that one marketer called "Michelle mania.""She's very much focused at competing not at the top of the women's world, but at the top of the golf world," said Peter Stern, president of the Strategic Sports Group in New York. "She's a great sports story."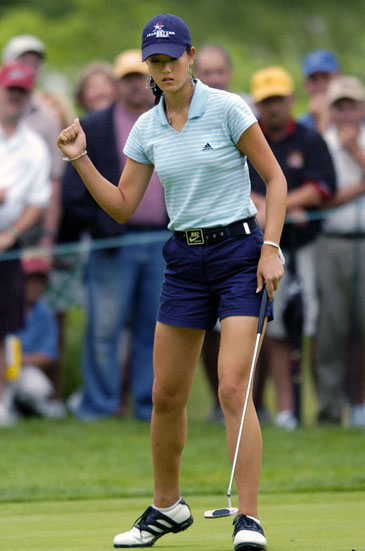 Michelle Wie advances at Men's Amateur Public Links.
Advertisers and network executives said that Ms. Wie could increase interest in golf and command large endorsement deals on a par with the tennis stars Maria Sharapova and Serena Williams, who are each earning about $20 million this year. Tiger Woods earns about $80 million a year in endorsements. The question is whether a female golfer could reach that level. "There's a lot of speculation that she is to women's golf what Tiger was to men's golf," said Paul Swangard, managing director of the Warsaw Sports Marketing Center at the University of Oregon. "As Tiger has moved past that and has just been good for the game of golf, in some many ways I think Michelle will hopefully have the ability to transcend her gender and just be a golfer."If she survives elimination in the next few years in a P.G.A. Tour event, Ms. Wie would be good at reaching young women and girls, marketers said. "She's their age and watching her compete with, and in some cases beat, men is pretty inspiring," said Jim Brighters, golf editor for the Sports Network, an international sports wire service based in Hatboro, Pa.Individual female athletes often gain more attention than women on sports teams, sports marketers said. Golfers, the marketers said, were particularly suited to advertising because golf was generally followed by wealthier people and because golfers usually had longer careers than athletes in other sports.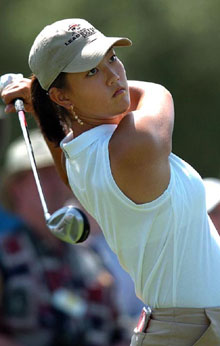 Michelle Wie
Within a year of entering the P.G.A. Tour in 1996, Mr. Woods signed five-year deals with Nike for $40 million, with the Titleist unit of American Brands for $20 million. After winning the Masters in 1997, he signed with American Express for $13 million and with the Rolex Watch Company for $7 million, according to Brandweek magazine. But, in terms of endorsements, Mr. Woods is in a league of his own. He now earns more from them annually than the former National Basketball Association star Michael Jordan, who was the first athlete to win many huge endorsements. Mr. Woods far outearned the tennis star Andre Agassi, who was second in endorsements with $44.5 million last year, according to Sports Illustrated. Most other athletes who earned more than $25 million made the bulk of it in salaries, rather than through endorsements.Serena Williams made the fifth-highest amount in endorsements last year, $20 million. Since then, a fellow tennis player, Ms. Sharapova, has surpassed Ms. Williams, according to Forbes magazine estimates for June 2004 to June 2005. Other female athletes with endorsement deals in recent years include Anna Kournikova, the tennis player; Mia Hamm, the soccer player; and Marion Jones, the track star.The most prominent player on the women's professional golf tour, the L.P.G.A., Annika Sorenstam, has endorsement deals with companies like Callaway Golf, Mercedes-Benz, Oakley and Rolex. She earned $7.3 million, third-highest among the female athletes featured by Forbes. Ms. Sorenstam was unsuccessful in making a P.G.A. Tour cut in 2003.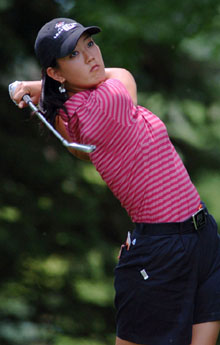 Michelle Wie is in a 3-way tie for the U.S. Open lead.
The golf industry has benefited from Ms. Wie's gumption this year. On June 24, about 700,000 people watched the United States Women's Open, the event where Ms. Wie placed 23rd, the highest number of viewers ESPN has ever had for a women's golf event, said Dan Quinn, an ESPN spokesman.John Wildhack, ESPN's senior vice president of programming, said: "I think she definitely has the ability to be one of those athletes that can drive ratings. The next step for her is to win."The commissioner of the L.P.G.A., Ty M. Votaw, said Ms. Wie had accomplished a lot for a 15-year-old, but still had a lot to prove."If she has just played men's events and missed cuts between now and the time she's 25, that market is not going to be there," Mr. Votaw said. "You have, in Michelle, a very unique situation where she has the ability to be compete on the L.P.G.A. tour and the marketability to be attractive to P.G.A. sponsors who want her to play in the P.G.A. Tour events. How long that lasts, time will tell."Where Ms. Wie ultimately spends most of her time playing - the L.P.G.A. or the P.G.A. - may depend on where she can play best, Mr. Votaw said, adding that Ms. Wie may be able to make more prize money in women's tournaments. But that does not include endorsement money.Golfers say it is only a matter of time until Ms. Wie makes the cut at a P.G.A. Tour event. "She's got to win," said Bob Dorfman, executive creative director of Pickett Advertising in San Francisco, who specializes in matching athletes with marketers. "All the female athletes that are successful are winners. They've won big events."
Profile of Michelle Wie
Home town: Honolulu, Hawaii
Date of Birth: October 10 1989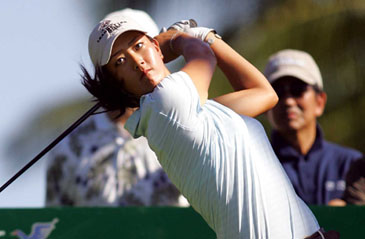 Michelle Wie
Probably the most talked-about and publicised very young golfer since Tiger Woods' name first started appearing in newsprint. Michelle is the youngest player to be selected in the 72 year history of the Curtis Cup matches.A ninth grade at Punahou School but a six footer, she demonstrated her extraordinary talent and a flair for big events at a tender age (13) when winning the US Women's Public Links title last summer and finishing tied ninth in the Nabisco event on the LGPA Tour. She was in the final pairing on the last day of the Nabisco.By the start of this year, Michelle has already played in nine LGPA sanctioned events.In the Public Links championship's 36 hole final, Michelle beat Virada Nirapathpongporn who would go on to win the US women's amateur title. Earlier this year Michelle failed by one shot to make the cut in the US PGA Tour's Sony Open in Honolulu. She did survive the cut in the 2003 US Women's Open.At the age of 10, Michelle became the youngest ever to qualify for a USGA women's amateur tournament, the Public Links championship.In May, after finishing tied 13th in her latest LPGA Tour appearance - the Michelob Ultra Open at Kingsmill, Williamsburg in Virginia (level-par 284 with rounds of 72, 67, 73 and 72 over a 6,258 yd par 71 course). Michelle flew to Lisbon for the Laureus World Sports Awards. She received the World Newcomer of the Year award from Gary Player and said "I want to thank God for giving me the talent."Just as Tiger Woods set the crowd figures soaring for the 1995 Walker Cup match at Royal Porthcawl, so the 14 year old Michelle Wie has done the same for this Curtis Cup at Formby.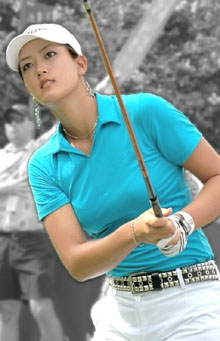 Michelle Wie
Like Woods, Wie hits the ball forever, and again like him, those who follow her progress have the feeling they are seeing history in the making.No-one knows whether Michelle, the youngest winner of America's US Public Link tournament last year, will achieve her ambition of dipping in and out of the men's PGA Tour and playing in the Masters.Even as things stand at the moment, she is achieving what many had believed to be the impossible. What 14 year old boy could have done as she did in finishing a shot away from making the cut in the men's 2004 Sony Open in Hawaii?A 72 and 68 saw her missing the cut by no more than a single shot, while she finished in front of such as Adam Scott, Scott Hoch and Matt Kuchar, all of them PGA Tour winners.Though she gives an embarrassed giggle at the admission, Michelle says she has grown an inch in the last 12 months - from 6ft to 6ft 1in. Taller than Tiger. As for her game, she notes that it is altogether more mature.In many eyes, including those of her head coach, David Leadbetter, her swing has much in common with that of Ernie Els, another Leadbetter pupil. They each have a hyper-extended left arm at the top of the backswing, which, says the coach, has a lot to do with the fact they are both tall, limber and double-jointed.When it comes to length, Leadbetter puts Michelle in the same league as Ian Poulter.In March, at the LGPA's Kraft Nabisco major at Palm Springs, where she finished fourth, Michelle was quick to refute the suggestion that she is obsessed with the game. "I'm not the kind of person who likes hitting balls 24 hours a day, seven days a week." she insisted. "I find that side of things a bit boring but it's what I have to do if I'm going to be a winner."She added that her strongest suit is probably something which others cannot see - namely, the ability to detach herself from the game. "When I'm shopping, I'm only thinking of shopping ... When I'm going out with friends, I'm only thinking of having a good time. I'm not a golf, golf, golf kind of person and never will be" she stressed.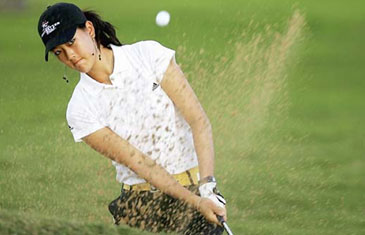 Michelle Wie
That said, she had a little addendum. "It's easy to take me away from the game but I love it so much that I always come back."No-one is sure how long she will stay in the amateur ranks. Her father, "B J" Wie, a professor at the University of Hawaii but currently on a year's leave, has talked of how she might turn professional at 18. Michelle, on the other hand, wonders if she could go to Stanford University and play the LPGA Tour at the one time. A tall order.Everyone admires Michelle's on-course focus. Yet, knowing as she does that no-one can concentrate flat-out over 18 holes, she makes a deliberate effort to wind down between shots. She moves about the course with a relaxed and easy elegance and the pace of her walk never changes.Again, she is not one of those to pull out of a conversation with a playing companion the moment she has missed a six-footer."I really enjoy playing with Michelle" said Grace Park, when she played with the teenager en route to winning the Kraft Nabisco. "I have never played with her before and she is more than what you all know. She's incredible and such a sweet 14 year old."Through Michelle's parents, her coach and her caddie will often have a big input on practice days, Michelle prefers to sort things out for herself when the gun goes. At Palm Springs, though she had as good a caddie as Bobby Verwey on the bag, she was reading her own lines. "I have more feel for what I'm doing if I read them myself." she explained.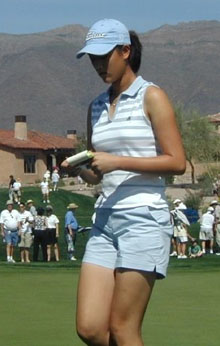 Michelle Wie in 2004
She has also identified the best way to practise - at least for her. Instead of following most of the rest in having a quick lunch at the end of a round before heading for the practice ground, she returns to the hotel and watches television for a few hours. She then comes back to the club in the early evening when she is feeling fresh. "If you practice neared the time you are going to play the next day it has to help." she advised. "it stays in your brain."Michelle may not be a Vijay Singh among workers, but she is thrice blessed in her powers of retention. Leadbetter says that neither he nor her regular coach, Gary Gilchrest, ever has to tell her anything more than once. "Unlike most girls of her age who don't want to know about technique, she does," said Leadbetter.He recalled that time earlier this year when she was over-swinging and failing to get the club back to impact consistently. "We worked on threequarter shots with a flatter, rounder finish, and two weeks later, she had them mastered. It was amazing."Those threequarter shots should server her well this weekend at Formby. As should the kind of running pitch she hit to the ninth green on the second day at Palm Springs, an exquisite shot she would later talk through for the benefit of the world's Press:"I couldn't hit a pitching wedge up there and stop it, so I thought to myself, 'Why not hit a nine-iron 30yd short of the green and run it up?' It worked to perfection."Leadbetter has a tip for those who find themselves competing against Michelle, be it this weekend or at any other time. "Don't," he warns, "get into watching her or you will be mesmerised."There is another piece of advice which should perhaps be meted out to the Great Britain & Ireland players and fans alike.Namely, that no-one should forget that there are seven other players in this United States team. And that every one of them, as indeed applies to the GB&I contingent, is a great champion.One player certainly does not make a team invincible. Harking back to that Walker Cup match at Royal Porthcawl in 1995. Tiger Wood's presence in the United States line-up did not prevent Great Britain & Ireland winning 14-10.
By Lewine Mair, Daily Telegraph's No 1 golf writer