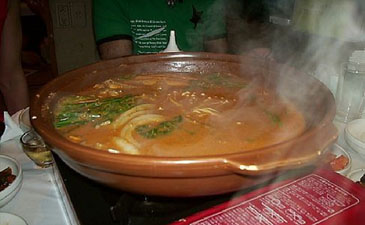 Dog meat stewed with veggies — a Korean summer specialty in a Gwangju boshintang restaurant.
July 15, 2005 was the first of the South Korea's three Dog Days called boknal. The Chinese character bok (伏) is composed of human (人) and dog (犬). Starting from First Dog Day called Chobok, the Middle Dog Day or Jungbok, and Last Dog Day or Malbok are the culmination of summer heat on the Korean Peninsula. Middle Dong Day will be July 25 this year while the last one falls on August 14. But, dog day here in Korea is observed negatively for it is the day dogs are butchered for meat or soup by people and in some cases by their owners. Dog Days were the spell when the dog beating sound was heard loudly from one village to another. People hang the men's best friends and beat them to death partly because of tenderizing the meat.The dietary habit of eating dog has a lot to do with the destitute life of the Korean people.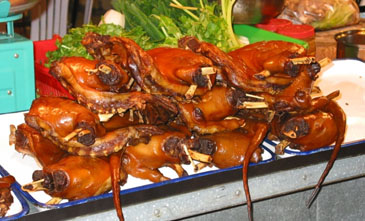 Dog meat is piled up in a market in South Korea.
Traditionally, Korean people lacked meat — pork, beef, and chicken. Only wealthy folks were able to enjoy meat whenever they want. Most people had to go without the chief source of protein.People had to undergo famine throughout long and dry spring and by the time summer heat looms over them starvation reaches its peak and many were starved to death particularly in the days during and following the Korean War (1950-53). Dog meat was regarded as the main source of protein for many locals.Anyway, on the First Dog Day, nation's dog meat restaurants were filled with customers who wanted to beat the heat with such stamina dishes as boshintang (dog meat) and samgyetang, a chicken and ginseng soup.An owner of a boshintang restaurant said that they had three times more customers than usual days. Boshintang is sold at steepy prices at least two to three times more expensive than beef.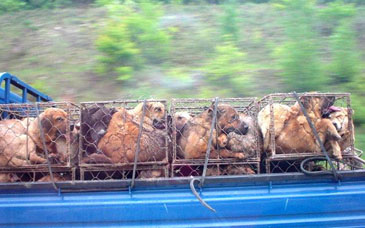 Scores of dogs are carried on a truck to be slaughtered and be sold in a market in South Korea.
On the other side, there was a campaign in objection of eating dogs. About 30 members of an animal protection group staged a rally. They were wearing T-shirts bearing such phrases as "I Love Dogs" and "Dogs Are Men's Friends." They marched downtown Seoul. The group argued that "Dogs Cannot Become Food."Every year the pros and cons of eating dogs become hot topic around this time of the year.It looks like the South Korean government is straddling on the borderline when it comes to legislating dog meat process.The South Korean law governing livestock farming includes dogs just like cows, pigs and chicken. But dogs are excluded from the law on livestock processing, which regulates slaughtering them.This poses some serious threat to the hygienic aspect of dog meat.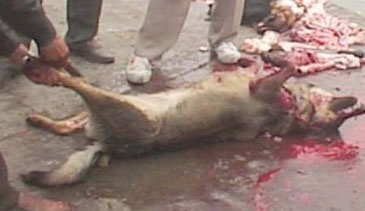 Dogs are brutally slaughtered for meat in South Korea.
The South Korean government said that it has no plans to include dogs into the livestock category regarding the law regulating livestock processing and treatment.According to the 1998 government statistics, there are 6,484 boshintang restaurants around the nation. The number of boshintang restaurants is now nearing 10,000 in 2005. Back in 1998 estimated 8,428 tons of dog meat were circulated per year nationwide. Now it is well over 10,000 tons. In addition 93,600 tons of gaesoju or dog extract (elixir) were sold in 1998, as well.These days 20,000 dogs are circulated and consumed per day as the number of female customers increases. Over 43 percent of all women visit dog meat restaurant.In general, dog meat is fourth most popular meat after pork, beef, and chicken in South Korean market.Dog meat is indeed a serious food in this market. On average, 280 tons of dog meat are consumed per day. It is high time that the South Korean government do take any measure for the dog meat.