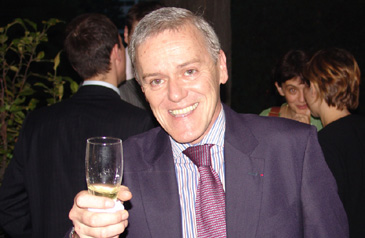 Francois Descoueyte is making a toast to The Seoul Times in a brief interview with the online English-language newspaper at the Bastille Day reception held at its embassy July 14, 2005.
"Let's have a global and high-speed cooperation," said French Ambassador to Seoul Francois Descoueyte, as he and his wife Christina hosted a reception at the French Embassy in Hap-dong in Seodaemun-gu, Seoul on the occasion of the National Day of France at 6 p.m. July 14, 2005. Amb. Descoueyte emphasized the rapidly growing economic and technological partnerships between South Korea and France, which he modeled after KTX (Korea Train eXpress) for its speed. He believes that in the era of globalization, more opportunities are open for deeper bilateral ties. "I am a happy ambassador," he said in a brief interview with The Seoul Times. With his wish of continuous good Korea-France relations, he thanked the Korean and French people for the hospitality and full cooperation he receives during his stay.He is reluctant that Korean-French relations will continue to expand as he admires the "dynamism and warmth of Korean people."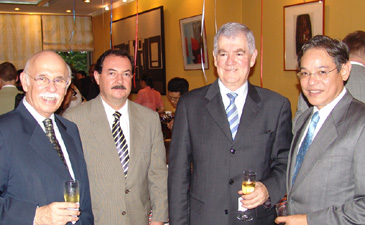 Amb. René Francisco Umaña of Honduras (second from right) poses with his diplomatic friends at the French reception.
Members of the diplomatic circles and minister in Seoul congratulated Amb. Descoueyte on its commemoration of Bastille Day. Among them were Amb. René Francisco Umaña of Honduras, Amb. Michael Geier of Germany, Amb. Guillermo Quintero of Venezuela, Amb. Guillermo Lara of Ecuador, Amb. Ibrahim Almansouri of United Arab Emirates, Environment Minister Lee Jae-Yong, and many others.Fête Nationale, or the National Day in French, is a symbol of the end of monarchial power. On July 14, 1789, French people stormed the royal prison cell, known as the Bastille, where political enemies of the monarchy were locked up. The uprising led to the dethronement and execution of King Louis XVI and Marie Antoinette. The assembly of the Third Estate, which represents the town citizens, separated and formed the Constituent National Assembly. Setting the beginning of the French Revolution, July 14 was officially proclaimed national holiday in 1880 with the motto "Liberty, Equality, and Fraternity."Korea-France friendship dates back during the Korean War (1950-1953), when many young French people helped South Korea defend its democracy from the Communist invasion.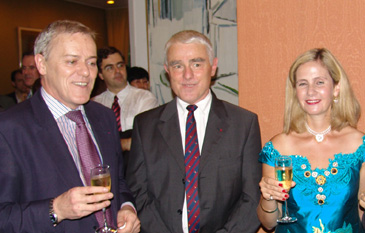 Amb. Descoueyte (left) is making a toast with his wife Christina (right) and other participants at the Bastille Day reception.
This bilateral cooperation has expanded to economy as well. Seoul is France's third largest economic partner in Asia. During the first half of 2004, trade expanded nearly 30 percent over the same period of 2003, and about 300,000 Koreans visit France annually. "The potentials for cooperation between Korea and France are far from being exhausted," said Amb. Descoueyte. He said that the 120-year-old cooperation, which is to be celebrated next year, was accelerated due to projects and events.He particularly identified the visit of S. Korean President Roh Moo-Hyun to Paris, France in December 2004 and the tie-up in building Korean speed-trains. According to the top French envoy, they are impetuses to "build global partnership in all fields especially between Northeast Asia and Western Europe."During last year's visit by S. Korean President Roh, the two nations pointed out possible areas of cooperation as energy, information technology, biotechnology (BT), nanotechnology (NT), and space technology (ST), genetic engineering, the environment and other high-tech division, education and culture.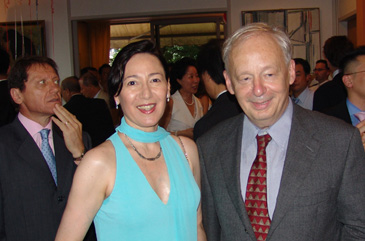 Amb. Michael Geier of Germany (right) with his wife at at the Bastille Day reception held at the French Embassy in Seoul.

South Korea and France has agreed to expand cooperation between the two countries in these sectors through joint research and development projects among research institutes and private companies, and exhibitions.Korea is considered the world's 11th largest economic power in 2004, according to the International Monetary Fund (IMF) and France ranks fifth. Aside from economic and trade relations, South Korea and France have also maintained smooth political relations. French President Jacques Chirac's support for S. Korea's efforts to resolve the North Korean nuclear crisis reinforces the ties. Both agreed to peacefully resolve the standoff over North Korea's nuclear weapons program through six-party talks. France is one of few European countries without diplomatic relations with North Korea. However, it is a leading member of the European Union that has been actively communicating with the Communist country in recent years. The Bastille Day is usually celebrated in France with a military parade along the Champs-Elysees (Elysian fields), famous street in Paris.
The above photos were taken by Mr. James (Young-Ju) Huh, staff reporter of The Seoul Times.