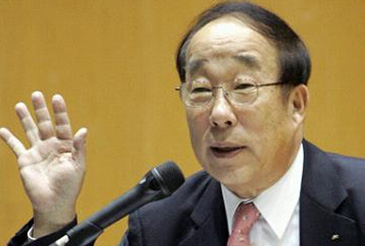 Chairman Park Yong-Sung of Doosan Heavy Industries & Machinery Co. He is also Chairman of Korean Chamber of Commerce and Industries (KCCI). He was recently appointed as chairman of Doosan Business Group by family meeting.
Doosan Group, South Korea's 10th largest family-run conglomerate, goes into internal dispute over management succession in the wake of whistle-blowing of its former chairman Park Yong-oh.Park Yong-oh, 69, was supposed to hand over group chairman post which he took in 1996 from his elder brother Yong-gon, to his younger brother Park Yong-sung, 65 chairman of Doosan Heavy Industries & Machinery Co. from Aug. 1 in accordance with a decision made by the family meeting chaired by his elder brother Park Yong-gon.
Resisting the request for resignation, Park Yong-oh has delivered letters of criticism against the management succession to the prosecution and a broadcasting company this week, thus plunging the group into serious internal dispute and family feud.According to the sources, Park Yong-oh alleged in his letter that his younger brother Park Yong-sung has illegally raised some 17 billion won in slush funds through a beer sales outlet for the past 20 years and embezzled part of the funds. He demanded for prosecution investigation into the scandal and other wrongdoings allegedly committed by Park Yong-sung .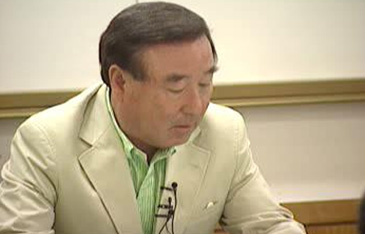 Former Doosan Group Chairman Park Yong-Oh. He took his domestic issue to law after he was disgruntled with the Park family's decision to appoint his younger brother Park Yong-Sung as group chairman.
If and when his allegation turns out to be true, reputation of Doosan Group is feared to be tarnished both at home and abroad.Yong-oh is also demanding that the group separate Doosan Industrial Development Co. which is involved in multibillion dollar projects worldwide. However, the Park family did not allow the separation in a meeting presided by the eldest brother Yong-gon. When the brotherly succession was announced earlier , it was touted as a model case of family management as industry observers said it was rare in South Korean chaebol history for three brothers to serve as group chairman consecutively.
As a result of the whistle-blowing and ensuing internal dispute, the reputation of Doosan Group as well as its corporate credibility is at stake.
.
The newly appointed Park Yong-sung heads an industry lobby group, the Korea Chamber of Commerce and Industry, and serves as a member of the International Olympic Committee.
Doosan has 19 affiliates under its wing and generated annual sales of US$10.5 billion in assets. As the the world's No.1 desalinization plant manufacturer, Doosan is expected to see record orders from Middle East countries this year. It won a $6.5 million order to build a desalinization plant in Libya in February and a $28 million contract to improve water facilities in Kuwait.
Last year, it secured orders worth $1.15 billion for large desalinization equipment from the Middle East. Middle Eastern countries, such as Qatar and Oman, are focusing on building desalinization facilities with profits from a surge in international oil prices.