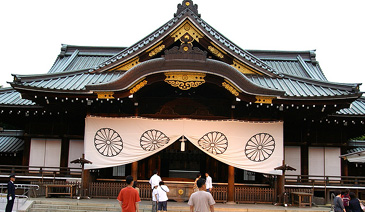 The main building of Yasukuni Shrine (ïþÏÐãêÞä) in Tokyo
A month before Beijing and Tokyo prepare to commemorate the highly sensitive 60th anniversary of Japan's World War II surrender on August 15, relations between the two neighbors are dangerously strained over a host of historical, territorial and economic disputes. The current focal point of bilateral tension is the annual pilgrimage of Japanese Prime Minister Junichiro Koizumi to Tokyo's Yasukuni Shrine, which serves as a memorial for Japan's war dead, including 14 Class-A war criminals, among them wartime leader General Hedeki Tojo. Despite being at the center of China-Japan friction, Koizumi and his supporters' justification for his Yasukuni forays remains largely a mystery to most non-Japanese. This is because arguments in favor of the shrine excursions are generally not presented in the English media in a coherent and detailed manner. However, analyzing these explanations offers significant insights into key issues at the heart of current China-Japan tensions, something which will become increasingly important if bilateral dialogue deteriorates further. Koizumi said in May he planned to visit the shrine again this year though last month he told South Korean President Roh Moo-hyun that he would consider building another site to honor the bulk of Japan's war dead. A poll released this week suggests that 63 percent of Japanese favor establishment of a new shrine to replace the notorious current memorial. The poll, as well as another earlier one, suggests that about half of Japanese oppose further visits to the shrine by their prime minister. The following arguments represent the unadulterated pro-Yasukuni case as it is presented in the nationalist Japanese language press and by supporters of the prime minister's shrine pilgrimages.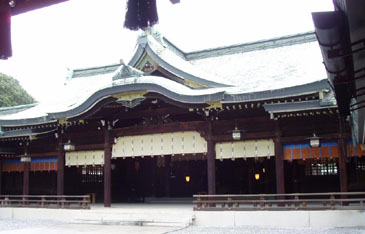 Meiji Shrine in Tokyo
The pro-Yasukuni camp says Japan is truly remorseful about the pain and suffering it inflicted on China and other Asia countries during World War II. Japanese prime ministers and officials have on many occasions made extensive public apologies for the country's wartime occupation of its neighbors. Koizumi, speaking at the Asia-Africa summit in Indonesia in April, expressed his "deep remorse and heartfelt apology" for Japan's colonial rule and wartime aggression, giving one of the fullest and sincerest apologies ever by a Japanese prime minister. The Yasukuni advocates say it's absolute nonsense to claim that Japan hasn't apologized to the people of Asia and is not thoroughly repentant for its past acts of aggression. Instead, shrine defenders say there is a lot of misinformation and ignorance about the Shinto establishment. Foremost, they point out that Yasukuni is primarily dedicated to the country's war dead, claiming it is the Japanese equivalent of America's Arlington National Cemetery or the United Kingdom's Cenotaph, and as such is a natural and proper place for Japanese political leaders to pay their respects in a traditional manner to those who died in the service of their country. The shrine adheres to the standard Shinto practice of forgiving the sins of all those who have died and honoring the memory of everyone who fell in the service of Japan regardless of what they actually did when they were alive. Like other religions, the Shinto faith cannot reasonably be expected to change the fundamental tenets of its teaching because another country finds them inappropriate. To suggest that it should is highly insensitive and demonstrates a complete lack of respect for deeply held Japanese religious beliefs. On each occasion Koizumi has visited the Yasukuni Shrine, he has made it absolutely clear that his intention is to pray for peace and show respect for the war dead, as would any elected prime minister or president in a democratic country. Nationalists argue that just because Japan lost the war does not mean that its people and leaders should forfeit the right to pay their respects in a traditional manner to those who made the ultimate sacrifice for their country.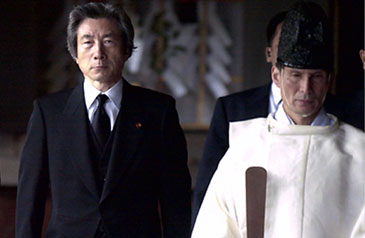 Japan's Premiere Junichiro Koizumi at Yasukuni Shrine in Tokyo
Immediately after his visit to Yasukuni in January 2003, Koizumi stated his motives, "I prayed for peace and prosperity at the Yasukuni Shrine." He added, "Japan's peace and prosperity are not only the result of the efforts of people today, they are also built on the sacrifice of those who lost their lives in the war even though they did not want to die." He has also diplomatically explained why such visits are purely a domestic matter, saying, "I don't think the people of any country would criticize the people of another for paying respect to their own history, traditions and customs." After his January 2004 visit, an editorial in the Yomiuri Shimbun (newspaper) elaborated: "The issue of when and in what manner a prime minister of a nation should pray for the war dead is, primarily, a domestic issue to be decided on the basis of the country's traditions and customs. Other countries are in no position to say anything about it." The nationalists ask: Why does China object so strongly to a democratically elected Japanese leader solemnly praying for peace and simply honoring the war dead of his country? The pro-Yasukuni forces say a major part of the answer lies in the fact that China is not a democracy and is run by an unelected and "autocratic Communist Party." Its "secretive leaders" are not accountable to the people and freedom of speech is severely restricted. At the moment, there are many serious social issues in China that people are not allowed to discuss openly. Beijing has found that deliberately whipping up anti-Japanese sentiment is an easy way to divert attention from these problems and allows its suppressed citizens to vent pent-up anger that might otherwise be directed at the Communist Party. Generating nationalist sentiment also helps the Communist Party shore up its grip on power during a period of difficult social change.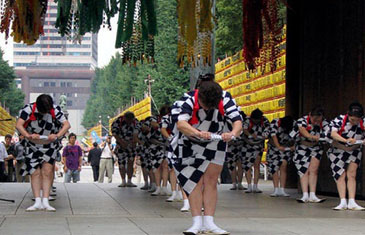 The annual Yasukuni Shrine (ïþ国ãêÞä) Mitama (soul) festival is going on. The Yasukuni Shrine was founded in 1868 and first called "Shokonsha," it was renamed "Yasukuni" in 1879 by the Emperor Meiji and was adopted as one of the symbols of the nation's emergence in modernity.
In the past, China did not complain when Japanese prime ministers Masayoshi Ohira and Zenko Suzuki visited the shrine, and Yasukuni advocates say it is just doing so now in an attempt to intimidate Japan. Another element of this strategy is Beijing's rapidly expanding military, which is also attempting to menace Japan with incursions into Japanese territorial waters. Tokyo cannot afford to bow to these threats, because it would be seen as a sign of weakness and Beijing would only make further unreasonable demands and increase incursions into Japanese territory. History clearly demonstrates that it is not in the interests of a democratic country to bow to political, military or economic pressure exerted by undemocratic regimes. Nationalist lawmakers say paying homage at Yasukuni is not the real the issue at the heart of Sino-Japanese tensions. China is merely utilizing it as a tactic to coerce Japan into submission as part of its broader strategy for expanding its regional power. Yasukuni supporters point out that Koizumi recently remarked, "I do not think Yasukuni shrine is the core issue of Japan-China and Japan-South Korea ties. The core issue is that we should enhance our ties with future-oriented views." The Yasukuni camp believes that like the leader of any other democratic country, Koizumi should continue to pay his respects in a traditional manner to the war dead at the national monument dedicated to them. Japan should not make concessions regarding the key principles of non-interference in domestic affairs and the separation of political and economic issues.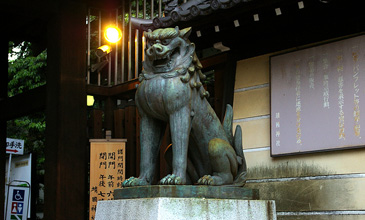 Yasukuni Shrine (ïþÏÐãêÞä) in Tokyo
The nationalists argue that if Tokyo remains firm on Yasukuni then Beijing will eventually realize that its bullying tactics are unproductive. When it understands this, the two countries can create the basis for a new and more meaningful bilateral relationship. The moral and economic cases against the shrine
The arguments of those who oppose Yasukuni visits can be divided into two distinct categories: moral and economic. Fully understanding both aspects is becoming increasingly vital as tension between Beijing and Tokyo continues to rise. The moral anti-Yasukuni case acknowledges that under normal circumstances how a country honors its war dead is usually a purely domestic matter, in which other countries have no right to interfere. However, they point out that in this particular case it is not so straightforward for a number of important historical reasons. First, during the 1930s and 1940s the shrine served as the spiritual pillar for Japanese nationalism and is inextricably linked with the wartime military regime responsible for the suffering of millions of people in neighboring Asian countries. Second, in 1978 the Shinto priests at the establishment secretly enshrined the names of 14 Class-A war criminals, including wartime leader Tojo, into the memorial. This clandestine ceremony was only made public in 1979 and it is from then on that Yasukuni really began to attract domestic and international controversy.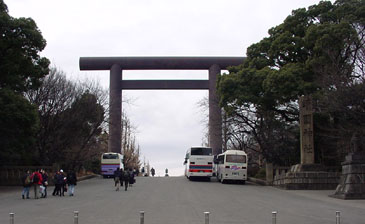 Entrance to Yasukuni Shrine (ïþÏÐãêÞä) in Tokyo
This act meant it was no longer possible for the emperor to go there personally, although imperial envoys are still regularly sent. While the last imperial visit occurred on November 21, 1975, political leaders have been far less cautious. Prime ministers Masayoshi Ohira (December 1978 to June 1980), and Zenko Suzuki (July 1980 to November 1982) visited the shrine after the announcement of the secret enshrinement ceremony, but the significance of their low-profile pilgrimages was not fully understood by the international community in the days before the 24-hour global media age. Since the world could not physically see them paying homage and the controversy of the enshrinement of Class-A war criminals was still relatively unknown, the excursions were largely ignored. Furthermore, Suzuki's 1982 visit appears to have been in a purely private capacity. It was not until August 15, 1985 that an official visit by Prime Minister Yasuhiro Nakasone caused neighboring Asian countries to protest strongly. Nakasone did not visit the shrine again as prime minister out of consideration for Japan-China relations and neither did any other prime minister in an official capacity until Koizumi resurrected the practice on August 13, 2001. Since then he has visited the shrine each year, causing a storm of international protest on each occasion. While nationalists have questioned the motives of an undemocratic Chinese regime in raising the Yasukuni issue, the same argument cannot be applied to South Korea, which enjoys a vibrant democracy. Yet criticisms by Seoul and Beijing about Yasukuni are almost identical.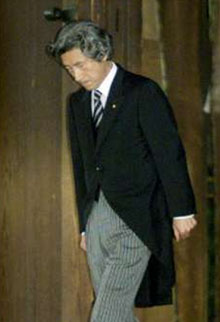 Japanese Prime Minister Junichiro Koizumi visits Yasukuni Shrine in Tokyo August 13, 2001.
For instance, after the January 2003 pilgrimage, South Korean Foreign Ministry spokesman Shin Bong-kil, said, "Our government expresses deep regret that Japanese Prime Minister Koizumi paid homage at the Yasukuni Shrine which houses memorials to war criminals, who undermined world peace and inflicted intolerable damage and pain on our people." Compare this to a statement made after the January 2004 visit by Chinese Foreign Minister Li Zhaoxing. He said, "We will never tolerate an incumbent Japanese leader going to a shrine enshrining Class-A war criminals. There is no leader in Germany or Italy who pays homage to the soul of Hitler or Mussolini." Indeed, these kinds of Hitler/Mussolini comparisons, which are the most damaging for Japan's international reputation, can even be found in Koizumi's own junior coalition partner. For example, on May 20 this year, New Komeito lawmaker Junichi Fukumoto told Koizumi in parliament, "I want you to think about how Jewish people would feel if the German chancellor visited the grave of Adolf Hitler." To many ordinary Chinese and Koreans, the Yasukuni visits appear to be the same as a German leader visiting a Hitler memorial and as such these views cannot simply be ignored. It is true that Shinto traditions state that a person's sins are forgiven once they are dead, and Tojo has the same right to enshrinement as any other deceased soul. However, a prime minister needs to remember he is the international political representative of the nation, not its spiritual sage or philosopher. In a global world it has to be acknowledged that when it comes to such sensitive issues, the feelings of other countries have to be taken into proper consideration by politicians, regardless of domestic religious practices. Former prime minister Nakasone summed up this view recently when he said, "I understand the prime minister visits the shrine out of his personal beliefs ¡¦ however, a prime minister should also think how his conduct will affect the national interest ... a separate enshrinement of Class-A war criminals will take time, I think it would be an admirable political decision to stop visiting the shrine."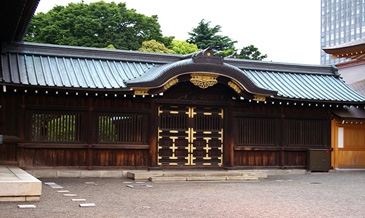 Yasukuni Shrine (ïþÏÐãêÞä) in Tokyo
Chinese leaders have continually stressed that they understand the need for Japanese leaders to honor the war dead, but cannot accept the fact that it is done at an establishment that also honors the wartime leaders who were directly responsible for inflicting immense suffering on its people. The other half of the Yasukuni counter argument is purely an economic one. Quite simply, the tensions generated by the pilgrimages are threatening booming economic ties that are essential to both countries. Bilateral friction is already having an impact on commerce, threatening billions of yen in investments by Japanese companies. In April large anti-Japanese demonstrations swept across China, last August there were disturbances at the Asia Cup final and in 2003 an anti-Japanese riot broke out in Xi'an in northwest China. The increasing possibility that more of these kinds of disturbances will occur is making Japanese business people and their families feel uncomfortable about working in China. And the uncertainty is making Japanese companies hesitant to launch new expansion plans. In such a competitive market as China, Japanese business cannot afford such distractions and poor political ties are a potential threat to business. Bilateral tensions are also negatively affecting Chinese citizens living in Japan and this is also hurting trade and cultural links. In recent years, many ordinary Japanese have invested a lot of effort into building up good connections with both China and Korea. Insensitive actions by the prime minister are harming these hard-forged bonds and in extreme cases even putting Japanese citizens at risk as the spate of recent anti-Japanese demonstrates illustrated. Other contentious issues like the revisionist Japanese history textbooks, the status of Taiwan and various territorial disputes are also becoming harder to resolve in a continually strained atmosphere. This situation also is feeding nationalist passions, which are difficult to control. There is a risk that if Sino-Japanese ties remain tense, other issues like Taiwan or the Senkaku Islands territorial dispute could eventually lead to more serious forms of confrontation. Even if we accept the nationalist argument that China is merely exploiting the Yasukuni issue to pressure Japan, it has to be asked: Why is Koizumi giving Beijing such a valuable diplomatic card to play? The Yasukuni issue is damaging Japan's international image as it makes the country look insensitive to the feelings of other nations and unremorseful about its past. Koizumi is also harming Japanese economic interests in China. China-Japan relations need to look to the future, not dwell on the past. For both moral and economic reasons, the Yasukuni pilgrimages should stop.
J Sean Curtin is a GLOCOM fellow at the Tokyo-based Japanese Institute of Global Communications.