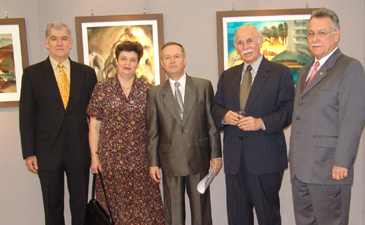 Mrs. Maria Arteni (second from left) poses with her husband Amb. Valeriu (cetern) and Amb. Rene Francisco Umana of Honduras (left) and other dignitaries at the watercolor exhibition.
Mrs. Maria Arteni, wife of Romanian Ambassador to Seoul Valeriu Arteni, hosted an art exhibition for her Romanian painter Iulia Halaucescu at Samsaung Raemian Culture Center downtown Seoul July 28, 2005.The watercolor exhibition by the famous Romanian artist was held on the occasion of the 15th anniversary of the establishment of the diplomatic relations between Romania and the Republic of Korea. The exhibition will go on until August 7, 2005.At the opening ceremony held at 4 p.m. on July 28, Amb. Arteni introduced to the guests Iulia Halaucescu as a natural born artist whose artistic talent speaks for itself and needs no additional comment.A number of art critics including Ion Frunzetti and Eugen Eshileru named the Romanian artist as "a master of watercolors" or "Lady of the Romanian Watercolors," Amb. Arteni said.A lot of guests – art lovers of both locals and foreigners – came to congratulate her and her husband Amb. Arteni on the ambassadorial couple's efforts to bring the noted Romanian artist's works to Seoul. Among the diplomatic guests was Amb. Rene Francisco Umana of Honduras.The scores of her works of art displayed at the center include Narrow Alley on Sighisoara (56x76, 1967), House on Medieval Castle Sighisoara (56x76, 1968), Winter on Bicaz Lake Shore (70x50, 1968), Korean Painters on Romanian Workshop (45x59, 1959), Korean Sculptor Visiting Romania (45x59, 1959), Flowers Sleeping (48x63, 1986), Thorn Bird (50x70, 1989), and Magnolia into Bud (56x76, 1991).The watercolor exhibition will run until August 7, 2005 from 9 a.m. to 6 p.m. everyday. For details call the center at 765-3304 or the Romanian Embassy in Seoul at 797-4924.
About the Artist — Iulia Halaucescu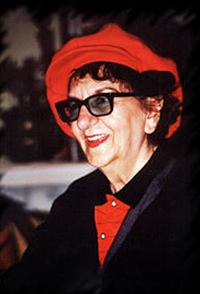 Iulia Halaucescu
Iulia Halaucescu
— painter, graphician, permanent member of The Union of Plastic Artists in Romania (U.P.A.). Born on the 31st of March 1924, in Tarcau, Neamtz district, in a family descending from Christian-orthodox priests, her father being a preist as well, with a rich activity of journalist, author of a Monography of the Tarcau region, awarded by the Romanian Academy.She graduated the Academy of Philosophy (Bucharest, 1948 - Aesthetics) and the Institute of Plastic Arts "N. Grigorescu" (Bucharest, 1953), after she had studied painting separately with R. Schweitzer-Cumpana, honoured artist of art. Since 1954 she has been a member of U.P.A., where she also participated in the national boarding committee (1963-1968, 1978-1990) and she was president of the Piatra-Neamtz regional branch for 18 years.Between 1956-1960 she participated in the activity of the group of scientific research for art issues in the Bicaz region. She initiated the research for descovering some of Lascar Vorel's works and his diary, also and suggested and assisted the founding of the Collection of the Art Museum in Piatra Neamt (1964), being considered one of the five founding members. She also initiated the building of the Art Galleries of U.P.A. in Piatra-Neamtz (1989) and since 1983 she has activated in the Association of Scientists.
Personal Exhibitions
— She opened 58 personal exhibitions, 6 of which in Bucharest; in 1984 the Ministery of Culture and U.P.A. organized a retrospective in Bucharest - "Dalles"; Prague - 1957; Bayonne - 1992; 9 exhibitions in Iassi, Cluj, Bacau etc., one personal exhibition being brought to many major cities in the whole country (Arad, Tg. Mures etc.) by the Romanian Art Museum; we also have to mention the retrospectives at 70 and 75 years old in major art museums.
Participations in Collective Exhibitions Abroad
— Held by the Ministery of Culture and U.P.A.: 38 in 21 countries (Czechia, Egypt, Albania, Marocco, Syria, Greece, Russia, U.S.A., Japan, Jugoslavia, Irak, Pakistan, Mexico, Germany, France, Turkey, Sweden, Brasil, Italy, Argentina, Israel).
Collective Exhibitions in the Country
— at annual exhibitions and national exhibition of drawing: 33; biennial exhibition of painting "Dalles" - Bucharest (1968); national exhibitions - Bucharest, with oil and mainly watercolors (16). Since 1954 she has participated in all regional and district exhibitions.
Documentary Journeys
— cultural exchanges with Czechia, Bulgaria, Hungary, Ukraine, Germany, Poland, Greece - all of them ending with exhibitions. She also participated in the country at camps of creation organized by the Ministery of Culture and U.P.A.
Monumental Art
— Together with Simona Vasiliu Chintila she made a sgraffito in Piatra-Neamtz - "The House of Culture," a marble mosaic in Roman - The "Roman" Hotel, a project exhibition - Iassi, a mural painting in oil and monumental tapestries donated by the Romanian Government to representatives of foreign countries.