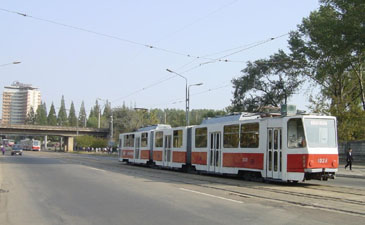 A East German-made trolly in Pyongyang, North Korea
Tong-il looks like plenty of other Asian markets: hundreds of shoppers browsing through rows of tiny stalls jammed with everything from imported computers, DVD players, and phony Rolexes to washing machines, vegetables, and dog meat.But there is something unusual about this seemingly conventional capitalist scene. It is in Pyongyang, the capital of the most tightly controlled bastion of Communist orthodoxy. The merchants wear clean blue smocks with ID badges, and they work for a state that, until recently, viewed any tender sprouts of capitalism as dangerous invaders to be pulled out by the roots.To the surprise of many, North Korea is trying to jumpstart its torpid economy with market-oriented reforms. Even through a nearly three-year-long standoff with the United States and other countries over its drive for nuclear weapons, the Hermit Kingdom has been cautiously removing the seals that have kept out market forces—along with most other foreign influences.The resumption last week of six-nation talks over North Korea's nuclear programs may well reflect its need for Western money and technology to make the reforms work—and stabilize the country. The North's decision to drop its 13-month boycott of the talks and accept, at least in principle, the goal of banning nuclear weapons from the Korean peninsula may say a lot about where its ruler, Kim Jong Il, wants to take his impoverished nation. "Serious economic problems" and the prospect of renewed hunger among North Korea's 23 million people, reasons a senior Bush administration official, probably led Kim back to negotiations.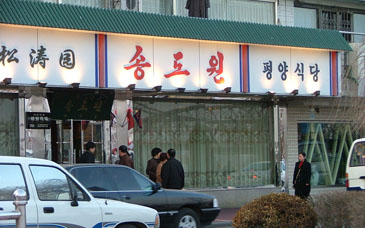 Songdowon restaurnat in Pyongyang
Real reforms. The first week of talks in Beijing showed uncommon cordiality, and even hints of flexibility, on all sides, but what they didn't do was reveal Kim's intentions on nukes—or the broader direction he plans to take his country.But after initial skepticism, a striking array of U.S. and foreign officials and North Korea watchers have concluded that the economic reforms are for real—and cannot be reversed without triggering chaos. "The North Korean leadership is very enthusiastic about continuing with reforms," says Yang Chang-seok, deputy director-general of South Korea's Unification Ministry. By expanding trade, investment, and aid to the North, he told U.S. News , South Korea will "reduce the cost of eventual reunification."South Korea, in fact, did something the Bush administration refused to do: It put economic incentives at the forefront of its campaign to draw the North back to the negotiating table. The South offered to step up trade and investment, send fertilizer and food, and provide electricity—the latter contingent on the North abandoning its nuclear weapons efforts. The offers, along with U.S. moves to mute anti-Kim rhetoric and assure the North that it had no intention to attack, seems to have led the North to end its boycott.The economic reforms were launched quietly in July 2002—just before the nuclear crisis erupted. Selig Harrison of the Center for International Policy, a frequent visitor to the North, calls the process "reform by stealth." Managed by technocrats like the current prime minister, the regime decriminalized activities, like trading in unofficial markets, that spread during the economic freefall caused by the collapse of Soviet subsidies and communist bloc trade in the early 1990s. Kim apparently sees the market openings of one-party Communist China and Vietnam as relevant to his aims. He has toured a General Motors joint-venture factory and a stock market in Shanghai.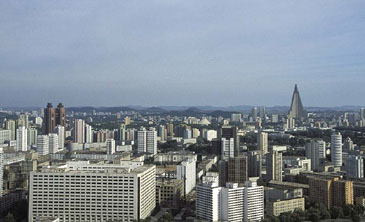 General view of Pyongyang, capital of North Korea
Semicapitalist enclaves have been established, the foremost an industrial park financed by South Korea's Hyundai Motor Co. at Kaesong, just miles from the mine-filled demilitarized zone. Using labor even cheaper (at $58 a month) than that from neighboring China, factories are now churning out cookware and semiconductor parts. Eventually, the project will employ 730,000 North Koreans in more than 1,000 factories, with road and rail links to both countries.
Many in the Bush administration yearned for Kim's regime to fall—or at least hoped the North's nuclear defiance would earn it economic isolation. But the reverse has happened, courtesy of China and South Korea. North Korea's economy has grown around 2 percent each of the past two years.North Korea in most cases ended direct subsidies of state enterprises and granted them freedom to hire, fire, and make profits; allowed prices to rocket upward; permitted the use of foreign exchange; and encouraged small retail businesses and markets for consumer goods and food. Aid workers, diplomats, and other foreign visitors to Pyongyang soon noticed changes. Kiosks popped up, selling cigarettes, drinks, and other sundries. Traffic grew. Restaurants opened, some with expensive fare. Dull, gray Mao suits were closeted in favor of more colorful dress; many youngsters appeared healthier, some donning T-shirts and baseball caps, others styling their hair like South Korean soap opera or pop stars.
Dead factories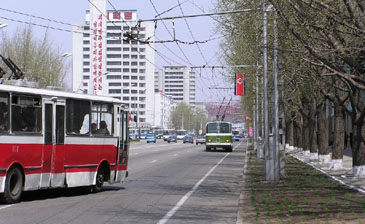 A street in Pyongyang, North Korea
Younger North Koreans tapping regime or party connections or relatives overseas have seized on the opportunities to make money. So have farmers, who can now sell their surplus produce in markets; this year has seen groups of around 20 farmworkers authorized to band together in money-making collectives, keeping up to 70 percent of the profit. But many factory workers have been hit by rising unemployment and by wages that rose far less than the rate of inflation. The country's old industrial heartland is studded with abandoned factories, and with all the idle smokestacks, says recent visitor Nancy Lindborg, president of the aid group Mercy Corps, "the air quality is crystalline." The quality of life, however, is anything but. "If you're part of the old industrial proletariat," says Marcus Noland, who has studied the North Korean economy for the Institute for International Economics, "good luck."The specter of famine has also returned. North Korea lost between 500,000 and 2 million to hunger between 1995 and 1997 amid floods and industrial collapse. Foreign food aid eventually flowed in, and the harvests improved. Yet food shortages remained, prompting the North Korean military to reduce its height requirement to accommodate malnourished recruits. Even today, the United Nations World Food Program (WFP) estimates, 37 percent of North Korean children suffer from malnutrition; 23 percent are underweight.
More shortages
A "very ominous" mix of factors may reignite famine, warns Gerald Bourke of the WFP in Beijing. Already this year, the WFP has had to slash food deliveries to most of its 6.5 million recipients, mostly children, pregnant women, and the elderly. Early this year, with food that used to enter the state's distribution system diverted into moneymaking markets, North Korea cut city dwellers' food rations. In May and June, students and urban workers planted rice in the paddies in a dramatic expansion of the annual mobilization to the countryside. Ordinary North Koreans try to cover the food shortfall with help from relatives on farms and by foraging for wild grasses, acorns, and mushrooms. Still, the price of rice tripled over the past year, and corn quadrupled.And yet, the growing split between haves and have-nots has not generated any organized opposition, say visitors to the North. Informers and state security services see to that. Watching videotapes of South Korean TV soap operas has become popular—but remains illegal. Police, according to several accounts, have taken to shutting off the power to apartment buildings at night to search for contraband videos; they go apartment-to-apartment, looking for VCR s with tapes trapped by the cutoff of electricity. The unlucky can expect prison time.
The first taste of capitalism hasn't loosened Kim's iron grip yet, but it might over time. "North Koreans now pay attention to the market, to making money. The object of loyalty changes," says Suh Jae Jean of the Korea Institute for National Unification in Seoul. That sort of change may not satisfy hawks in Washington, but a North Korea focused on making money instead of bombs is certainly something worth pushing for.
Giovanni Porzio has contributed to this article