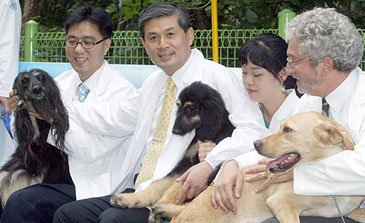 Prof. Hwang Woo-Suk (second from left) poses with his cloned Snuppy and ohter team members in Seoul August 3, 2005.
South Korea's leading embryonic stem-cell scientist Hwang Woo-suk announced Thursday that his team cloned two Afghan Hounds early this year for the first time in the world.The birth of the world's first cloned dog may may provide a breakthrough in the treatment of both canine and human diseases, he said, Hwang named the survived clone Snuppy, a combination of SNU and puppy. The male Afghan Hound that was born in April is now 101 days old.DNA analysis of the puppy revealed it to be genetically identical to the donor dog, the three-year-old Afghan Hound named Tai. The achievement will be featured as a partial cover story of the illustrious peer-reviewed journal Nature. Thus far, almost all animals have been replicated. They include sheep, calf, goat, mouse, pig, and cat. But until now, man's best friend, the dog, could not be cloned because of its unique reproductive system as its eggs are released from its ovaries earlier than in other species. The veterinary scientist said dogs are one of the "closest" animals to humans other than monkeys, and usually suffer the same kind of genetically-related ailments including diabetes and dementia.They are also one of the most difficult animals to reproduce as can be seen by the fact that no test-tube dogs have ever been born, the scientist said.He added that the latest research established the possibility of producing genetically identical animal models for the study of veterinary and human diseases as well as treatment.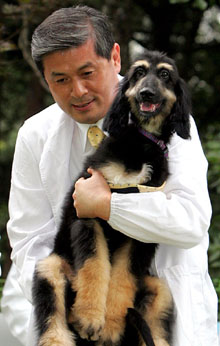 SNU Prof. Hwang Woo-Suk is holding the cloned baby Afgran Hound while in press meeting in Seoul August 3, 2005.
By creating genetically identical animals, researchers will be able to accelerate discoveries of ailment treatments with the use of far fewer animals in testing. By conducting tests on genetically identical animals and observing their reaction to tests, scientists can help speed up the development of new drugs and other forms of cell-treatment procedures.
Hwang, who stunned the world last year by successfully extracting stem-cell lines from cloned human embryos for the first time in the world, said the latest breakthrough did not involve genetic engineering like experiments conducted on pigs or cattle.The SNU professor said the research on dogs could be used to protect endangered species like the Korean wolf or important test animals, but was not really efficient in terms of duplicating pets. The successful cloning rate stands at around 1.5 percent from artificial insemination to birth.He pointed out that among 1,095 canine somatic-cell nuclear transfer constructs that had been created and transferred to 123 surrogate dogs, only three resulted in pregnancies, with one miscarriage and two carried to full term.Of the two puppies born, the second born on May 29 died of neonatal respiratory distresses, although the researcher said there were no major anatomical anomalies evident in the dead dog.Snuppy, who weighed 530 grams at birth, has reached 11 kilograms and been in good health.Hwang, however, said creating Snuppy is only the first step in dog cloning and more work is needed to be done, and that cloning will be conducted in a strict manner so as not to raise worries of abuse.He stressed that his team will focus on discovering useful treatment methods that can benefit other animals and humans.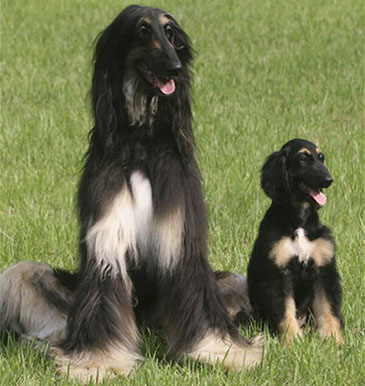 Snuppy (right) a baby Afghan hound, is the clone of the dog at left in Seoul on August 3, 2005.Prof. Hwang named the cloned dog Snuppy , a combination of SNU (Seoul National Univ.) and puppy.
University of Pittsburgh professor Gerald Schatten, who was at the press conference, echoed Hwang's position that the purpose of the research is to clone dogs so they can provide disease models to help mankind and animals alike, stressing that any move to clone humans is unethical and must be banned.The scientist, who said South Korea is the global center in terms of stem-cell research and cloning, said the achievements of Hwang should be carried over to other countries so it can be developed in concert with U.S. and European scientists.He said the birth of Snuppy will provide momentum for treating various cell-based ailments and finding cures for neurological diseases.The professor, a leading expert on monkey-related research and a key advisor for Hwang's work, said time is not necessarily on the side of researchers since people with incurable diseases are dying every day.But he said that before human testing can be carried out, the treatment's safety must be ensured and that is why many kinds of animal testing are needed.