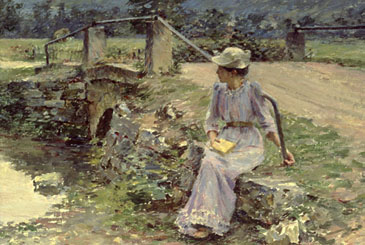 "La Débâcle," an 1892 oil by Theodore Robinson, from the exhibition "In Monet's Light." Wadsworth Atheneum Museum of Art
HARTFORD, Connecticut, August 5, 2005 — "There is always a delightful sense of movement, vibration and life," wrote the painter Theodore Robinson in 1892 in The Century magazine about the work of the Impressionist painter Claude Monet. "Clouds are moving across the sky, leaves are twinkling, the grass is growing." And, he added, "To my mind no one has yet painted out of doors quite so truly."Of all the admiring Americans who frequented Giverny, the Normandy village where Monet (1840-1926) lived and worked, Robinson (1852-96) was perhaps the most worshipful. But he tuned into Impressionism only gradually. Having trained in Chicago, New York and Paris, and having mastered the tight, high-finish style of academic realism, he was in search of a more challenging mode, and spent a good deal of time looking in France between 1876 and 1892. A series of explorations of the countryside around Paris for landscape possibilities led him, in 1885, to the very small village of Giverny, halfway between Paris and Rouen, where he was introduced to Monet by another landscapist, Ferdinand Deconchy.Back in Paris in 1886, Robinson saw a show that included a dozen Monets and was captivated by their "color and luminosity," as he wrote to the painter Kenyon Cox. Returning to Giverny the next year, he rented a house with other artist friends attracted to Monet's brand of Impressionism - by then well established - which centered on landscape and the changing effects of light. Robinson soon moved to the Hotel Baudy, a hangout for those who had come to bathe in the master's glow. He stayed there during most of his six sojourns in Giverny, from the spring of 1887 through the end of 1892. Although Monet, busy with his own work, his large extended family, his garden and his success, didn't really take to newcomers, he made room for Robinson in his immediate circle and served as his mentor.His transformative impact on Robinson as a painter is the subject of "In Monet's Light: Theodore Robinson at Giverny," at the Wadsworth Atheneum Museum of Art. The show, organized by Sona Johnston, senior curator at the Baltimore Museum of Art, displays nearly 60 paintings by Robinson and 9 by Monet.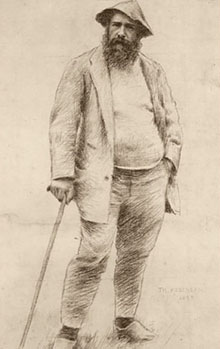 "Portrait of Claude Monet," an 1890 charcoal on paper by Robinson.Wadsworth Atheneum Museum of Art
Deeply affected by Monet's painterly transactions with nature and the ways in which he conveyed its light, Robinson worked on developing an Impressionist style of his own. He lightened his colors and invited the great outdoors - Giverny and its tranquil surroundings - onto his canvas. Focusing on the local terrain, he explored the ways light affected it and played on outdoor figures, trading his academic training for looser brush strokes and a more nuanced approach. In several Monet-like early landscapes he used quiet colors and a soft, even light. The small "French Farmhouse" (circa 1887) shows a farm compound nestled in a grove of trees, with fields of grain in the foreground. A tiny figure is seen working in a field. The red roofs of the buildings, the pale yellow of the grain, the mild green of the trees and the wispy blue sky appear through a kind of soft haze, and the whole scene is rendered in a range of brush strokes meant to convey different textures. A little later, he was painting panoramas from the hills above the village, like "A Bird's Eye View" (1889), in which a cluster of buildings angles across the canvas, with farm fields stretching behind them, divided by rows of trees, across a wide river plain. The colors are low-key, becoming more so as they progress toward the horizon. An undated postcard of Giverny gives a similar diagonally oriented view in black and white, as if taken from the same location.But when compared with Monet's work, these come up somewhat short in spirit and animation. A more revealing comparison is Monet's "Field of Poppies" (1890) paired with Robinson's "Moonrise" (1892). They deal with the same motif: a line of trees, broken by tall, thin poplars that tower above the others, seen across a wide field. In Monet's case, the field is covered with red poppies; the trees are darkly silhouetted against a sky of baby blue and white with a low pile of dark-blue hills on the right. The scene glows with a subdued exuberance, an infectious joy in nature.Robinson's meadow view, which gives the moon a pale presence in a brushy white sky, similarly depicts silhouetted willows and poplars, of a much lighter green, across an expanse of shadowy green field. His intention, to depict "a charming motif in the meadows" as moonlight approached, was meant to evoke a different hour than Monet's strong full-daylight work, but the composition is virtually the same. (He was undoubtedly aware of the earlier Monet painting.) Even taking into account the difference in time of day between the two, where Monet's empty field is robust and animated, Robinson's is a ghostly echo.Around 1888, Robinson began to explore Monet's method of creating sequences of a scene to register climatic or atmospheric changes, like Monet's view of Waterloo Bridge in London and of Rouen Cathedral's facade. In 1892, Robinson painted three views of the Seine valley. One showed the valley's broad expanse, with the river running through it in full sunlight; another, the valley with shadows cast by passing clouds; and the third, the valley on an overcast day. "I am interested just now in skies," Robinson wrote an American artist friend, J. Alden Weir, "which I have always shirked too much; there is an inexhaustible field for beautiful variety and color." He considered these serene paintings his most meaningful artistic accomplishment, and apparently they were well received, not only by Monet but also in the United States. In fact, they are credited with popularizing the "new" Impressionism in America. Yet in general, his talents are more evident when he places a figure in a landscape setting, as seen in a series of compositions, mostly in Giverny, that are given a section of their own in the show. That Monet had little interest in Robinson's figural work did not appear to faze the younger artist, who put friends and village people before the camera the better to compose his paintings of them. (A charming charcoal drawing Robinson did of the heavyset, bearded Monet in 1890, in country clothes and leaning on a walking stick, was based on a photograph he had taken a year earlier. "Not bad," said Monet, according to the show's catalog, when he saw the drawing published with Robinson's article in The Century.) The best of these figural compositions are those in which Robinson's favorite model - a young woman known to his intimates only as Marie - appears from the years 1885 to 1892, in paintings made at Giverny and in Paris. She is engaged in activities like sewing, reading, playing the piano and even tending a cow. One, "Val d'Arconville" (circa 1888), shows her in a white dress and hat, reading a book on a hillside bathed in light and strewn with white blooms. The hill, with houses at the foot, overlooks a valley across the Seine from Giverny. The rest of the scene, with a puffing train in the distance, is evoked by bravura brush work, tight where needed to define the houses, loose when evoking natural elements. But the strategically placed figure and the angle of the hill give life to what would otherwise be a fairly routine view.Robinson's last year at Giverny was 1892. He left in December, meaning to return, but he was now exploring the possibilities offered by his own country. Besides, the asthma that had troubled him since his late teens had begun to sap his strength and spirit. He spent the remaining four years of his life painting with friends in Greenwich, Conn., and the Connecticut artists' colony of Cos Cob, where he brought his Impressionist approach to American motifs; teaching at various places; and then, in 1895, enjoying a happy and productive period painting in Vermont, where he was born. He was glad, he said, to paint the American countryside and, in fact, did some fine work outside the Giverny orbit. He still spoke, in a letter to Monet written in February 1896, of returning to Giverny. But, he added, "First it is necessary that I do something here." In April, he died of an acute asthma attack at 43. He was not yet a great painter, but he had seen Monet's light.
"In Monet's Light: Theodore Robinson at Giverny" remains through Sept. 4 at the Wadsworth Atheneum Museum of Art, 600 Main Street, Hartford, (860) 278-2670, or www.wadsworthatheneum.org.