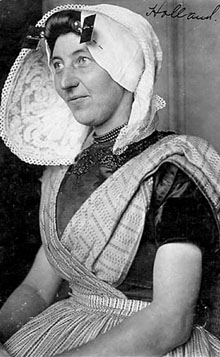 A woman from The Netherlands. Courtesy of the Statue of Liberty National Monument, the Ellis Island Immigration Museum and the Aperture Foundation
If Peter Mesenhöller expected to find the misery of the tired, the poor, the wretched emanating from a few photographs displayed in the Ellis Island Immigration Museum the day he first visited in 1996, he was in for a surprise. "I immediately got stunned by the dignity, the pride, the self-confidence," Mr. Mesenhöller, a cultural anthropologist specializing in early still photography and immigration studies, said by phone from his home in Cologne, Germany. "It was totally different from the usual image we have of the huddled masses."Mr. Mesenhöller had alighted on the photography of Augustus Frederick Sherman, a registry clerk in Ellis Island's immigration division in the early 20th century. In the hours when he wasn't determining the fate of some of the thousands of immigrants disembarking daily in New York Harbor from foreign vessels, he was coaxing the hopeful to open their trunks, don their finest attire and level their gaze at his camera.Some 75 photographs of these immigrants are on view at the Ellis Island museum in "Augustus Frederick Sherman: Ellis Island Portraits 1905-1920." Organized by Mr. Mesenhöller and Diana Edkins, director of exhibitions and limited-edition prints for the Aperture Foundation, a nonprofit photography organization, the show coincides with the group's publication of a book of the same title with 40 more images. The show continues through Sept. 6 before traveling to 16 sites in the United States and abroad.Understanding Mr. Mesenhöller's fascination - obsession, really - requires no great stretch of the imagination. As they hover disconcertingly between art and artifact, Sherman's portraits are powerful in their directness yet almost antiseptic in their disaffection.Dressed gallantly in their native costumes, solemn families and individuals announce themselves to their new world with no apologies. A Romanian shepherd sits with hand on hip, his decoratively embroidered sheepskin coat opened to reveal a lush pelt of curly wool. A Ruthenian, from Ukraine, stares out with pale eyes, her neck encircled by loops of iridescent beads above a peasant blouse and shearling vest. Two men from Borana, in Ethiopia, with sculptural hair ornaments sticking straight up from their heads display their shields; the woman between them hides her hair beneath a wrap.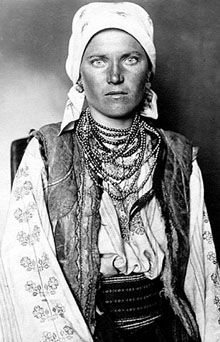 Immigrants who posed for Sherman's camera included a Ruthenian, from Ukraine.Courtesy of the Statue of Liberty National Monument, the Ellis Island Immigration Museum and the Aperture Foundation
Striking though they are, the portraits are only nominally personal, annotated occasionally by simple captions but mostly left unexplained: "Eleazar Kaminetzko - 26 - Russian Hebrew SS Hamburg June 23 - 1914. Vegetarian," Sherman wrote on the photograph of a young man with enormous eyes and long, glossy curls. Only a few details, like "Col. Helen R. Bastedo + Osman Lewis, 13, Belgian Stowaway," make up the 1921 caption for a boy with floppy hair and Sunday suit, his arm around the waist of an unrelated woman who protectively cups his hand. And then, with fedora, spectacles and pale smudge of mustache, there is Mary Johnson, 50, from Canada, who, Sherman wrote, "came as 'Frank Woodhull' " on Oct. 4, 1908, and "dressed 15 yrs in men's clothes." Information on Sherman is nearly as scant. He was born on July 9, 1865, in Lynn, Pa., Mr. Mesenhöller said, and was a member of the Episcopal Church; he was hired by the executive division of the Bureau of Immigration at Ellis Island in 1892, eight years after moving to New York, and moved up through the ranks."We've been looking for personnel files throughout the United States with all the official records and didn't find anything," Mr. Mesenhöller said. "Up to now, Sherman is a question mark in a way."Mr. Mesenhöller speculates that as a higher-level officer, Sherman had unfettered access to the island's detention area, where immigrants were held for a day, a week or a few months after routine questioning raised doubts about whether they should be allowed in the country."The technical procedures in those days were very difficult," he said. "You had these huge tripod cameras and the exposure took how many seconds, and you had to get the lighting just right and have your subjects sit perfectly still. And with an average of about 5,000 people each day coming through Ellis Island at peak times, it must have been quite an undertaking."In an essay in the book, Mr. Mesenhöller writes that historians view these images as "one of the most substantial photographic records of that period of mass immigration."Capturing his subjects against mostly plain backgrounds in the native finery they would soon discard for American clothing, Sherman simultaneously documented the richness of their heritage while labeling them specimens for anthropologic scrutiny. "Sherman considered these people as ethnic types, being representative of the new American species," said Mr. Mesenhöller, who called on a broad swath of colleagues to help him identify the origins of various costumes and discern the differences in, say, the headdresses of Protestant and Catholic women from the Netherlands.In addition to Sherman's Dutch, Italian, Romanian, Moroccan and Finnish prototypes, there are also the "oddities" - the giants and dwarves, the microcephalics, the physically deformed - he cataloged in later years.Still, the Aperture Foundation's Ms. Edkins said, the photographer "didn't impose his own feeling on these people. He really showed it in a very stripped-down documentarylike way."Such images may hold particular interest today "because immigration is so much in our mind," she said. "You know, we shed those things, those differences. We're all jeans and Gap and now there's a commonality."Roy Glerum of Totowa, N.J., the son of one of those Ellis Island immigrants, said the reality of the melting pot hit him at the exhibition's opening in June. There he saw his father's 12-year-old eyes peering out at him from Sherman's 1907 portrait of his Dutch grandparents and their 11 children. Pinned to their chests was the number of the ship that would take them back to the Netherlands if they failed to pass inspection.Mr. Glerum's grandfather, Dingenis, had sold his lobster boat to finance the family's journey. Growing up in New Jersey, Mr. Glerum's father, François, soon known as Frank, took odd jobs running a bakery wagon before apprenticing as a shop boy at the Manhattan Rubber Company and working his way into an electrician's position, from which he retired 50 years later."My dad talked very, very little about earlier life," Mr. Glerum, 78, said. "He didn't want us to speak Dutch. He felt that being in America was the greatest thing and that we never needed to learn about the rest."His recent museum visit was his first to Ellis Island, Mr. Glerum said. "I was really overwhelmed," he added. "Not knowing the language, giving up everything to come over here - I just thought they must have had great courage."
The above article is from The New York Times.