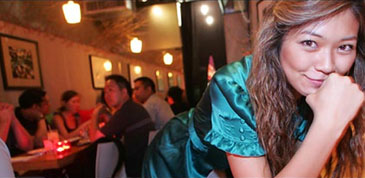 Korean Temple Cuisine is among a new wave of Korean restaurants that emphasize décor and service.
Photo Courtesy Hiroko Masuike for NYT
NYC, Aug. 7, 2005 — Korean Temple Cuisine is a sliver of an East Village restaurant appointed with colorful abstract photographs, art-quality shots of the New York skyline and jewel-toned cushions. The narrow space is filled with an endless array of items designed to catch the eye - garlands strung with mirrored tiles, table lamps suspended upside down from the ceiling - and yet on a recent Tuesday evening, several patrons gazed perplexedly at their plates.These customers had been presented with an order of bibimbop, sliced mountain vegetables and a fried egg heaped atop a mound of rice and served in a stone bowl. As they contemplated the steaming dish, the restaurant's 23-year-old owner, Jennifer Maeng, hurried over to reassure them. "Bibimbop basically means mix it all together," she informed them, demonstrating with chopsticks. She then launched into a disquisition on the finer points of Korean cooking.As she spoke in her polite, lightly accented voice, her customers watched intently, unaware that by being so attentive, Ms. Maeng had essentially bucked more than two decades of Korean dining tradition."We want people to understand what they are eating," she explained afterward, contrasting her style of service with that found in more traditional Korean restaurants, which she characterized as embodying the philosophy: " 'Let's put it on the table, and let them figure it out.' " By adopting new approaches like doting service, chic décor and creative food presentation, Ms. Maeng thinks, New York's Korean restaurants can do much to take their cuisine to the next level and perhaps help it become as popular as Japanese food, which has so powerfully captivated the New York palate in recent years. "Right now there are many Japanese restaurants, almost as much as Italian food," Ms. Maeng said. "But as soon as people get friendly with Korean food, it's going to spread as much."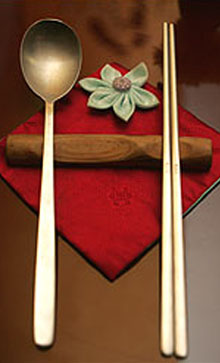 A detail from SuRa. Photo Courtesy Hiroko Masuike for NYT
Ms. Maeng is part of a new wave of Korean-American restaurateurs whose goal is to put a modern spin on their traditional cuisine. Korean Temple Cuisine, on St. Marks Place near First Avenue, is one of at least 10 Korean restaurants that have opened in Manhattan in the past five years outside Koreatown, the group of old-style restaurants and other Korean businesses clustered on and near a single block of West 32nd Street. Another new-wave place is set to open in Midtown this month. Along with a handful of pioneering arrivals on 32nd Street, these new-wavers have combined to dispense with all manner of Koreatown traditions, from free side dishes and scorching spices to emergency room-style ambience. A look at the success of Japanese food shows what is motivating many of these Korean restaurateurs. One of the city's highest-priced restaurant meals can be had at Masa, the extravagant sushi palace in the Time Warner Center, for more than $300 a person. In the 2005 online Zagat Survey, 20 Asian restaurants received an elite food ranking of 26 or above. One was Indian; one was Thai, another buzzworthy Asian cuisine; all the others were Japanese. And while a completely accurate count of the city's Japanese restaurants is hard to come by, the printed Zagat Survey listed 84 places, compared with 15 Korean. The Koreans have an ambitious goal, and even among their ranks, there are skeptics. One is Kori Kim, the owner and chef of Kori, a six-year-old establishment in TriBeCa. Though Ms. Kim describes herself as a Korean homemaker, and at 53 is a generation older than most new-wave Korean restaurateurs, she offers new-wave essentials like subdued lighting and artfully arranged plates of food.Still, she said she was not convinced that Korean food could rival Japanese cuisine in popularity anytime soon."Americans, especially New Yorkers, they can eat Japanese food twice, three times a week," she said. "But Korean food is a little bit too spicy. I think it will not be so easy."
The Old Style: Brisk and Brusque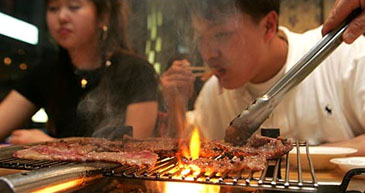 The traditional K-Town dining experience often involves strips of hot beef cooked over an open flame at table grills.
Photo Courtesy Hiroko Masuike for NYT
Outside the small group of newer Korean restaurateurs, the basic Korean food scene has remained fairly static over the years, though the overall number of establishments has grown. According to The Korea Times New York Business Directory, which claims to include listings for 80 to 90 percent of Korean restaurants in the city, there are 51 Korean restaurants in Manhattan, an increase of more than 50 percent from just five years ago. As in years past, most of these restaurants remain concentrated in Koreatown and offer a standard bill of fare: barbecue dishes like kalbi (short rib) and bulgogi (sirloin), cooked over grills embedded in the tables. A flotilla of side dishes known as panchan arrives with every meal, a selection that invariably includes at least one type of kimchi: a pungent and fiery concoction of fermented vegetables seasoned with garlic and chili. The restaurants can afford to offer such freebies in part by employing a serving style that encourages table turnover.At a typical place on 32nd Street, the interiors are bright and noisy, and service is generally brisk, if not downright brusque. Servers shout orders, tool around with clanking bus pans at breakneck speed, and seldom take time to explain items on the menu. Some customers, of course, see this revved-up approach as a virtue. "They come out in a timely manner," Jenny Kim of Floral Park, Queens, said of the waiters at Won Jo on 32nd Street, whose mustard shirts and blue striped ties complement their businesslike demeanor. Nor does she think that waiters at such places should be judged by the same standards as waiters elsewhere."There are so many side dishes," she added, "it's like when one dish runs out, it needs to be refilled."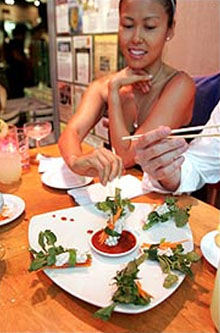 By offering daintier food presentation, like calamari and scallion roll with red pepper vinaigrette dipping sauce, the city's newer Korean restaurants seek to set themselves apart. Photo Courtesy Hiroko Masuike for NYT
Side dishes are indeed perpetually being replenished at New York Kom Tang Kal Bi House, a three-story grill house with butcher-block tables and floral-patterned wallpaper that is open around the clock and is one of the city's oldest Korean establishments. "The Korean community calls me 'the lighthouse of 32nd Street,' " said Yu Bong Kim, the owner, referring to his reputation as a beacon of barbecue success. Mr. Kim came to New York during the immigration boom of the 1970's and washed dishes at a Korean restaurant in Midtown before setting up his own two-table soup hut on West 27th Street. In 1982, he moved to West 32nd Street in the hope of attracting business from the string of Korean wholesale merchants who worked nearby. His venture prospered, paving the way for other restaurants, which in turn attracted Korean-run spas and karaoke bars. The area became known as Koreatown, often called K-Town, although unlike its Los Angeles namesake, the little district can by no stretch be considered a town, even a small town. Centered on a single block bordered by Broadway and Fifth Avenue, it is home to most of Manhattan's Korean restaurants.The city's Korean population, which the 2000 Census put at 86,473, is concentrated in Queens, which has 134 Korean restaurants, according to the Korea Times directory. Perhaps the most well-known Korean place in Queens is Kum Gang San in Flushing, a barbecue restaurant whose attractions include a waterfall and live music played on a harplike instrument, the kayakum. A satellite Kum Gang San is on 32nd Street in K-Town, which remains a major dining destination for both Korean immigrants and Korean-Americans.
Breaking the K-Town Mold
Paradoxically, even as newer restaurateurs experiment with innovative strategies and recipes to attract non-Koreans, K-Town itself, like many other of the city's ethnic food districts, is becoming more of a draw for New Yorkers seeking a novel dining experience. Mr. Kim, for one, estimates that his clientele is 65 percent non-Korean, up from only 5 percent in the early 80's. Still, most new-wavers want to break the K-Town mold. "When you want to go on a date," said Ms. Maeng, of Korean Temple Cuisine, "and you want to eat Korean food, the 32nd Street atmosphere is not very romantic." For this reason, she makes sure her restaurant is always adorned with votive candles and fresh flowers, and the music streaming out of the speakers is an eclectic mix that includes Brazilian jazz and esoteric house. Along with other more recent arrivals to the scene, like WaWa Canteen in Greenwich Village, Korean Temple has abandoned traditional at-the-table grills but retained homestyle staples like bibimbop and pajeon (scallion pancakes) that non-Koreans find pleasantly exotic without being too pungent.Another place where bibimbop and innovation comfortably coexist is at SuRa (The King's Meal), a wainscoted hideaway that opened nine months ago on a quiet stretch of East Ninth Street between Third and Fourth Avenues and is owned by Jung Jin Kim, an unassuming interior designer. The name helps explain the nature of the cuisine."If our dynasty had survived until now," Ms. Kim said, "what would a 21-year-old princess want to eat?" Envisioning Korean haute cuisine as the answer, she hired Suk Yong Chung, the former chef of Hangawi, a well-regarded oasis of nouveau vegetarianism on carnivorous 32nd Street, and as the manager, his 21-year-old daughter, Ji Hye Chung.Although Mr. Chung whips up Western-influenced dishes like Korean pear salad with pine nut dressing, his cooking is also informed by age-old Korean wisdom. Freshwater eel, renowned among Koreans as an aphrodisiac, adorns his menu as a true fusion dish: it is served not only with miso sauce but with cream cheese, a nouveau Korean take on a New York classic.At Hangawi, Mr. Chung's cooking won praise from food critics, but his daughter suggests that the evolution of Korean restaurants owed more to members of her own generation. "We grew up here learning the American culture and American language," she explained, "so we have more opportunities to mingle with American people."SuRa is not the only restaurant to pair a first-generation chef with a next-generation manager. Two others are Dok Suni, in the East Village, and Do Hwa, in the West Village, run by Jenny Kwak and her mother, Myung Ja. Along with the celebrity hot spot Woo Lae Oak in SoHo, Dok Suni, at 13 years old, is a venerable downtown Korean establishment, frequented by music and film industry personalities like Quentin Tarantino (a Do Hwa investor) and his occasional collaborator, the hip-hop artist RZA.Despite the coolness quotient of her customers, Ms. Kwak describes her restaurants as bastions of tradition, adding that all the cooks are "Korean moms." Yet she and her mother are unafraid to break new ground. They serve green salad with wasabi dressing, for example, and use soju, the Korean national liquor, as a base for martinis. And one of the restaurants' most popular items, deep-fried shrimp, comes not from Korea but from Brooklyn, a holdover from the days when Ms. Kwak and her mother worked the deep-fryer at a family-owned fish market in Bushwick. The mother-daughter team has also defied Korean tradition by promoting a sense of hominess, as Sophia Chang of the East Village attested to when she and her husband ate one recent evening at her favorite Korean place, Dok Suni, a publike nook wallpapered with pages from an old Korean history book. "They make you feel welcome," Ms. Chang said of the servers as she sipped ginger cinnamon tea while the couple's two young children raced around the dining room. "When you go to Koreatown, the stereotype is that they cut to the chase. There's not much customer service, so to speak."Ms. Chang, a Korean-Canadian by birth, is a fan of both Dok Suni's standard Korean fare and its Westernized dishes. Her opinion of most other new-wave Korean restaurants, though, is decidedly less positive. She recalled one place that charges extra for kimchi and rice. "I want to strangle them," she said.Her grievance is a common one among Korean customers; they tend to expect an unlimited supply of free side dishes, especially rice and kimchi. Some of the newer restaurants charge for those items; others don't offer refills. As a result, new-wave restaurateurs sometimes find themselves in the awkward position of alienating Koreans even as they seek to retool their image. This may explain why the recent string of openings has coincided with a number of closings: Emo's on the Upper East Side, Clay in NoLIta, Muzy in the East Village, and 36 Bar and Barbecue on 36th Street.
If the Japanese Can Do It ...
Champions of Korean food might take heart from the fact that even Japanese food didn't achieve star status overnight. In 1985, only 16 Japanese restaurants were listed in the New York Zagat Survey. Two decades later the number stands at 84, a fact that surprised even the guide's founder, Tim Zagat. "When I was growing up in New York," said Mr. Zagat, who is 65, "if you told me that I was going to eat raw fish, I would have told you that that was a fraternity prank. Now, there's hardly anybody who doesn't appreciate good sushi."Some Korean food experts were equally surprised. "I never thought Americans would eat sushi," said In Soo Lee, the director of the Korean government organization Korea Agro-Trade Center of New York. "But it made me think that Korean food could be global." In 2002, he helped to found Korean Night at Shea Stadium, an annual event at which packets of kimchi and noodles are distributed. The event, he said, may have been a factor behind a recent 25 percent boost in sales for Nong Shim, a participating ramen company.In general, however, rather than promoting the special attributes of their own food, K-Town restaurateurs capitalized on the sushi craze; as early as the 80's, they began serving maki rolls and sashimi, and more recently, they opened restaurants devoted to Japanese cuisine. Ms. Kim of SuRa suggests that when it came to promoting Korean culture, her parents' generation was held back by a lack of self-confidence caused by a legacy of foreign domination. "We've always been colonized by other cultures," she said, referring to Japanese rule that lasted from 1910 through World War II. "They had a block over their heads, that they can only grow as much as this," she said of her ancestors. Younger Koreans, she thinks, have no such inhibitions, one reason they are doing more to celebrate and advance Korean cuisine. As for why Japanese restaurants are so much more popular than Korean ones, there are several theories. "With Korean food, the flavors are very strong and pungent," suggested Ms. Kwak, of Dok Suni and Do Hwa. "Whereas sushi - once you get past the idea of eating raw fish - is more delicate." As a result, some restaurateurs have opted to use less spice, though Ms. Kwak doesn't stint on garlic, a favorite flavor enhancer among Koreans.Another theory is that Americans have embraced sushi because they see it as healthy. In response, many Korean restaurateurs talk up the health benefits of their cuisine. Ms. Chung of SuRa, for example, points out that Korean food encompasses a wide variety of vegetables and grilled meat, and says that kimchi is loaded with healthful bacterial culture. To better address this issue, Ms. Chung has trained her staff to underscore the merits of individual dishes. "We explain, 'This is kimchi,' " she said. "Have you ever had it? It has lots of folic acid and vitamin C." She and her staff are also quick to explain the trail of golden calligraphy painted on the restaurant's dark oak floorboards. The words, excerpted from an ancient health guide, translate roughly into an unqualified endorsement of the Korean way of eating: "Eat five different types of meats, vegetables, fruits, and grains each day, and you will live healthily for eternity."
The above article is from The New York Times.