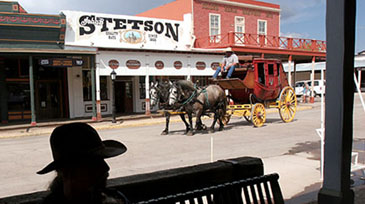 New and old blend in Tombstone, Ariz. The Town's status as a national historic. Photo Courtesy Monica Almeida/NYT
TOMBSTONE, Ariz., Aug. 8, 2005 — George Spangenberg sold weapons to both Wyatt Earp and the gang he faced at the O.K. Corral. Today visitors can see the G. F. Spangenberg gun shop - "Est. 1880," according to its sign - standing on Fourth Street. Well, actually, the shop was established only 16 years ago to cater to tourists and has no connection to the gunsmith whose name it borrowed. "We don't say it's the same shop," said Jim Newbauer, a manager of the store, which is across the street from where the original stood. Nor does the shop go out of its way to say it isn't. Just how true to history this famous Old West town should remain is the subject of a modern-day shootout. "The town too tough to die," as Tombstone bills itself, is at risk of losing its designation as a national historic landmark because some say it has been a little too kitschy in embellishing its heritage. "It's becoming like a Hollywood set instead of an authentic historic Western town," said Sally Alves, a bed-and-breakfast owner. Dates from the 19th century are painted on buildings erected in the last few decades. Some stores have simulated brick or adobe facades. Some are painted in colors like purple or turquoise that probably were not used in 1880's frontier towns.The National Park Service, which administers the landmark program, last year listed Tombstone's status as "threatened" because of building alterations "that didn't have any basis in history," said Greg Kendrick, regional manager of the program. Only about 90 of the nation's 2,400 historic landmarks are considered "threatened," mostly because of deterioration, not decoration. Since 1980, 25 have lost their designation.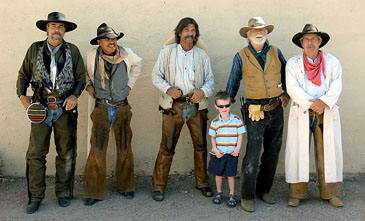 Re-enactors of the shootout at the O.K. Corral posed with a tourist last week after their daily performance. Tombstone, Ariz., is in danger of losing its designation as a historic site. Photo Courtesy Monica Almeida/NYT
Now this town of 1,700 is at a crossroads. Starting Sept. 1, Tombstone will hold a three-day public meeting, with federal and state officials in attendance, to discuss whether and how to preserve its historic authenticity. Anthony Veerkamp, a senior program manager for the nonprofit National Trust for Historic Preservation, said some other famous places, like Cannery Row in Monterey, Calif., have faced similar dilemmas. "There's often tension between protecting the historic resource and exploiting the historic resource, if you will," Mr. Veerkamp said. In Tombstone, some people, like Ms. Alves, argue that unless the town is authentic, visitors would not come. Others say that if the town is too authentic, visitors will be bored. "They don't particularly want dusty, dried-up history," said Donna Winn, manager of a tourist attraction called Ghosts and Legends. "They want to be entertained."Actors and stuntmen stage several gunfights a day, including one at the O.K. Corral (which also features a re-enactment by mechanized statues). But Ghosts and Legends, which opened in January on historic Allen Street, is yet a step closer to Disneyland, a haunted house of sorts with skeletons, a computer-animated ghost of Doc Holliday narrating history and special effects like a sharp blast of air when a gun is fired. Many business people say that authenticity is important and that the town generally achieves it. But exceptions must be made, they say, to cater to tourists who have certain expectations from movies like "Tombstone," the 1993 film starring Kurt Russell. Tourism is the town's only industry, bringing in about half a million visitors a year, according to its chamber of commerce.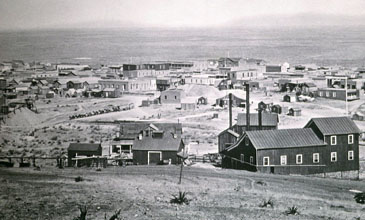 Few buildings in this 1881 photograph of Tombstone are still standing. Photo Courtesy Corbis Sygma
Tombstone, about 70 miles southeast of Tucson, was founded by Ed Schieffelin, a prospector who was warned that if he went into the heart of Apache territory, he would find nothing but his own tombstone. When he discovered silver here in 1877, Tombstone became a boomtown. The silver boom faded after a decade, and the town shrank. But it has survived for more than a century largely because of its 30 seconds of fame, which is all it took for Wyatt, Virgil and Morgan Earp, aided by Doc Holliday, to gun down Billy Clanton and Tom and Frank McLaury on Oct. 26, 1881. Many of the oldest buildings burned down, though some remain, including the Bird Cage theater, City Hall and the courthouse, which is now a history museum.Some people here say it is difficult to define what is authentic because the town has changed over time. At one point in the 1920's, an auto repair shop occupied the location of the O.K. Corral. (The corral has since been recreated at that spot.) Dusty Escapule, a former mayor and a fourth-generation resident, said that by the time the landmark designation was received in the early 1960's, there were neon signs and a bus depot in the historic district. Much of that is gone now, and the town more closely resembles 1880's Tombstone, even if some of it is re-creation, Mr. Escapule said.The Crystal Palace saloon, whose first floor dates to the 1880's, has a faithfully reconstructed bar. But it also has a crude second-floor facade of offices, like one for Virgil E. Earp, marshal. (His middle name was Walter.)Madam Mustache, a variety store named after an 1880's prostitute, has a simulated adobe facade and a sign on top saying "1881." The location was a vacant lot that year and the building came a century later. "At least it's based on a real person," said Vikki Bryant, who was working behind the counter on Tuesday. Richard Wilson, the owner, said the building was like that when he bought it 15 years ago and he saw no need to change. "I can afford to do what I want with that building," he said, adding he did not care whether the town lost its historic designation, something rarely important to tourists. Although the Interior Department confers landmark status based on broad guidelines, Tombstone itself is responsible for drawing up rules and enforcing them for the historic district.Larry Noyes, appointed this year as chairman of the historic district commission, said that over the years there had been lax enforcement. "Building permits were issued without any inspection at all," he said. Mr. Noyes said some businesspeople in town feared that publicity about the town's predicament, reported in The Arizona Republic last month, could hurt tourism. Still, he said, concern about authenticity is not new. In 1963, just after the landmark designation was made, an inspector from the National Park Service wrote that "rampant huckstering" was "rapidly ruining the integrity of this fine site." Hollis Cook, who managed the history museum here for 20 years, said the town's Hollywood element was unavoidable. The importance of the 1881 shootout to American history was "vanishingly small," he said, and would barely be known were it not for television and movies. Indeed, Mr. Cook said, the shootout actually took place behind the corral in a vacant lot and on Fremont Street, but Hollywood thought "O.K. Corral" was sexier. "It sold a hell of a lot more tickets than 'Gunfight on Fremont Street,' " he said. Still, Mr. Cook said that over all, Tombstone was authentic. "If you brought Wyatt Earp back from the dead and put him on the street and said, 'Where are you?' " he said, "I think it would take him a minute or two, but he'd recognize it."
The above article is from The New York Times.