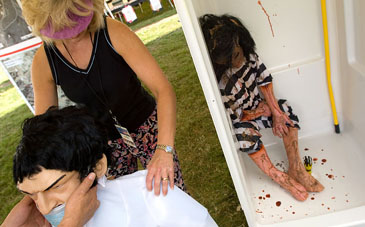 Deborah Fikes at a mock gas chamber in Midland, Tex., part of an effort to call President Bush's attention to abuses in North Korea. Photo Courtesy Kevin Moloney for NYT
MIDLAND, Tex., Aug. 9, 2005 — Tens of thousands of fans of all ages gathered over the weekend for the annual three-day Rock the Desert Christian music festival screamed for hit bands like Mercy Me and Pillar and kicked Hacky Sacks by a creek renamed the Jordan River and a small pond called the Dead Sea. Between the Prayer Tent and an abstinence-promotion booth, however, worshipful revelers also stumbled into a more sobering pavilion, the North Korea Genocide Exhibit. Inside, Kang Chol Hwan, a North Korean defector recently summoned to meet President Bush, signed copies of his memoir of 10 years in a prison camp. Drawings by defectors depicted the torture of North Korean Christians. A video, available free on DVD, showed shaky, grainy footage of two public executions. In another exhibition, based on a defector's account of a deadly medical experiment, a bloody mannequin and baby doll leaned against the walls of a mock gas chamber made from a shower stall that at one point was filled with sulfurous yellow gas.The displays were part of a growing movement by conservative Christian groups to press the White House on human rights in North Korea, much the way they drew attention to the civil war in Sudan and kept pressure on Mr. Bush after his first days in office. Many of the speakers and exhibitions will travel to churches, campuses and events in the United States and Europe. "God has picked us to be their voice," Deborah Fikes, executive director of the Midland Ministerial Alliance and the main organizer of the Korean display, told a cluster of children gawking at the gas chamber figures. "Christ commands us to be their voice."Last month, Ms. Fikes joined dozens of other people from the National Association of Evangelicals, the Southern Baptist Convention and groups like the Religious Action Center of Reform Judaism for a meeting in Washington, where they signed a declaration of principles that laid out their goals.Their aim is to goad the administration to block trade or unrestricted aid to North Korea until it opens its borders and begins to reform human rights, no matter how much that demand might complicate the talks to stop Pyongyang's nuclear weapons program or irk China or American allies like South Korea that favor a less confrontational approach. Although Japan has raised the question of the North Korean abduction of several Japanese decades ago, a broader discussion of North Korean human rights has not been a part of the talks.Ms. Fikes and her allies picked the Rock the Desert festival in part because it coincided with the six-nation weapons talks, now in recess. "We are doing it now because they are going back to the table," she said. It is also no accident that the festival was in the oil town where Mr. Bush grew up. Since his election, Ms. Fikes and the Midland Alliance have capitalized on that connection to put themselves at the forefront of conservative Christian efforts on behalf of persecuted believers and human rights around the world.The group even notes the connection to the president on its letterhead, and members sometimes boast that supportive local parishioners like Charles and Frances Younger are close enough to Mr. Bush to send him messages directly when needed."We play the Bush card," said the Rev. Jon S. Stasney of Christ Church Midland, a member of the group.Senator Sam Brownback, the Kansas Republican, who has worked closely with the alliance and stayed at Ms. Fikes's house, said he believed that the group had helped form Mr. Bush's view of North Korea. "They are in George Bush's hometown, and he knows those folks and they know him," Mr. Brownback said, "and they have used that connection to press him on Sudan and North Korea."Some in Midland prefer to say Mr. Bush naturally shares their view of the world. "God has put a man in office who has a heart for the nations, and for the pain and suffering that is happening all over the world," Ms. Younger said near a "sponsor's tent" as she recalled a talk with Mr. Bush about Mr. Kang's book when she visited the White House early last month. Because the president's "hands are tied" at times, she added, "we are his arms reaching out to the nations."To help press the human rights case, Ms. Fikes and a delegation from Midland traveled to Seoul in June, where they met the leaders of both major South Korean parties, they said, and invited several ministers and human rights advocates back to Midland for the concert. The festival was a showcase for their efforts. Before the music began on Saturday, Mr. Kang spoke to the crowd through a translator about his decade in a prison camp. The daughter of a Korean-American missionary, the Rev. Phillip Jun Buck, said her father had been arrested in China for trying to help North Koreans. "I know that president Bush and his community cares for cases like my father," she said. Later, the festival screened part of a documentary, "Seoul Train," about North Korean refugees. The protagonist, the Rev. Chun Ki Won, told the audience through a translator a secondhand account of a North Korean Christian whose fingers were cut off by authorities demanding the names of other believers.It was such accounts of persecution - though in southern Sudan - that first moved the Midland Alliance, once a strictly local group, to take an interest in foreign affairs. Ms. Fikes invited a group of refugees to address the 2002 Rock the Desert festival, where they worked with a Christian group for troubled teenagers to build a copy of a Sudanese village. They burned part of it in a mock raid to demonstrate the refugees' plight.Soon after, Ms. Fikes, a former schoolteacher, decided to advertise on the alliance letterhead that Midland was Mr. Bush's hometown. She learned that foreign embassies were suddenly quick to respond. Before long, she was traveling monthly to Washington and entertaining the Sudanese ambassador at her house. In the months leading up to the January peace agreement that ended the civil war there, Ms. Fikes and her group held private talks with both sides.Her husband, an oil entrepreneur, pays for her travel. "The Midland Alliance has had a major impact in the Sudan," Gen. Lazaro Sumbeiywo, a Kenyan who helped mediate the peace, wrote last week in an e-mail message. "I believe the saying that 'the closer to the bone, the sweeter the meat' is quite effective," General Sumbeiywo said. "It has therefore made a major difference - a positive one - to have their letterhead identified as the home of President Bush."Just how many people practice Christianity underground in North Korea or are persecuted for it is impossible to determine, rights groups say. Communist North Korea has treated Christianity as treason for decades. But missionaries and defectors say they have heard reports of tiny underground churches.Until recently Mr. Kang was not very religious, and until the addition of a new preface his memoir did not mention the subject."He is not really all gung-ho about prayer, prayer, prayer," and he was initially "flabbergasted" at the hero's welcome and shower of prayer here, the Rev. Douglas Shin, his friend and translator, said.Mr. Kang is quickly learning to emphasize faith to his new American evangelical allies. Preparing for the festival, Mr. Shin helped Mr. Kang write a speech emphasizing "the love of Jesus Christ" and quoting the biblical "commission" to "make disciples of all the nations." Mr. Kang shook his head in astonishment at the depth of concern evident on Saturday, especially at the mock gas chamber. He had never seen such a thing. "In South Korea," he said, "people are generally ignorant or they don't even care. It is amazing to learn that American youth have this knowledge and they care to build a replica to show other people!"
James Brooke contributed reporting from Tokyo for this article.The above article is from The New York Times.