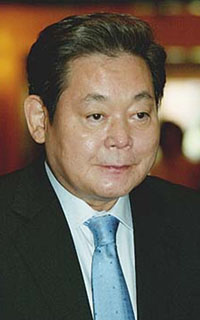 Samsung Chairman Lee Kun-Hee
Among all of South Korea's corporate success stories of the past 50 years, Samsung Electronics dominates. When Koreans travel the world, many express pride at the sight of billboards advertising the flat-screen televisions, mobile phones and household appliances of the consumer electronics and components giant.
President Roh Moo Hyun has said that Samsung, not he, is the real representative of South Korea abroad, according to members of his political party.
But at home, the Samsung group of companies, controlled by the family of Lee Kun Hee, the chairman of Samsung Electronics, faces a growing criticism of its ownership and control arrangements and its handling of a looming generational change.
Legislators, regulators and advocates of shareholders' rights are questioning the financial structure that links Samsung's 61 affiliates and are trying to gain some influence over how the company is controlled and eventually will be passed on to Lee's son, Lee Jay Yong.
This attention comes as regulators and legislators try to correct the imbalance between voting rights and the exercise of power by the founding families in the country's conglomerates, or chaebol, in an effort to protect shareholders.
They are also trying to strengthen the independence of financial companies like insurers.
Critics say Samsung's complex system of ownership, tying together an array of financial, manufacturing and other affiliates, breaches either the letter or the spirit of South Korean corporate law.
Kim Sun Woong, executive director of the Center for Good Corporate Governance, said the ownership and control structures at Samsung were "not for the shareholders' profit but rather to retain Lee Kun Hee's corporate control."
The debate is provoking tensions between Samsung and elements of the governing party in the National Assembly. Legislators from Roh's Uri Party are backing two proposed laws that would chip away at the structure with which the Lee family manages its empire.
Samsung's problems are compounded by recent revelations in leaked information from intelligence wiretaps that a senior Samsung executive planned illegal election donations to presidential candidates. The controversy has sullied Samsung's reputation and brought a guarded apology from the company.
From its majority-owned perch in Samsung Everland, a de facto holding company and operator of South Korea's version of Disneyland, the Lee family controls the country's largest insurer, Samsung Life Insurance, and through it, Samsung Electronics, its largest company by market capitalization.
The Uri Party legislators are backed by South Korea's Fair Trade Commission, which recently released a report showing an imbalance between direct ownership by founding families in the chaebol and the level of voting rights they exercise. Within South Korea's 55 top chaebol and their 968 affiliates, founding families on average own just 5 percent of the shares but exercise 51.2 percent of the voting rights, according to the commission. The Lee family, with an average of 4.4 percent ownership of Samsung companies, exercised 31 percent of the voting rights.
Lee Seuk Joon, director of the commission's business group division, said the government wanted to "reduce the gap between ownership rights and controlling rights by chaebol chiefs" to protect rights of minor shareholders and improve corporate checks and balances.
This battle is being fought on a number of fronts. But the major contest is over two pieces of legislation that would limit the interests and voting rights that financial affiliates of the chaebol can exercise in nonfinancial affiliates.
Both are of particular concern to Samsung, with nine financial affiliates within the group, including Samsung Life Insurance and Samsung Card.
The group relies heavily on these financial affiliates as links in a system of circular holdings that bind it together.
Last December, the National Assembly amended the fair trade law to reduce the voting rights that financial affiliates can have in other parts of the same business group.
The change, to be introduced in three steps by 2008, would cut the Lee family's voting rights in Samsung Electronics to as little as 1 percent, according to an analysis by the Center for Good Corporate Governance.
The Lee family either directly or indirectly controls 16 percent of Samsung Electronics. The effect expected from the legal change is enough to have prompted three Samsung affiliates to challenge the law in the Constitutional Court in April and to warn of a risk of hostile foreign takeover attempts if voting rights are reduced. The court may not rule on the case until the end of this year or early next year.
A spokesman for Samsung Group declined to comment on either the case before the Constitutional Court or the proposed legal changes.
Legislators say the battle over the fair trade law is simply a prelude to a bigger struggle over a second legal amendment being considered by the National Assembly. This would ensure better compliance with a 1997 financial companies' law that set a ceiling of 5 percent on the holdings that financial affiliates can have in nonfinancial affiliates of the same group. But the failure to include clear penalties in the original law meant that it was never adequately enforced.
A key to the Lee family's position in Samsung Electronics is a 7.2 percent stake held by Samsung Life Insurance. Samsung Card also holds a 25.6 percent stake in Samsung Everland, effectively the family holding company.
Kim Sang Jo, a member of a leading shareholder rights group and professor of economics at Hansung University in Seoul, said the accumulation of holdings by the financial companies in Samsung Electronics and Samsung Everland clearly "violated the law."
Although Samsung Life did hold more than 5 percent of Samsung Electronics before the financial companies law took effect, he said, both stakes had been significantly built up since 1997 without the necessary approval from regulators.
While the government has favored a course that would leave existing shareholdings untouched, legislators are contemplating one proposed amendment that would force the disposal of assets acquired since 1997 over a period of five years. Song Yong Gil, a legislator from the Uri Party and coordinator of its finance committee, said the proposed amendment to the financial companies law posed a much more serious challenge to Samsung than the changes to the fair trade law.
"Our goal," he said, "is to reform corporate governance, increase transparency and stop circular investment structures so minority stake holders can have a say in decision making."
Kim, the professor, warned that Samsung faced several potential threats to its current circular ownership structure. Samsung Everland, he said, could be declared a financial holding company under South Korean law because of the size of its stake in Samsung Life Insurance. Of Samsung's total assets, 56.2 percent are tied up in financial affiliates.
A spokesman for Samsung Group said Samsung Life Insurance acquired the shares in Samsung Electronics before the introduction of legal limits in 1997. The spokesman said the shareholding in Samsung Everland resulted from the merger of Samsung Card with Samsung Capital in 2002 and did not represent an additional purchase of shares.
Frustrated over the absence of action over corporate law breaches, a group of 43 university law professors brought a case against Samsung Everland in June 2000. They asserted that Everland's board and management had permitted Lee Jay Yong, 37, to take the largest stake in the company at a huge discount, escaping a potential tax liability.
Named in a brief that the professors gave to prosecutors was Lee's father, Lee Kun Hee, an Everland director.
It took three years for prosecutors to complete an investigation. But they finally agreed to present a case. According to prosecutors, individual shares valued at 85,000 won, or $83.60 at current exchange rates, were bought by Lee Jay Yong for 7,700 won in a convertible bond issue.
In late 2003, charges were brought against one serving and one former executive of Samsung Everland. Lee Kun Hee was not mentioned in the indictment. Five years after the professors brought their complaint, a Seoul court has yet to rule on the case, although a judgment is expected in the coming months. The prosecutors have asked for prison terms of three to five years for the two Everland managers.
"It should have been decided a long time ago, but I think the court is putting it off because it's a sensitive matter," said Cho Seung Hyun, a professor of civil law at Korea National Open University, who prepared the professors' brief. "The law and order of this country is very weak."
The above article is from International Herald Tribune.