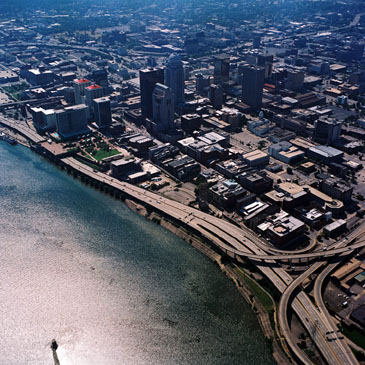 OMA's project, Museum Plaza, Louisville, Kentucky
NYC, Aug. 15, 2005 — International architecture practice, the Office for Metropolitan Architecture (OMA), has obtained the assignment to design a museum, residential and commercial complex in Louisville, Kentucky. The project, Museum Plaza, will house a new contemporary art museum dedicated to displaying innovative art of all mediums created by leading living artists.The initial plans for the $US70 million riverfront project also include at least 10 floors of apartments, eight to 10 floors of commercial office space and a large public plaza all linked by an elevated promenade. The project will extend and connect the arts and entertainment corridor in Louisville.OMA Partner Joshua Prince-Ramus who leads OMA's New York office will be responsible for the design of the building. Museum Plaza is the initiative of two Louisville developers Steve Wilson and Laura Lee Brown, who are committed to revitalizing downtown Louisville and currently restoring five historic buildings.The James N. Gray Company of Lexington, Kentucky, is providing Kentucky-based architectural services to assist OMA in the initial phase of the project. With a population of close to 700,000, Louisville, Kentucky is the 16th largest city in America. OMA's current American projects include the Center for Information Science and Technology at Caltech and the Charles and Dee Wyly Theatre, Dallas. Previously completed are the Seattle Central Library, the Guggenheim-Hermitage Museum, the IIT Campus Center in Chicago and the Prada "Epicenter" Stores in New York and Los Angeles.
On OMA:
The Office for Metropolitan Architecture is a leading international partnership practicing contemporary architecture, urbanism and cultural analysis. It is engaged in a large number of projects in Europe, Asia and North America.OMA has seven partners: Rem Koolhaas, Ole Scheeren, Ellen van Loon, Joshua Prince-Ramus, Floris Alkemade, Reinier de Graaf and Victor van der Chijs. Currently OMA is involved in projects in Cordoba (conference center); Rome (master plan); London (master plan); two projects in Beijing (head office Chinese State Television and largest bookstore in China); Shanghai (Prada epicenter); Seoul (museum); Amsterdam (new head office PCM) and various other projects.OMA employs a staff of around 120 in Rotterdam, New York and Beijing.For more information, please contact Hausi Abdul-Karim or David van der Leer at the OMA PR office, pr@oma.nl, Tel. +31 10 24 38 200 Fax +31 10 24 38 202 or visit www.museumplaza.net.