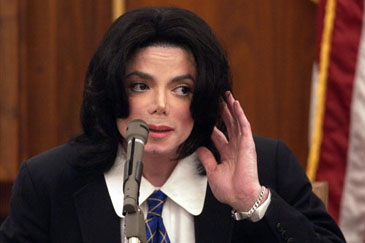 Michael Jackson
If Michael Jackson thought his acquittal on child molestation charges in June had ended his legal problems, he was mistaken. On Wednesday (Aug. 17, 2005), he was fined $10,000 (£5,520) for failing to appear in court to answer another sex abuse case - from a 39-year-old man who says the singer assaulted him in a limousine in 1984. Joseph Bartucci claims he repressed the memories of abuse until 2003, when he saw news coverage of child molestation charges against Mr Jackson. Jackson's lawyers say this is another attempt to exploit the pop star's wealth and celebrity - and doubt the accusations will go to trial. But the case is just the latest in a series of recent setbacks Jackson has suffered since he was unanimously acquitted of the alleged abuse of 13-year-old Gavin Arvizo.
Snub to 'king of pop'
Jackson is reportedly recuperating from the rigours of the trial in Bahrain - a place where he can be free of the paparazzi - as a private guest of Sheikh Abdulla bin Hamad Al Khalifa. His publicist Raymone Bain - rumoured to have left the Jackson camp during the trial - says only that he is "relaxing on vacation and doing well."In the last week, however, in addition to his latest courtroom setback, Jackson has mourned the death of a long-time mentor and been the subject of embarrassing revelations about his requests for presidential approval.Over the weekend, the singer broke his silence to issue a statement through Ms Bain, saying he was "deeply saddened to learn of the death of my mentor and friend, John Johnson." Johnson was the founder of Johnson Publishing Company, the world's largest African-American-owned and-operated publishing company, and had been a strong supporter of the whole Jackson family. Several days later, papers were published - relating to the new Supreme Court nominee John Roberts - which showed that Jackson was refused presidential letters of approval for his charity work.In a letter to the White House in 1984, Jackson's PR team asked for then President Ronald Reagan to publicly praise the "king of pop's" campaign against drunken drivers. The letter never made it to the Oval Office. It was intercepted by the future Supreme Court nominee John Roberts, who took a strong stance against the singer. In a note to one of his superiors, Roberts suggested that the Office of Presidential Correspondence was not yet an adjunct of Michael Jackson's PR firm. "I see no need to have the President send a letter to Mr Jackson, simply because Mr Jackson's public relations firm has requested one," he wrote. Three months later, Jackson's manager asked that Mr Reagan send a letter to the singer thanking him for providing 400 tickets to what he said were needy youngsters at one of his Washington concerts. "Bruce Springsteen never got such a letter after one of his recent concerts," Mr Roberts opined.
'Time to move on'
Last week, Jackson's trial lawyer Thomas Mesereau hit out at two jurors from the Santa Maria proceedings who said they now regretted acquitting the star of child abuse charges.Eleanor Cook and Ray Hultman told US network MSNBC that they believed Jackson's teenage accuser Gavin Arvizo had been sexually assaulted. The two jurors said they agreed to go along with the other jurors when it became apparent that they would never convict the pop star. But Mr Mesereau said he was "very suspicious" of the motives of the jurors, both of whom are writing books about the case and collaborating on a television movie. "Twelve people deliberated and out of that process justice is supposed to result," he said. But even Jackson's current legal problems are being linked to the pandemonium of the day when the singer celebrated his acquittal. At a hearing on Wednesday, lawyer Charles Gay told a New Orleans court the summons to appear at an earlier hearing in the Bartucci case was "lost in the confusion" of 13 June. Judge Eldon Fallon fined Mr Jackson for failing to turn up or be represented and a trial date will be set on 7 September. Jackson and his supporters - who believe the suit is invalid because of a one-year statute of limitations - hope that will be the day they can draw a line in the sand under his present troubles.