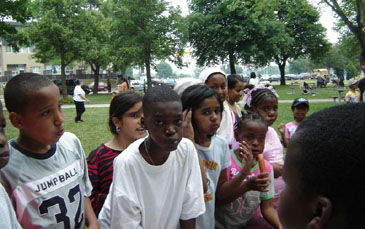 Black boys and girls in Flemingdon Park, Toronto. Toronto is world's ethnically most diverse dity.
While the United States is ridden with racism and bigotry, Canada is a haven of acceptance and racial harmony. Where America fears the Black man, Canada fears intolerance and ethnic assimilation. In the States, people hate each other; in Canada, they all just want to get along. At least, that's what Michael Moore would have us believe. But since September 11, it's become much harder to buy the tall tale of racial equality in Canada. Though we often measure our progressiveness against that of our southern neighbours, mainstream Canadian society is finally beginning to understand that systemic racism exists on both sides of the border. And racial profiling is among its ugliest manifestations. Assuming that racial profiling only happens in the United States is not only wrong, but dangerous, says Shani Carter, political coordinator for McGill's Black Students' Network. "I guarantee you that racial profiling happens everywhere," Carter attests. One obvious Canadian example is the case of George Gabuz, a Canadian-born boy with a Filipina mother. While at a Montreal subway stop leafleting for the Filipino community group Kabattaang Montreal (KM), Gabuz was summarily apprehended by police officers. "KM does a lot of organisational work in the Metro and in Montreal schools," says Roderick Carreon, a community organizer with KM. "George was in the Metro organising and distributing leaflets for an upcoming fundraising event, when he and his friends were approached by the Metro cops. When they asserted their right to free speech, they were told that only religious groups were allowed to distribute. Two of the boys were handcuffed because they weren't so good with English, and all four boys were charged."In court, George was acquitted – a lucky break as his single mother was unable to afford the hundred dollar fine – after his legal representation proved that the boys were hauled in because of their darker skin, not because of their leaflets.
Something in the System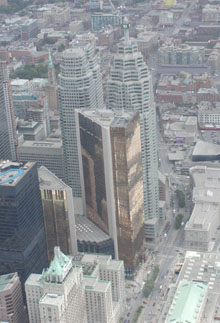 View of Toronto (City) from CN Tower Toronto.
But the white majority, it seems, is only beginning to understand the extent to which racism and racial profiling permeate its institutions and communities. Recent revelations concerning the Toronto police force are but one example – one not altogether surprising to many. Documents obtained by the Toronto Star last fall accused the Toronto police force of massive and widespread racial profiling. The Star series analysed police data and concluded that blacks charged with simple drug possession received harsher treatment than whites facing the same charge, and that a disproportionate number of blacks were ticketed for offences that would come to light only after they had already been stopped. Another Ontario case, that of former Toronto Raptor Dee Brown, highlights the prevalence of racial profiling. Brown alleges that police stopped him simply because he was a black man driving an expensive car. After convicting Brown of speeding charges, the presiding judge castigated Brown and his lawyer for their "serious, nasty and potentially malicious allegations." Brown's conviction was eventually overturned by the Ontario Court of Appeal, but a darker implication remains – that judges will disregard defendants' complaints based on race, or if the defendant uses racial profiling as a defense. Carreon believes that court challenges such as those of George Gabuz and Dee Brown will grow in number once the public is made more aware of racial profiling and its effects. He feels that more needs to be done, specifically in Montreal, to address systemic racism and ease its effects on Canadians of colour. "It happens in Montreal all the time," Carreon says of racial profiling. "It's not being documented in Montreal, but it happens. We at KM are trying to document it as an organisation. Most people feel that immigrants just have to follow the rules, and as a result, these people [of colour] don't see themselves as being able to assert themselves as human beings." For a society that prides itself on its acceptance of other cultures, Carreon's comments are discouraging at best.
In the wake of ...
Racial profiling has long existed in our newspapers, in our neighbourhoods, and on television. So what's changed? Now, it's become legally admissible, a justifiable sacrifice in the name of "security" – or so we're told. "The government justifies racism with the war on terror, but racial profiling was around long before September 11. The only difference is now they can warrant it by law," Carreon alleges. Since the events of last September, authorities have been given sweeping new powers over people flow. Shakir Baloch, a Pakistani-born doctor with Canadian citizenship, found that out the hard way. Baloch was charged with entering the US illegally and was detained without bail at the Metropolitan Detention Center in Brooklyn, New York. Though he was not charged with any connections to terrorism, he was held in solitary confinement for four months before his eventual release. But people of colour don't only feel targeted by new legislation. "We don't feel welcomed by [Canadian] society," says Carreon. "My family came over here because of economic oppression in the Philippines, but now, here, I get stopped [by authorities] two times a week. I am a person of colour and I drive a jeep. And when I ask why I've been stopped, they just say it's a 'random check.'" Toleration and multiculturalism may be catch phrases to sum up the Canadian experience, but those words may be better suited for travel brochures. But on the bright side, Carter believes that the events of September 11 have, if nothing else, made people more sensitive to racially charged situations. Though racism still looms large, media and community criticisms of the Bush administration's war on terror have brought great attention to the problem of racial profiling, and to the need for its elimination. "In the 1950s, 60s, and 70s, it was even considered just for a cop to pull someone over because they were black. Now that [racial profiling] has a name, authorities are being so much more careful," Carter says. Carter compares the label of racial profiling to that of sexual harassment, a buzzword that sent ripples through North American workplaces and made both employers and employees extra vigilant. "Before that it was acceptable for men to act however they wanted, but after some of the more inappropriate behaviours were given the name 'sexual harassment,' now men watch what they do and how they act," Carter says. "You just have to accept that this is what it means to be Canadian, that you have to experience these kinds of things."
Mr. Jeff Watson, who is now based in Busan, serves as a staff writer for The Seoul Times. A graduate of McGill University, Mr. Watson has years of journalistic experience including a stint as a reporter for The McGill Daily, its campus paper. Mr. Watson also serves as associate editor of The Seoul Times.