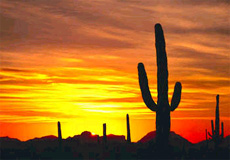 Arizona Desert
Of the 18 undocumented immigrants who died of suffocation in a trailer in Texas in May of 2003, two were a father and his six-year old son. They were reportedly found in a death embrace as the father was trying to comfort his son.Most undocumented workers come to the U.S. without their children because the trip is fraught with dangers. Yet, once they establish themselves in this country, they try to bring their kids here as they attempt to reunite their families.Since it's extremely difficult to go back and bring them along, some parents have been resorting to smugglers to guide their kids to this country. Sometimes kids as young as five or six have to walk in the Arizona desert in the company of strangers whose only concern is making money.If they don't bring in their kids illegally, they may never see them. It used to be that undocumented workers would come to the U.S., and when the harvest was over, they'd go back home. In essence, they were migrants.Things changed in 1996 when Congress passed the Immigration Reform and Immigration Responsibility Act. One of the provisions was to enforce apprehensions at the Mexico-U.S. border to stop the flow of illegal immigration.
That has not happened. However, as the crackdown eliminated the "easy" entry points into the U.S., immigrants have resorted to even more dangerous routes and have been relying more and more on smugglers. The result has been that several hundred people a year die as they attempt to cross the border.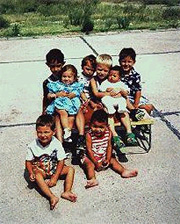 Children of Illegal Immigrants
The crackdown has also turned migrants into immigrants, who, once they make into the U.S., tend to stay put while some family members remain in Mexico or Central America. Sometimes new families are created in the U.S. Yet, those who left kids in another country worry about them and would like to have them here.It's easy to blame the parents for putting their kids in danger. Yet, the real culprits are the U.S. and Mexican governments for not establishing a decent way to allow people to move back and forth if their services are needed in the U.S.Are their services needed? With an estimated 8 to 10 million undocumented workers in the U.S., it seems that they are indeed. Although they have clearly entered the country illegally, their crime would not have been possible without the tacit approval of the companies hiring them and the inertia of our government. Once they are hired, their crime disappears. They work, pay taxes, and contribute to our economy. A study by the Rand Corporation found that undocumented workers are a net gain to our economy.Thus, parents should not have to resort to smugglers to have their kids with them. In the long run, policies need to change to eliminate illegal immigration. First of all, companies needing workers have to advertise to make sure American workers are not available. If Americans are not willing to take certain jobs, then workers could be brought in on a temporary basis. They should be paid decently and be given appropriate benefits. Labor laws would need to be enforced otherwise even American workers would ultimately be affected by lowering the floor for all workers. And after several years of employment in the U.S., workers should be given the option to apply for resident status. Most would probably not apply. They come here to make some money and go back to their own country. They are migrants, not immigrants.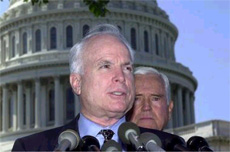 Sen. John McCain
There are some bills in Congress which would address the issue of immigration. One is by Sen. John McCain of Arizona, which would permit undocumented workers to apply for legal status. A few other bills would also address the plight of undocumented workers and the crossings into the U.S. from Mexico.
President Bush needs to take the leadership and push to pass legislation which would regulate the flow of immigrants into the U.S. from our southern neighbor. In 1993 NAFTA was approved to ease the flow of goods among the U.S., Mexico, and Canada. Is it time for a similar agreement to make sure people can also move without risking their lives or those of their kids?