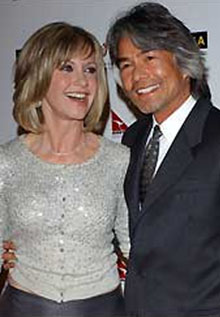 Olivia with McDermott: Patrick has been her boyfriend for the past nine years.
Grease star Olivia Newton-John's long-term lover has vanished during a boat trip—and officials say he may have faked his own death. Singer Olivia, 56, fears Patrick Kim McDermott—her boyfriend of nine years—is dead after he failed to come home from a fishing expedition nearly two months ago. He is of Korean origin.She clings to the hope that he is still alive because his body has not been found. And the uncertainty is making her frantic—especially as coast guards won't rule out the possibility that the 47-year-old American dad of one has faked his death and done a runner.
Secrecy
One pal told the News of the World: "Everyone is shocked and devastated by Patrick's disappearance—and totally baffled by it." The investigation remains shrouded in secrecy and interviews with everyone who was on the boat with him have failed to solve the mystery. The American cameraman chartered the vessel and crew for an overnight fishing trip off the coast of San Pedro, California, on June 30. But he was not on the boat when it returned the next day. His personal items—including fishing rods and tackle —remained on board. Patrick, eight years' Olivia's junior, has not been seen or heard of since. Coast guard investigators have quizzed the crew and are treating it as a missing person case. Officials won't speculate whether Patrick might have fallen overboard. And investigator Dennis Nebrich is not convinced the disappearance was an accident. "We have taken statements from everyone," he said. "But I can't comment on what they have said." And, fuelling the theory that Patrick faked his own death, he added: "Is there any suggestion that he might have run away as opposed to have gone overboard? That's something we're still looking at." But everyone who knows Patrick is adamant his disappearance must have been an accident. Olivia's pal added: "There is nothing in his character to suggest that he would deliberately take off. He would never leave his child. And therefore we all fear the worst." The alarm was first raised when Patrick failed to turn up for a family bash on July 6—five days after the fishing trip. Worried relatives called the coast guard. His car was found on July 11 still in the San Pedro marina car park where he had left it before heading out to sea. Aussie favourite Olivia—who became a household name with John Travolta in 1978 smash Grease—can't bring herself to speak publicly about the mystery. Her pal added: "What is there to say? No one wants to mourn in public and she's obviously experiencing a lot of grief right now." Olivia first met Patrick, who has a 15-year-old son from a previous relationship, in 1996 while filming a TV ad in Los Angeles. The Aussie had divorced Matt Lattanzi—her husband of 11 years and father of their daughter Chloe, 19—the previous year. The pair hit it off immediately but they never married. As Patrick said, "If it's not broken, don't fix it."
Setbacks
Olivia's pal continued: "Patrick and Olivia are like soul-mates. They have had an enviable chemistry since the moment they met and have never had any problems whatsoever. "We are still hoping against hope that he is found safe and returned to us as we all miss him terribly." Patrick's disappearance is the latest in a long line of setbacks for Olivia. In 1992 she was declared bankrupt. Later that year her father Brin died from liver cancer the same day that she was diagnosed with breast cancer. She had a partial mastectomy and was given the all-clear in 1993.
The above article is from News of The World .