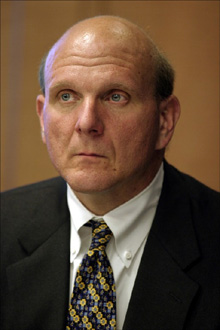 Microsoft CEO Steve Ballmer
Microsoft CEO Steve Ballmer vowed to "kill" Google in an expletitive-laced, chair-throwing tirade when a senior engineer told him he was leaving the company to go work for Google, the engineer claimed in court documents made public on Sept. 2, 2005.In a sworn statement made public Sept. 2, 2005, Mark Lucovsky, another Microsoft senior engineer who left for Google in November 2004, recounted Ballmer's angry reaction when Lucovsky told Ballmer he was going to work for the search engine company. "At some point in the conversation, Mr. Ballmer said:
'Just tell me it's not Google,'"Lucovosky said in his
statement. Lucovosky replied that he was joining Google. "At that point, Mr. Ballmer picked up a chair and threw it across the room hitting a table in his office," Lucovosky recounted, adding that Ballmer then launched into a tirade about Google CEO Eric Schmidt."I'm going to f***ing bury that guy, I have done it before, and I will do it again. I'm going to f***ing kill Google." Schmidt previously worked for Sun Microsystems and was the CEO of Novell.
Profile of Steve Ballmer — Friend of Bill
Steve Ballmer and Bill Gates go back a long way.
Mr Ballmer, 43, grew up in Detroit, where his father, a Swiss immigrant, worked for the Ford Motor company. He met and became a friend of Bill Gates at Harvard university, where both were students, and lived just down the hall from each other. Unlike his friend who dropped out in first year, Steve Ballmer graduated from Harvard, earning a degree in applied maths and economics. He then worked at Procter & Gamble as an assistant product manager, before attending the Stanford Graduate School of Business. In 1980, Steve Ballmer was invited by Bill Gates to join him at Microsoft. He held a number of positions at the company, among them executive vice-president of sales and support. During 1985, he was in charge of making sure that Microsoft's new Windows operating system would be ready on time. As the deadline to produce Windows slipped behind, Mr Gates reportedly called Mr Ballmer into his office and threatened to fire him if the software was not on the shelves by the end of the year. Few people believe he was serious about firing his friend, but Windows was ready by November. The friendship prospered, and four years ago Steve Ballmer was best man at Bill Gates' wedding. From 1998 onwards he began to take over much of the day-to-day running of the firm after he was appointed president of Microsoft. And on 13 January 2000, Steve Ballmer was promoted to company chief executive, a position which promises to raise both his profile and salary to new heights.
The above artile is from CNET News.com