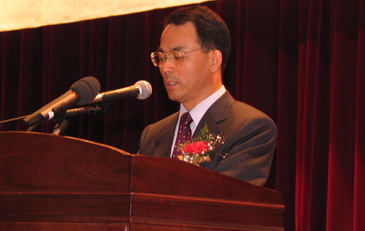 Minister Chin Dae-Je of South Korea's Ministry of Information and Communications
The UK's Department for Trade and Industry hosted a high-level industry bilateral event at Hotel Sofitel St James in London on Sept. 7, 2005, bringing together leading Korean and UK companies from the telecommunications and broadcasting industries. The event included Minister Chin Dae-Je, South Korean minister for information & communications, Lord Sainsbury, UK minister for innovation & science, and Lord Currie, chairman of Ofcom. Senior executives from UK and Korean companies will attend the event, make presentations and forge important new links.The event reflects the service convergence being pioneered in both countries. It has been organized jointly by "Mobile VCE"– the UK's Virtual Centre of Excellence in Mobile Communications – and the Ministry of Information and Communications.The 2nd U.K.- Korea Future Mobile Evolution Forum builds on the existing exchange of experience, collaboration and partnership between the U.K. and Korea. Both countries have a history of pioneering innovation in wireless and broadcasting technologies.The first Forum was held in Seoul, in June 2004, and there were further meetings UK-Korea High Technology Industry Forum held in London, in December last year, on the occasion of the State Visit of President Roh to the UK.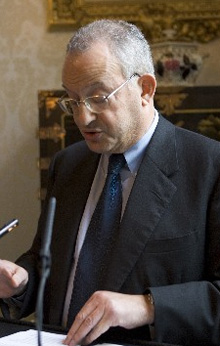 Lord Sainsbury, UK minister for innovation and science
UK Minister for Innovation and Science, Lord Sainsbury said "In focussing on personal broadcasting and fixed mobile convergence, the Forum will help to bring together the world's two foremost consumer technologies - television and mobile telephony - in new ways that will be appealing to the consumer and enable our broadcasting and telecommunications industries to prosper in the digital age."Walter Tuttlebee, Director of Mobile VCE and UK Chair of the Forum said: "The UK has world class telecom operators and broadcasters, whilst Korea has similar strengths in manufacturing. This natural synergy, together with the UK's acknowledged strengths in research and innovation, has contributed to the deepening industry relationship between the two countries." Ongoing dialogue between UK and Korean broadcasters, mobile operators and manufacturers, as well as regulators and other participants, will help clarify questions over what content and services will work, appropriate business models (e.g. whether to be supported by subscription or by advertising) as well as standards and spectrum allocation. Such international and cross-sector collaboration is seen by both countries as key to accelerating the success of these new services.The forum included open sessions on Fixed Mobile Convergence and on Personal Broadcasting, followed by a closed session to develop plans for Comparative Technology Trials for Personal Broadcasting in the UK.The forum aims to familiarize leading Industry and Government decision makers with the latest status of key convergence technologies and initiatives in both countries and their future potential.The forum is also ditected at strengthening links between Korean industry and the UK's R&D base and to identify areas for new collaboration — A strengthening of industry commitment that is likely to accelerate the deployment of personal broadcasting services in the UK.UK companies presenting included BBC, Ofcom, BT, Siemens Roke Manor and Vodafone. Korean companies presenting included KT, Perstel, SBS, SK Telecom, TU Media.For a detailed programme and speaker information visit the Forum website at http://www.koreapartneruk.comSeparate from the Forum, several other specific collaborations were formalized including an agreement between the Bristol-based company picoChip and ETRI, Korea's leading telecommunications research institute.
A ETRI team will be based in the UK for the coming year.The cooperations also included an agreement between Cambridge University and ETRI for R&D work, which will draw an inward investment of some £4 million over four years.
For press enquiries contact Ms. Jenny Hong, media officer of the British Embassy in Seoul at 82-2- 3210- 5562.