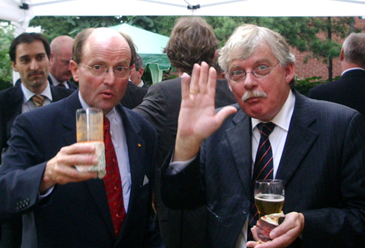 Ambassador Radinck J. Vollenhoven of the Netherlands (left) poses with Deputy Defense Minister C. Van Der Knaap.
Ambassador Radinck J. Vollenhoven of the Netherlands hosted a party for his nation's Deputy Defense Minister C. Van Der Knaap at his residence on Sept. 1, 2005. A gathering of important Dutch business and defense industry people met at the ambassador's residence in Donbinggo-dong during a garden party starting at 6 p.m. South Korea's defense officials also were among the attendees.This party was more than just a party. They were present to discuss the necessity for the two militaries of the Netherlands and South Korea to work together as allies.Deputy Defense Minister C. Van Der Knaap placed special emphasis on this project. He gave an exclusive interview to The Seoul Times during his stay in Seoul. Here are the questions and answers:
Q1: First of all, I would like to welcome you to Korea on behalf of all the Seoul Times staff and Korean people. Could you please state the purpose of your trip to Seoul?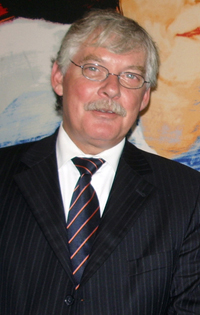 Dutch Deputy Defense Minister
C. Van Der Knaap
A1:
The purpose of the visit to South Korea was first of all to talk with your deputy minister of Defense on cooperation matters between our countries and to visit the Defense Industries of Korea, related to the production of armoured vehicles. This had primarily an orientating character, there is no intention to purchase Korean armoured vehicles. Secondly, the visit had the purpose of supporting the Netherlands industry, who has close ties with the Korean Defense industry.
Q2: Is Korea the only country you are visiting on this trip? Is your Seoul visit part of your Asian trip?
A2:
The deputy minister combined a visit to both South Korea and Japan.
Q3: What have you done during your stay in Korea? Could you specify your activities in Korea?
A3:
Talks with deputy minister of Defense of South Korea, and the vice-minister of Acquisition, visit of Defense related Industry (Samsung-Thales, Samsung-Techwin, Doosan etc.), visit to UN War Cemetery at Busan, and visit to demilitarized-zone.
Q4: What is the status of military exchanges or cooperation between your country and South Korea?
A4:
There are several Memoranda of Understanding on issues like: exchange of information, logistics, quality tests etc.
Q5: What, do you think, both countries should do for better cooperation between the Netherlands and South Korea?
A5:
The relation between our countries is very good, since a very long time already. We will continue this and try, where possible, to intensify the cooperation.
Q6: Is this your first visit to Seoul? What are some of the most impressive things about Korea or Korean people?
A6:
No, as a member of Parliament, the deputy minister has already visited Seoul once before. Most impressive is the very friendly and polite approach
of the Korean people, and the economic power of your country.