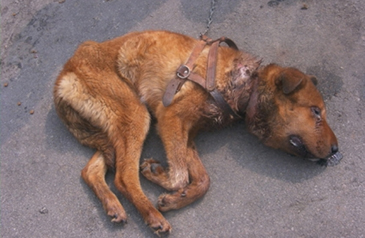 A puppy victimized by lack of care in Seout Korea
Dear Editor, Given that millions of animals are discarded every year in this country because they have failed to conform to our whims and lifestyles, my hat is off to Nintendo for creating virtual Nintendogs ("Game Review: Nintendo's virtual puppies can do everything but shed" 9/5/05). Real dogs and cats need love, attention, care, and respect. They should never be screamed at, kept in a crate, chained in the backyard, or otherwise be treated in ways we shouldn't treat a child. Unless you work at an animal shelter, you might be surprised at the reasons people give for "getting rid of" their dogs and cats.The animals, they say, bark all the time, don't bark at all, take too long to house train, have fleas, keep getting pregnant, are too aggressive, or too timid.Countless people throw out their "pets" as they would an unwanted piece of furniture when they move, go on vacation, have a baby. Many people acquire a dog or cat without much thought, as if the animal is nothing more than a toy.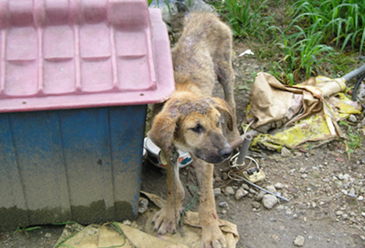 A young dog poorly taken care of in South Korea
For anyone who wants the cuteness or cachet of animal "ownership" but is loathe to dedicating part of their life to an animal's care, I'd say plunk down your credit card for Nintendo, not a pet shop puppy. If you want information on how to help live animals, please visit HelpingAnimals.com. Very truly yours, Ingrid E. Newkirk
SoniaA@PETAAsiaPacific.comPresident
People for the Ethical Treatment of Animals (PETA)
501 Front St.
Norfolk, VA 23510
+1 757-622-7382