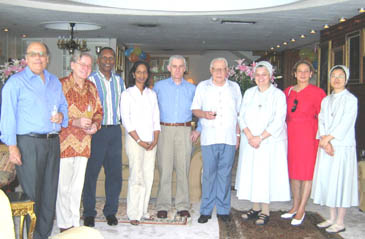 Malaysian Amb.Dato'M.Santhananaban (third from left) poses with guests at his residence Sept. 11, 2005
Malaysian Amb. Dato' M. Santhananaban hosted a friendly get-together over luncheon at his official residence in Hanam-dong on Sunday for visiting Fr. L. Rodrigues of Macau and other friends.Invited to the informal function as a special guest was Fr. L. Rodrigues, Catholic Social Services of Macau. who has been Amb. Santhananaban's friend for many years.Fr. Rodrigues flew into Seoul Sept. 7, 2005 for a week-long visit, his second since 1984.Among others who joined the gathering were Amb. and Mrs. Carlos M. L. Frota of Portugal, Amb. Adolfo Carafi of Chile, Mr. Bernhard Brender, general manager of Millennium Seoul Hilton, Sister Jane Ann, director of development of "Planting Love," a Roman Catholic charity organization in Seoul and Sister Kim Jung-Young.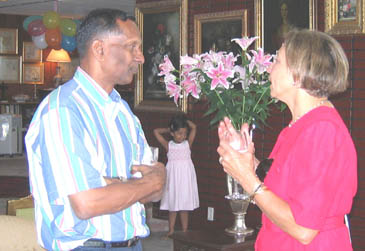 Mrs. Arlinda Frota, wife of Portuguese Ambassador (right) talks about her porcelain painting exhibition with Amb. Santhananaban.
The friendly chatting was naturally focused on St. Andew Kim who went to Macau to pursue his studies for the priesthood while still very young. St. Andrew Kim Taegon, priest in Korea, martyred in 1839. Others martyred during this period were St. Paul Chong Hasang & Companions (1839-1867). Only about two percent of the Asian population is Christian, and while Christians are to be found in virtually every Asian country, it is South Korea that has witnessed the most spectacular and historically significant Christian expansion, particularly over the past three decades, the period of the country's remarkable modernization. Since the introduction of Catholicism in 1784, followed by the arrival of Protestant missionaries in 1884, Christianity has proceeded to become—after Buddhism—the largest religion in the country. Today about one third of South Korea's 45 million people are Christian , 11 million Protestants and 3 million Roman Catholics.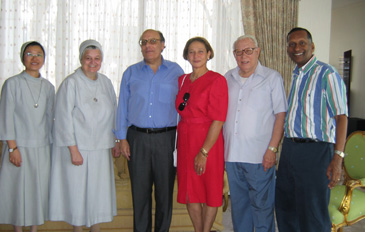 Mrs. Frota, wife of Portuguese Ambassador to Seoul Carlos Frota, (fourth from left) will hold a porcelain painting exhibition at Sun Gallery in Insa-dong, Seoul, from Sept. 21-28, 2005.
"If one day some fine Korean decides to sing of the Christian glories of his country, he will not be lacking in noble persons, children and virgins, men, women and elders who died in the simplicity of their Faith.And if he were obliged to choose among this incomparable legion of witnesses of Jesus Christ, we may imagine that the features of Andrew Kim would capture his attention and that the brief and triumphant epic of the first Korean priest would give rise to inspiration in his soul," Fr. Rodrigues said. In the meantime, as usual the annual Planting Love charity dinner concert to benefit children with disabilities in genuine Christian love will be held at Millennium Hilton Seoul on Oct. 20, 2005 at 6:30 p.m., according to Sister Jane Ann..This year Planting Love is celebrating the 15th anniversary and, as always, we need your help to help children with disabilities by participating in the charity dinner, Sister Jane Ann said.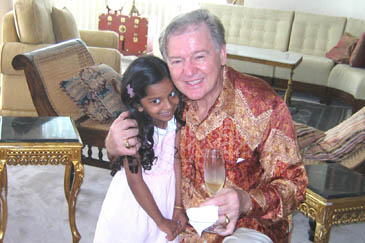 Mr. Bernhard Brender, general manager of Millennium Seoul Hilton poses for camera with cute daughter of Amb. Santhananaban.
Tickets for the Oct. 20th dinner concert are 100,000 won for person. For those who want to know information about the dinner concert, please contact the office at 02-763-2620, 3672-6136 or e-mail plantinglove@hanmail.net.The show features more than 45 pieces of porcelain painting, all done after her arrival in Seoul in 2002. . What began as a way for Mrs. Frota to to keep herself occupied in Seoul has become a second profession of a sort. She has since drawn a work every five days on average.A friend introduced her to the art toward the end of 2001 and since then she has been learning by herself. Now, she finds herself being asked to teach, Mrs.Frota said. The opening of the exhibition will be at 6 p.m. at the gallery on Sept. 21, 2005 and entrance to the gallery is free of charge. The exhibition will be open from 10 a.m. to 6:30 p.m. throughout the week.Flowers and butterflies are her favorite motifs. "Since coming here I have been painting more butterflies and flowers from fields in Korea as well as dragons," said Frota.