America
When English Only Discriminates
Special Contribution
By Domenico Maceri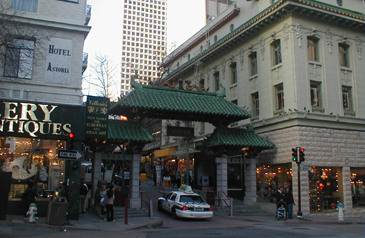 Dragons Gate of Chinatown in San Francisco
"Don't speak Chinese. Speak English," the manager of a major San Francisco hotel told several Chinese employees upon hearing them converse in their native language.When asked about the incident, the general manager said that the company is proud of its multilingual workforce and there is no English-only policy at the hotel.Union officials representing the employees disagree. They are bringing the case to the Equal Employment Opportunity Commission (EEOC), which might result in a lawsuit.Lawsuits because of English-only orders at the job site have been occurring in the US for a number of years. Typically, they involve Spanish-speaking employees suing their companies for forcing them to speak English and only English at work.The number of lawsuits related to language discrimination in the US has increased 612 percent from 1996 to 2002. In all likelihood the increase does not reflect a true picture of the problem since immigrants do not typically speak up, fearing loss of jobs. At the San Francisco hotel in question, for example, a similar incident involving Spanish-speaking employees apparently happened a year ago but was not reported to authorities.Job security becomes a serious concern if immigrants are in the country illegally. In these cases the power differential between employers and workers is huge. Fear of being deported keeps workers quiet.You would think companies should be able to tell their employees how to do their jobs, including which language to use. Unfortunately, some employees overstep the boundaries of the law. Employers can insist on English-only use if it is a "business necessity" or for safety issues.The safety issue cuts the other way also. In some cases, safety might require employees to use their native language.However, the law does not allow discrimination based on gender, ethnic, racial, or linguistic background. Some employers ask their workers to speak English even when they are on their breaks or at lunchtime.In some cases it leads to humiliation and degradation because people view their language as their identity. It happened to Aurora-Luz Ornelas and Guadalupe Coronado. Their boss at the Family Dollar Store in Colorado forbade them to speak Spanish.It's ironic that the two employees were told not to speak Spanish considering that the clientele at the store is primarily Latino.Ornelas and Coronado sued the company when they were fired along with five other Spanish-speaking colleagues. In another case, a Colorado McDonald's was sued when management asked workers to deposit 25 cents into an "English-only cup" every time they spoke Spanish.Making arbitrary rules which go against the law can be very expensive. In one case, a lawsuit was settled for $ 1.5 million in Colorado. A Black Hawk Casino had required the cleaning staff to speak only English at the job site.Smart companies accept their workers' limited linguistic skills and provide English classes at the job site. Employees appreciate that and develop more of a sense of loyalty to the company. As employees learn English, they can become more productive for the company.Some other companies offer Spanish classes at the job site so that their English-speaking employees can learn another language, particularly if some of their clientele is not fluent in English. In some cases the bosses learn their workers' language, showing a deep interest in the immigrant culture. Sometimes even a mere "Buenos Dias" has a very positive effect on workers.Language is very important to people because it's part of their identity. People are not objects you can just change as you wish. Smart companies learn about their employees and work to use their talents, linguistic and otherwise, for everyone's benefits.In the US, some people believe that you must speak English for everything. And if you don't, you should get no services. This line of thinking may lead companies to infringe on their workers' human rights and freedom of speech. That's where the law comes in.Laws protecting immigrants' language rights reflect the best of America. It's one of the many reasons why people continue to come to the US.

Related Articles
Julián Castro's Monolingualism: a ...
Biden's Immigration Plan: Between Trump and ...
Legal and Illegal Immigration: A Winning Hand ...
World Cup: Beyond the Soccer Field
John Kelly's Fails English and History
Trump's Tiny Heart and DACA's Repeal
Yesterday's Immigrants: Better Than Today's?
Trump's Alternative Reality on Immigration: a ...
Kaine's Español: Not Just Empty ...
Immigration: The Supreme Court Hands GOP a ...
Trump's Tax Returns: Our Business?
Trump's Wall is Full of Holes
Angry Latino Voters Will Deny Trump the ...
Bilingualism and US Presidents
Cruz: A "Canadian" for the US Presidency?
Spanish in the US: Just an Immigrant Language?
US Border Enforcement Bil Too Tough, Unwise
Freedom of Speech in English Only?
The GOP: No Guest Worker Program?
Tancredo: the Ugly Face of the GOP?
Rights for Illegal immigrants?
Healthcare for All?
No English, No Service?
When Language Knowledge Means Security
Enough Undocumented Workers?
Bilingual Principals?
Domestic Workers: Family Members?
Mexico in US
Tongue-Tied Bush?
Is Immigration a Local Affair?
Voting Rights in Español
Profiting from Illegal Immigration?
Job Safety for All?
Border Control with Songs?
Guilty Parents, Innocent Children?
Only One Language for America?
George Bush: Already Lame Duck?
A Comprehensive Immigration Bill That Works
Language as Integration
Driving in English Only?
Illegal Workers Saving Social Security?
Learning Languages the Easy Way?
English-Only Laws: Why?
Arnold Schwarzenegger: Pete Wilson II?
Language Fluency Means Security
Stingy Government But Generous People


Other Articles by Domenico Maceri
Julián Castro's Monolingualism: a ...
Biden's Immigration Plan: Between Trump and ...
Legal and Illegal Immigration: A Winning ...
World Cup: Beyond the Soccer Field
John Kelly's Fails English and History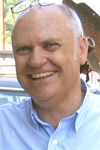 Domenico Maceri, Ph.D., UC Santa Barbara, teaches foreign languages at Allan Hancock College in Santa Maria, CA. His articles have appeared in many newspapers including Los Angeles Times, Washington Times, Japan Times, and The Seoul Times. Some of his stories won awards from the National Association of Hispanic Publications.