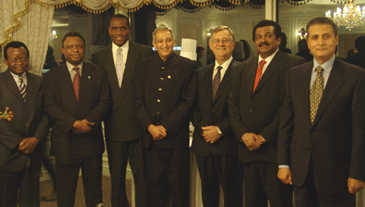 Amb. Stefanus J. Schoeman of South Africa (3rd from right) poses with Deputy Foreign Minister Aziz Pahad (center) and other VIPs.
South African Ambassador to Seoul Stefanus J. Schoeman hosted a reception for their visiting Deputy Foreign Minister Aziz Pahad at Lotte Hotel in downtown Seoul Sept. 21, 2005.The cocktail reception held in the evening at the hotel's Peacock Room drew scores of top foreign envoys serving in Seoul. The ambassadors, mostly from African countries, included Amb. Jaafar Alj Hakim of Morocco, and Amb. Ngwey Ndambo Christophe of Congo.The Korean Ministry of Foreign Affairs and Trade sent several officials to the reception for the deputy foreign minister and his delegation. Local media people also came to meet the South African official at the invitation of the Amb. Schoeman.Deputy Minister Pahad and his delegation attended the reception after concluding his three-day official visit to Seoul. During his stay Pahad met with his South Korean counterpart Vice Minister Lee, Tae-Sik for bilateral talks on political and economic issues.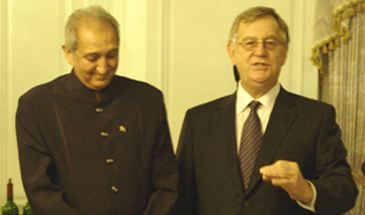 Amb. Stefanus J. Schoeman of South Africa (right) introduces Deputy Foreign Minister Aziz Pahad to the guests.
During the vice ministerial meeting, Deputy Minister Pahad congratulated Vice Minister Lee and welcomed the successful agreement of the six-party talks reached by both Koreas, the US, China, Japan, and Russia on Sept. 19, 2005.Deputy Minister Pahad showed great interest in the progress made in the six-party talks regarding North Korea's nuclear program. He said that the developments in the talks on the nuclear issue bode well for all nuclear stockpiles of the world to be scrapped and for the non-proliferation of weapons of mass destruction to become a reality.Vice Minister Lee told Deputy Minister Pahad that the developments in the talks could pave the way for the expansion and consolidation of bilateral relations between the two Koreas. Lee added that the opening up of air, road, and rail links could lead to the sharing of technical skills between the people of the divided nations.Vice Minister Lee also mentioned that the unification of North and South Korea remains a realistic possibility which both sides could work towards in the future.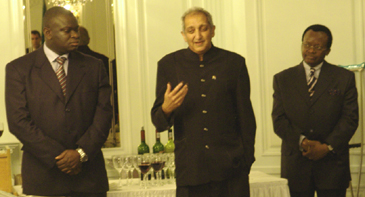 South African Deputy Foreign Minister Aziz Pahad (center), talks with Amb. Ngwey Ndambo Christophe of Congo (left).
The two ministers shared an opinion that solid bilateral political and economic relations among the countries associated with South Korea must be translated into stronger economic ties, which would create the conditions for better lives for all Asian and African people.In this vein, both Pahad and Lee agreed that the inter-Korean political and economic relations are vital. Both ministers called for strong economic cooperation between South Africa and South Korea. They see eye to eye on the need to further encourage their private sectors to expedite better economic opportunities between both countries.South Africa is South Korea's primary trading partner in Africa and South Korea is South Africa's fourth largest trading partner in Asia.Korean investments in South Africa amounts to approximately 5.8 billion South African rand (some 908 million US dollars). Sectors attracting Korean investmenst are varied and include, amongst others, the manufacture of audio equipment, stainless steel, auto components, nuts and bolts, including building material as well as leather garments and footwear.In addition, nine prominent South Korean companies set up offices in South Africa,Deputy Minister Pahad and his delegation departed for Beijing, China Sept. 22, 2005 on the second leg of his three-nation central and east Asian tour.
The above photos were taken by James (Young-Ju) Huh, staff reporter of The Seoul Times.