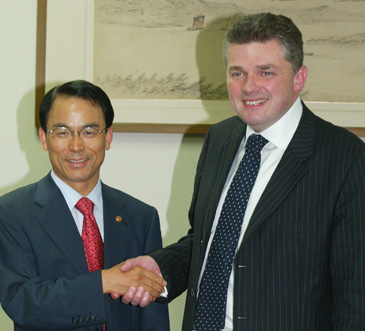 British Minister Ian Pearson (right) meets with Dr. Chin Dae-Je, minister of information and communications.
British minister for trade, Ian Pearson MP, who also has a foreign affairs responsibility for Asia, made his first visit to South Korea from Sept. 22 to 23, 2005 in a trip aiming to strengthen political and trade links.The minister met with the Vice Minister for Foreign Affairs and Trade Lee Tae-Sik and discussed the outcomes of the latest round of the six party talks and to thank Korea for its contribution to reconstruction work in Iraq.
He also met with Minister of Information and Communications Chin Dae-Je who recently returned from a visit to the UK where he spoke at a high level bilateral event bringing together high-technology companies focusing on service convergence.UK-Korean collaboration in this area is already strong and growing. Minister Pearson also toured the acclaimed "Ubiquitous Dream" exhibition at the Ministry of Information and Communication (MOIC).The minister also met with Kwon Tae-Shin, vice minister for Finance and Economy, and with Kim Hyon-Chong, minister for Trade as well as attending a lunch with British investors in Korea and met with senior representatives from Korean companies who are investing in the UK.Speaking ahead of his trip, Mr Pearson said: "I look forward to all my meetings in Seoul. It will be timely to hear about the six party talks with North Korea, and to exchange views on our important of our bilateral political, trade and investment relationship."Ian Pearson MP is Minister of State for Trade with responsibility for Trade and Trade Policy, Trade and Investment (UKTI), Economic Policy including Science and Technology, Global Issues (including sustainable development, energy, climate change), Human Rights, North America, South East Asia, East Asia and Oceania.The Ubiquitous Dream Exhibition was established by MOIC in conjunction with the leading digital home network technology companies. The Ubiquitous Dream Exhibition consists of a total of four themed Exhibitions demonstrating the digital lifestyle of the future. UK is the number one location for Korean investment in Europe with 125 companies and 25 percent of all investment in the 2002 - 2004 period. Samsung Electronics and LG Electronics carry out mobile handset development in the UK and also have their European Headquarters there. Many smaller technology companies such as Com2Us and Widerthan.com have also made the UK their base in Europe. The most recent investment was by STX Shipbuilding, who will establish their European headquarters in London.Visible bilateral trade totaled $9.3 billion in 2004. Korea's success in the UK has been particularly strong in telecommunications, shipping, cars and electrical appliances, while UK companies have done well here with electrical machinery, medical and pharmaceutical products, chemicals, fashion and Scotch Whisky.
For general enquiries about the visit contact Ms. Jenny Hong, press officer of the British Embassy in Seoul at 02-3210 5562.