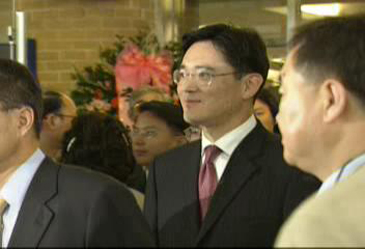 Lee Jae-Yong, son of Samsung Group owner Lee Kun-Hee
Two Samsung executives, Huh Tae-Hak and Park Ro-Bin, former and current presidents of Samsung Everland, the group's holding firm, were sentenced to two to three years in jail respectively on embezzlement charges relating to the murky father to son ownership transfer on Oct. 4, 2005.The Seoul Central District, however,suspended their imprisonment for five and two years, respectively.
The charges focus on a 1996 stock transaction which helped group chairman Lee Kun-Hee pass on control of the family-run empire to his son, Lee Jae-Yong.Chances are that the ruling could lead to investigations of the beleaguered Lee family, clouding the outlook for the ownership and governance structure of the nation's largest conglomerateIn November 1996, Samsung Everland sold nearly 10 billion on (US$9.8 million) worth of CBs to the siblings, which gave them the right to buy the company's common stock for 7,700 won a share, far lower than its market price of 85,000 won at that time.The illicit deal is estimated to have cost Samsung Everland about 97 billion won in losses.The executives had originally issued the W9.9 billion in CBs, but because W9.6 billion of them became forfeited, the executives sold the forfeited CBs to the two children of the group owner. Samsung Everland has controlling stakes in key Samsung Group units, including Samsung Electronics Co. Her, now president of Samsung Petrochemical Co., was the CEO of the theme-park operator at the time of the CB deal.A group of 43 university law professors brought a case against Samsung Everland, as well as chairman Lee, in June 2000, claiming that the company's board and management had permitted Lee's son to illegally control Samsung Everland and avoid a potential tax liability.Jay-yong and his three sisters reportedly own a combined 62.5 percent stake in Samsung Everland. The 37-year-old heir apparent is now a senior executive vice president of Samsung Electronics.Samsung Everland, which runs South Korea's biggest amusement park, controls the group through a web of ownership that includes a 19.3 percent controlling stake in Samsung Life Insurance and major stakes in other group affiliates.The murky owership structure of South Korea's major business groups has come under close scrutiny since the 1997 Asian financial crisis.Critics say conglomerate owners have engaged in illegal intra-group transactions, transferring wealth to their offspring or manipulating share trading to avoid inheritance taxes.