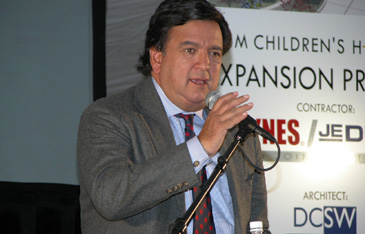 US Gov. Bill Richardson of New Mexico
Washington DC, Oct. 14, 2005 — Gov. Bill Richardson of New Mexico, a United Nations ambassador in the Clinton administration who has long maintained contacts with North Korea, will travel next week to Pyongyang, North Korea's capital, for talks aimed at persuading the North to give up its nuclear arms program, Mr. Richardson's office and the Bush administration said Thursday.Mr. Richardson, a prominent Democrat, said that he would not represent the United States as an official negotiator but that his trip was intended "to move the diplomatic process forward," following an agreement in principle reached last month in the six-nation talks involving North Korea and the United States and its partners, South Korea, Japan, Russia and China."I am not an official envoy, but I am supportive of the administration's new policy to engage the North Koreans through dialogue and diplomacy," Mr. Richardson said Thursday in an interview. "North Korea is at a crossroads today, and it should take advantage of the goal of the six-party talks, a nuclear-free Korean peninsula, to advance its own interest in reviving its economy and building a better life for its citizens," he added.Officials said the Bush administration supported the Richardson mission as a means to reinforce what has been its message since early 2003: that North Korea must dismantle its nuclear programs in order to gain economic, energy and security benefits. The administration has made an Air Force plane available for the trip.The officials said they did not want the trip to be seen as a back-channel mission, but they also appeared mindful of the advantage of having their message repeated to North Korea by someone who is outside President Bush's political camp and who has been widely mentioned as a possible candidate for the Democratic presidential nomination in 2008. "We've been in touch with Governor Richardson and we look forward to being in touch with him again on his return," said Christopher R. Hill, assistant secretary of state for East Asian and Pacific affairs and the administration's chief envoy to the talks with North Korea.Mr. Richardson's office said the governor would leave Saturday and arrive in North Korea on Monday for three days of talks.At North Korea's request, his office said, he is to be accompanied by experts from New Mexico in the field of energy, heart disease, public health, law and agriculture.An official in Mr. Richardson's group said that North Korea had invited the governor to come to North Korea in late May and again later in the summer, but each time the Bush administration declined to give its approval. The first time, the administration was still trying to coax North Korea back to the bargaining table. The second time, the talks were at a delicate phase.The most recent round of talks with North Korea, in Beijing, concluded in mid-September with an agreement in principle that the North would give up its nuclear programs in return for an array of incentives. But there remains a wide gulf on the timing, and on what inspection routine the North might accept.In addition, an impasse continues over North Korea's demand for a light water nuclear reactor. The United States has agreed only to discuss such a reactor "at an appropriate time," after all the North's nuclear programs are shut down. Talks are to resume in Beijing in November, with administration officials saying they intend to present a tough timetable for dismantlement of the North's nuclear programs and for inspections of the work.Mr. Richardson has for years maintained an unusually close relationship with North Korea. As a Democratic congressman from New Mexico in the 1990's, Mr. Richardson made four trips there, and as United Nations ambassador under President Bill Clinton he had contacts with North Korean officials.In early 2003, some months after North Korea admitted having violated the terms of a 1994 Clinton-era accord freezing its nuclear program, top North Korean envoys went to Santa Fe, N.M., with Mr. Richardson, who had just taken office as governor.This is not the first time that North Korea has reached out to Mr. Richardson since the Bush administration took office. During President Bush's first term, Mr. Richardson maintained contacts with North Korea and frequently briefed Secretary of State Colin L. Powell and other American officials on his contacts. "Over my last two years as secretary of state, Governor Richardson would keep me regularly informed of his conversations with North Korean officials," Mr. Powell said in an interview. "I found the information he gave me useful, and he was always respectful of the guidance I gave him with respect to his actions."Bush administration officials, asking not to be quoted by name, emphasized that in supporting Mr. Richardson's mission, they did not intend for him to send any message to North Korea other than to repeat the administration's position. The officials did not want their names used in characterizing what the mission might or might not accomplish.Mr. Richardson's office said the governor would visit Japan and South Korea at the end of his trip to brief officials there before returning to the United States to brief top American officials.The governor's intention, his office said, was to present to North Korea some expert thinking on its food, health and energy problems with the implication that such help would be more forthcoming in the event of a deal on its nuclear programs.
The above article is from The New York Times.