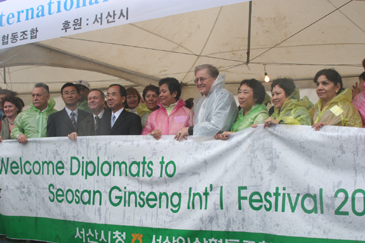 Mr. Bernhard Brender (fourth from right), general manager of the Millennium Seoul Hilton poses with Seosan Mayor Jo Kyu-Sun (fifth from left) poses with foreign ambassadors and diplomats. Photo by Kathy (SY) Kwon
The 2nd Annual International Ginseng Festival and Bird Watching event was held in Seosan City, some 110 southwest of Seoul on Oct. 21-23, 2005.The event was organized by the Seosan Ginseng Cooperative Association (SGCA) in cooperation with Global Korea headed by Kah Jae-mo.As in previous years, members of the foreign diplomatic corps accredited to Korea and other senior diplomats and noted foreign dignitaries together with their spouses and family members were invited to experience ginseng picking of authentic wild six year old ginseng. A big delegation from Mongolia also attended the function. Among them were H.E. Ya.Sanjmyatav, a member of the Parliament, Honourable Governor of Zavkhang Province,Mr. P.Batsaikhan, State Secretary of Minister for Road,Transportation and Tourism, Mr. N.Tumendorj, Authorized representative of Parliament Member, Prof. E.Bayartsetseg and official interpreter for the Mongolian delegation and Mrs.Ya.Odgerel, wife of Mr.Batsaikhan
Braving rather chilly autumn rainfalls, they participated in ginseng root hand picking event as well as bird watching in the western coastal area, some 3km away from Seosan ginseng plantation.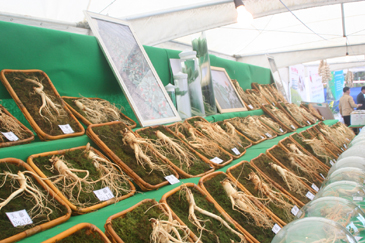 Ginseng roots are displayed at the Seosan Ginseng Festival. Photo by Kathy (SY) Kwon
Ginseng growing experts state that ginseng is 'not really ginseng' until and unless it has grown for six full years in the farm. It means that ginseng will not have the full medical efficacy if it is not six years old. The city authorities of Seosan have pride in the fact that they never harvest ginseng until it is six years old. The Seosan City government started to hold annual International Ginseng Festival in October last year.Participating ambassadors and their spouses personally joined in the harvesting of the 6-year-old ginseng right from the farm in the locality, and learned about the difference between the Seosan ginseng and those from other localities in Korea and from outside the country. The purpose of their invitation of the ambassadors and their spouses is to proudly show to the world how different the six-year-old ginseng is from other products.
.
On April 30, 2005, the city government hosted the Joseon Dynasty Military Experience Festival and Mayor Jo Kyu-Sun invited the ambassadors, military attaches and their spouses to sample the Joseon Dynasty military life.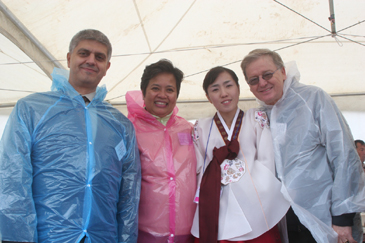 Amb.Wilhelm Donko of Austria (left), Mr. Bernhard Brender, general manager of the Millennium Seoul Hilton (right), and Mrs. Brender (second from right) poses with an unidentified woman.
Photo by Kathy (SY) Kwon
The ambassadors and generals (general-grade military attaches) wore the official dress and armor of the provincial Byeongma Jeoldosa (provincial governor concurrently commanding general of the defense garrison). The visiting envoys also tried their hand in the use of traditional Korean archery bows—although none of them really hit the bull's eye.This year, the invitation to the 2nd International Ginseng Festival in Seosan City was not from Mayor Jo Kyu-Sun but from President Kim Nak-Young of the Seosan Ginseng Cooperative Association because gubernatorial and mayoral elections are slated in spring next year and all the candidates (including Mayor Jo) are prohibited by the Election Law from hosting any public event for a certain period of time prior to the election day because it is considered a 'premature election campaigning.'